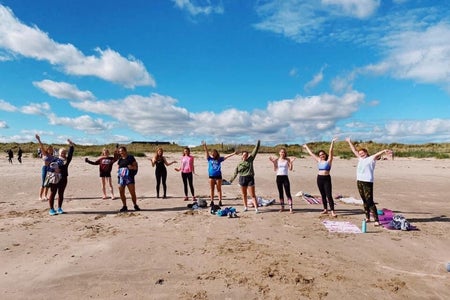 Photo by empowHER St Andrews
empowHER: My Journey With St Andrews' Up and Coming Fitness Club
A fitness club aimed at bringing women together to enjoy exercise, empowHER is the latest addition to St Andrews' social scene. As founding Vice-President, I have been able to help create something which I am genuinely excited about, and I cannot wait to share it with the student body.
When I first heard about the club it was under a different name and brand entirely. Previously known as 'Bring CHAARG to St Andrews', founder Skylar O'Mara was attempting to start the first international chapter of US organisation CHAARG. This fitness sorority is composed of 90 chapters across the states, and with an aim to "liberate girls from the elliptical", sounded like something which would be right up my street. 
I reached out to Skylar back in April to let her know I was on board and would love to be involved in any way I could. With my first year ending so abruptly, I knew I wanted to make the most of my second year, and a new club seemed like a perfect way to do that. Immediately drawn in by the message of CHAARG, I started creating graphics and ideas for social media. Despite speaking to Skylar as a random girl on Facebook I could already see myself becoming invested in the vision. This buzz decreased over a pretty quiet summer, but once we got back to St Andrews, things went so much better than I could have imagined. 
CHAARG got off to a flying start with a beach workout, online classes and running buddy programme. The organisation was pushing for a clear demonstration of support for a chapter, and we were sure to deliver. However, after months of liaising with Skylar, CHAARG decided that it was not the right time for them to go international. While this may seem like a setback due to the loss of external support, marketing tools and branding, it also opened doors to create a club which was uniquely our own. 
Enter empowHER.
We have been hard at work planning the kind of club we want to lead. One with three different tiers of support in the form of large groups, small groups and buddy programmes. One centred around creating an uplifting community rather than being in competition. One directed towards women but open to anyone comfortable in spaces which emphasize feminine energy. With the power in our hands, we are able to envision a club worth getting excited about, and we know this is a project we will work on till we graduate.
There are plenty of sports societies in St Andrews, but there is nothing quite like empowHER. With a focus on general fitness and wellbeing, it is open to people of all abilities and will offer a range of different workouts. You may not love any one sport enough to commit to a team, but the benefits of shared community, exercise and fun can all be found at empowHER. That being said, you are obviously welcome to join in conjunction with other sports. We hope to host large group sessions with guests from other societies, allowing members to try a range of forms of exercise.
We also know that representation of women in the fitness industry is not near as uplifting as it ought to be. Big brands and influencers often promote a certain aesthetic for women in fitness, encouraging competition and comparison. Instead of that, we want to promote exercise that makes you feel good, gaining strength for your own satisfaction. Because of this, we will also be launching empowHER Instagram accounts for members to document their fitness journeys and support one another. We may be living in difficult circumstances now, but we are going to do everything we can to make connecting as easy as possible.
While empowHER is not going to fully launch until Semester 2, there are plenty of ways to start getting involved now. You can follow our pages on Facebook and Instagram to keep up to date with events, as well as having the opportunity to apply for committee in the coming weeks. We also have a run club and buddy form if you'd like us to pair you up with someone new to get out and about in St Andrews.
I have clicked with every girl I've met through empowHER immediately. As someone who struggled to find my people in first year this has been such a blessing, and I look forward to creating that same experience for others. I can already tell this is going to be one of the most important and exciting things I do in my time at St Andrews, and I really hope you'll join me for the ride!