Andrea Dobo is a Higher Education professional who works to support college students every day. She sat down with Her Campus Siena and answered questions about what it is like to be a Resident Director, how she chose to start working at Siena, and what she has learned in her role.
Her Campus Siena: What is your role on campus?
Andrea Dobo: As the Residential Director (RD) for Ryan Hall, my main responsibilities are overseeing the Community Assistant (CA) staff, helping them with programming, resident interactions and basically everything that goes into being a CA. I also am responsible for coordinating with maintenance, custodials, or anything the residents may need support with. 
HCS: What made you want to get involved with higher education?
AD: I was super involved as an undergraduate at St. Leo University in Tampa, Florida. I was a student athlete (lacrosse), a Resident Assistant for three years and one summer, on the programming board for two years, and even played the school mascot sometimes. Fun fact: St. Leo's colors were green and gold, just like Siena! I majored in Religion and I wasn't really sure what I wanted to do with it, so I decided to keep doing what I was doing because I was enjoying it! My mentors helped me a lot in my decision to go to Nova Southeastern University in Fort Lauderdale, Florida for my Masters in College Student Affairs with a concentration in Conflict Resolution.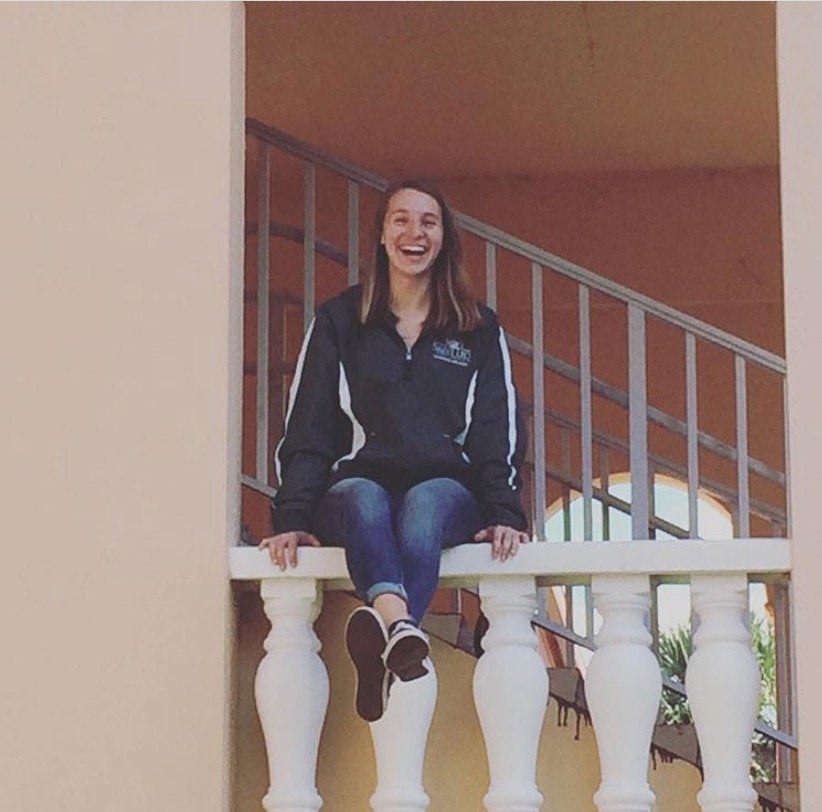 HCS: What are your biggest tips for those starting to apply to graduate schools?
AD: My biggest tip for anyone is to build your network from those around you that are already doing the work you want to do. Then look to your mentors and be open to their advice and opinions. Especially for those going into higher education, it's a small field and your mentor may know someone and help you make some very helpful connections.
HCS: Why did you decide to come work at Siena?
AD: It felt less like I decided to work at Siena and more like Siena decided that it wanted me to work here. I had mostly been looking at jobs more in the Midwest or in my home state of Florida, but when I saw Siena's listing for a new RD it stood out to me. It was a region of the U.S. I hadn't lived in before, it's super similar in size and vibe to St. Leo's, and coincidentally my mentor had graduated from Siena. Once I visited the campus, like a lot of students here, I felt very comfortable and could see myself working here. Every day that I am here I realize that I am living outside of my comfort zone, which was something that I expected and wanted as part of my professional career.
HCS: What is your favorite part about being an RD at Siena?
AD: My favorite part is definitely the relationships that I get to build with the CAs. Getting out of my comfort zone includes getting to know new people and learning how to supervise them. I've really enjoyed that aspect and I've learned so much from the CAs. They have taught me how to look at people as individuals who all have their own stories and several different identities that define them. I think this is extra important to understand in our world today. My staff members aren't just CAs; they are students, family members, friends, and so much more. I have loved learning from other people by supporting them and it's something that I will take with me always.