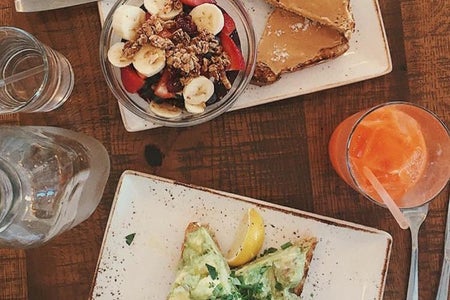 Tessa Pesicka / Her Campus
Could Going Vegan be Right for You?
There are many common misconceptions about being vegan and transitioning to a plant-based diet. People overthink it and won't even give it a try because "it's too much work," but when you stop buying animal products, it's honestly less work! 
I like to think of being plant-based as more of a lifestyle and not just a diet. It's all a matter of changing your perception. When people think of diets, They think of restricting the food they eat to stay on their "diet." That heavy restriction leads to cheat meals, and then cheat days, and before you know it, you're an omnivore again and resent your decision. You have to view it as a step toward changing your lifestyle as a whole, and remember that you're making that decision forYOU. 
There are tons of benefits of going vegan from helping save the planet, preventing animal cruelty, and just eating healthier! So why not give it a shot?* I know cutting all animal products can be difficult at first but there are loads of tasty replacements! Dairy replacements have really stepped it up in terms of quality and quantity- there's almond milk, coconut milk, soymilk, and my personal favorite, oat milk.
I personally love using meatless brands like Morning Star, who have plant-based products like hot dogs and chicken nuggets. I promise you won't taste the difference! My favorite vegan cheese to use for quesadillas is Violife's shredded mozerella, and if you love your morning iced coffee like me, Trader Joe's Oat Milk Beverage is the best. There are so many resources out there to help you get started on your plant-based journey like cookbooks, blogs, influencers, more. The only thing you need to do is take that first step and start. 
*We at HerCampus Rollins understand that certain people may have medical restrictions that could inhibit or be made worse by becoming vegan. We also understand that people may have socio-economic inhibitors in pursuing a plant-based lifestyle. It is perfectly okay to continue as you are if being vegan is not a viable option.