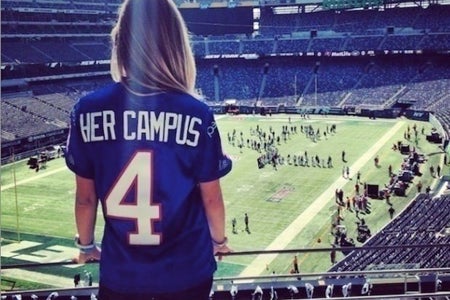 10 Women in the Sports Industry You Should Know About
For those of you who don't know, March is known as Women's History Month, and to me, there is nothing more empowering than seeing other women being able to reach high places in one of the biggest male-dominated industries: sports. As a marketing and sports management student, my dream is to be able to succeed in this industry. Below, I have listed 10 powerful women that I look up to who have helped break barriers and are currently prospering in this industry:   
Michele is the Executive Director of the National Basketball Players Association (NBPA), the first woman of color to ever hold that position, and the first woman to lead a major professional sports union in the USA. I learned about Michele in my MGT 491 class, and her background is extremely fascinating. From a young age, she knew she wanted to be a lawyer. She graduated from law school at the University of California Berkeley and began her career as a Public Defender Server for the District of Columbia. She quickly built her reputation as a trial lawyer and was offered her current role with the NBPA in 2014. Michele's work has been praised in magazines like the Legal Times and she was also involved in decisions such as the bubble, which enables players to wear messages in the back of their jerseys supporting the BLM movement, and having the Black Lives Matter on the court during the 2020 season. Not only does she have a strong resume, but I also love how she never let anyone stop her from getting to where she is at. Many were skeptical of Michele when she got her job with the NBPA since she didn't have any NBA experience, but she just proved everyone wrong.

Jemele is a sports journalist that writes for The Atlantic and previously worked with ESPN in programs like First Take, Outside the Lines, and SportsCenter. Aside from having an incredible sports curriculum, she is a former Spartan! However, what I love most about her is that she is never afraid to speak her mind, which led her to get involved in a couple of issues with ESPN. However, she didn't let that stop her. She moved on from ESPN to The Atlantic and currently has a podcast called  Jemele Hill is Unbothered in which she discusses sports, culture, and politics.  

Cynthia is the first black female CEO of the Dallas Mavericks. She has been breaking barriers since her college days. Her story is amazing and extremely inspiring to many. She has always focused on what she wanted and has a work ethic I hope to achieve one day. She was the first black cheerleader for the University of Berkley in the 1970s. After graduation, she built her way up to President of AT&T, where she found her full confidence and stopped trying to fit into the "corporate American" ideal, and started going to work with a new mindset. At her current role with the Mavs, she was tasked to transform their culture. And she did just exactly that.  

Kim became the first female General Manager of a team in the Big Four Leagues in American and the first person of East Asian descent to serve as a general manager of an MLB team in 2020 (the Miami Marlins). She is also the highest-ranked baseball female executive. She has had an amazing career in sports and has been breaking barriers since the early stages. Upon graduating from the University of Chicago, she interned with the Chicago White Sox and was later hired full-time. In 1995 she became the youngest person, and the first woman, to present a salary arbitration case in the major leagues. She also worked for the New York Yankees as an assistant general manager, becoming the 2nd woman to ever hold that position, and joined the Dodgers in 2001 as vice president and general manager. In 2015 Forbes Magazine ranked Kim as #13 on its list of the most influential minorities in sports and #5 on its list of most powerful women in sports. 

Alyssa is the Assistant Coach for the San Francisco Giants and the first full-time female coach in Major League Baseball. Alyssa also has an incredible sports resume. She has been involved in athletics since high school and played college baseball at California State University, Sacramento. Once she graduated, she interned with the San Francisco Giants. She quickly moved from working on operations, health and wellness programs, and event management to being on the coaching staff within 6 years. She has a natural sense of leadership that she developed throughout her athlete years and a passion to try to make others better that I hope to gain one day as well.   

Dawn is the head coach at the University of South Carolina and an American basketball Hall of Famer. During her playing years, she was nominated national high school player of the year, she led her team to four NCAA tournaments, named ACC female athlete of the year and national player of the year in 1991 and 1992 during her time at the University of Virginia, and during her professional basketball career, she won three gold medals, was voted one of the top 15 WNBA players in history, and was abducted into the Hall of Fame in 2012. However, her success didn't end when she retired. She started coaching Temple University in 2000 and led them to 6 NCAA tournaments before landing her role at the University of South Carolina in 2008. During her time there, she rebuilt the program and improved their record each year. Lastly, she was named head coach for the USA basketball team in 2017. Not only does she have an extensive background of awards and breaking records,  but what I admire most about her is that she never stopped fighting and kept going. This fighting spirit is something that I really want to achieve throughout my career.   

Becky is the first woman to become a full-time female assistant coach for an NBA team and the first female acting head coach in NBA history. Like Alyssa, Dawn, and Cynthia, she was involved in athletics from a young age and played college basketball for Colorado State University, where she set many all-time records and was inducted into their school's Hall of Fame after graduating. She went on to play for the New York Liberty, the Rivas Futuras in Spain, and the San Antonio Silver Stars, as well as the USA and Russian National Team. While in rehab from an injury during her time with the Stars, she would attend many Spur's practices, coaches' meetings, and games. She had aspirations of becoming a coach after she retired. Her dreams came true in 2014, when she was hired as an assistant coach by the San Antonio Spurs, making her the second female coach in NBA history. She is currently one of the most respected women in the NBA and many players like Pau Gasol and Lebron James. Being able to see a woman on the sidelines coaching a professional is something that I would've never imagined I'd ever see 10 years back. It's really cool to see the progress that the NBA has gone through and it's really inspiring to see Becky on the sidelines on TV.  

Doris is an ESPN sports reporter and was the first female commentator to call a New York Knicks game on radio and television, the first woman to be a commentator for a Big East men's game, the first woman to be the primary commentator on an NCAA men's college basketball college conference package,  and in 2020 she was the first woman to serve as a game analyst for the NBA finals on any platform. Before working for ESPN, Doris played college hoops at Providence College in Providence, Rhode Island. It was there where she found her passion for broadcasting and has been working one way or another with ESPN since 1991. She formerly worked as an analyst for the WNBA and since 2003 she took on additional roles for additional NBA coverage like a sideline reporter. In 2017 she officially became a regular season commentator for the NBA. Throughout her career, she has received many honors such as being named one of the 15 Sorts Ethics Fellows in 2002, she got inducted into the Scholar-Athlete Hall of Fame and the New England Basketball Hall of Fame, and she was honored with the Woman of Excellence Trailblazer Award in 2007. Doris continued to hit many milestones and has broken and sealed the path for so many women in the sports media industry.

Katie is the first openly gay female coach in NFL and SuperBowl history. She was involved with football at a really young age. She played tackle football for eight years in the Women's Football Alliance and played in the U.S. national team. She got into the NFL in 2016, when she joined the Atlanta Falcons as a Coaching Intern, and later a Scouting Intern. During her time there, she caught the attention of Kyle Shanahan, the San Francisco 49ers head coach. When the 49ers offered her a position as Coaching Intern in 2017, she took it, and within a year she became an Offensive Assistant Coach. What I love most about Katie is that she refuses to be "boxed" and looked at as some sort of publicity stunt. She loved football since she was little and always wanted to be a coach. She has helped open up the discussion of women in sports.  

Lastly and most recently, Sarah was the first female to officiate a SuperBowl Game during SuperBowl 55. She grew up as an avid athlete, mainly because she was surrounded by a football family. Her two older brothers played football and she played softball all throughout high school. She also went to the University of Mobile on a basketball scholarship. Upon graduation, she began officiating grade school and high school games. She quickly became very well known at that level and caught the attention of Gerry Austin, an NFL Football Official. He hired her and she became the first woman to officiate a major college football game in 2007 in a game between Memphis and Jacksonville State. She received a full 11-game schedule just two years later. She continued breaking barriers at the collegiate level such as being the first female to officiate a bowl game until 2015 when she became the first female hired as a full-time NFL official. Sarah's strong resume is extremely impressive, but what I admire most about her is the fact that she knew how to take advantage of her opportunities, and didn't let the fact that she was entering the most male-dominated industry out there stop her from accomplishing her goal.