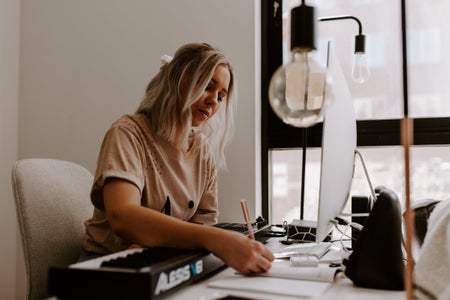 8 Ways to Develop your Career this Quarantine
I am not going to sugar coat it, quarantine has been very hard on many college students' career plans. A lot of my friends have lost their internships or jobs, organizations have been put on pause and opportunities for building experience have become few and far between. Like most of you reading this, I was very worried how quarantine would affect my long-term career, however, I have been able to find a lot of opportunities in quarantine that I would like to share with all of you. Here is a girl's guide to career development during quarantine! 
1. You have time to study for tests
A lot of majors, including my own, require exams in order to get certified or be qualified for employment. If this applies to you, now you have all the time and none of the distractions to get ahead in your test prep. As an education major, I have to take three tests in total for my initial certification, so having this time to get ahead on my certification exams will be beneficial. 
2. Learn a Language 
There is no career out there that does not find bilingual employees to be an asset. For my own career, I want to work with children with special needs so I am making time to learn sign language. It'll make me a better teacher in the future to be able to communicate with my students in multiple ways, and make me more of an asset in my future school. 
3. Take advantage of online resources
Due to the pandemic, there are more career development opportunities available online for free or discounted rates. Ivy League schools are offering free online courses for anyone to take. Other companies are conducting webinars that you can tune into from the comfort of your own home. Just today I attended a 30-minute webinar on an introduction to Google Classroom. It was very informative and helped me get a taste of how to conduct remote learning. 
4. Develop your skills
A lot of careers require knowledge of different types of software and technical skills. Now, with all this time and plenty of online resources, you can make yourself a more valuable candidate. I recommend looking at job postings for careers you would consider after college, and viewing the eligibility requirements to give you an idea on what skills you need to develop. You can also contact your school's career development center for suggestions of how to get started. 
5. Consider becoming an essential worker or volunteer
Many companies are in need of essential workers or volunteers now more than ever. I have a family member in a residence home who depends on essential workers to help her take care of herself and keep the agency running. Luckily for her, her residence has enough workers, but plenty of agencies are short staffed. Stepping up in a pandemic to assist in the workforce is extremely charitable and can help build up your experience.  
6. Develop your resume
Though finding an internship is definitely harder now that it was last summer, there is more than enough time to edit your resume now. The pandemic may be difficult but it is temporary. Taking the time to prepare the best version of yourself can be a huge advantage long term. 
7. Get involved in active organizations now
There are plenty of organizations on your campus still staying active despite the pandemic. Join them! I joined Her Campus at this point because I felt having a public forum of articles to help other students was critical during this time. Participating in organizations during a pandemic, especially in leadership roles, gives you unique experience and proves your ability to adapt in a workplace environment. 
8. Further your education
If you are at the end of your college career and are finding no jobs available, take a look into getting your masters, second degree or even doctorate. Furthering your education can only be a benefit long term!
I hope these tips help you, and remember to stay positive! There is always some good in every bad situation.