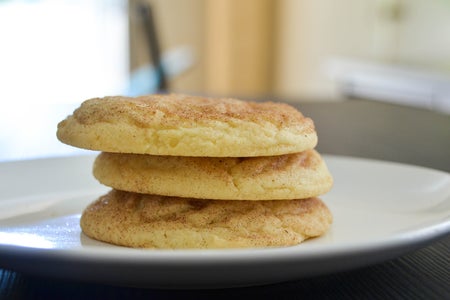 The Best Snickerdoodle Cookies You'll Ever Try
Over the Christmas break, I got a random craving for snickerdoodles, a cookie that I've never been too fond of. I made a batch of these snickerdoodles and they became an instant favorite in my house. I've made a few tweaks to the recipe linked above and adjusted the measurements for a smaller batch of cookies. I find that snickerdoodles are best made in smaller batches because they lose their texture over time.
Yield: 10-12 cookies, depending on the size of ice cream scoop.
Supplies:
Hand mixer
Ice cream scoop
Cookie sheet
Parchment Paper
Spatula 
Ingredients:
½ cup (1 stick) salted butter, room temperature 

⅔ cup granulated sugar 
1 teaspoon vanilla extract
1 large egg
1.5 cups all purpose flour
1 teaspoon cream of tartar (this is the magic ingredient! Super strange)
1 teaspoon baking soda
1 teaspoon cinnamon
Directions:
Preheat oven to 375 degrees and line a baking sheet with parchment paper

In a small bowl mix together flour, baking soda, cream of tartar, and cinnamon.

In a medium-large mixing bowl, beat together butter and sugar until pale and slightly fluffy.
Beat in egg and vanilla.
Slowly add dry mixture ¼ at a time, until dough is sticky.
In a small bowl, combine 3 tablespoons of granulated sugar with 1 tablespoon of cinnamon.
Scoop dough with an ice cream scoop, form a ball, and roll in the cinnamon-sugar mixture. 
Place onto a baking sheet, and cook for 8-10 minutes on the bottom rack of your oven (this will make it so that they're crisp on the outside and super soft in the middle)
Let cool for ten minutes before enjoying.
Happy baking!