A Guide to Using Your Phone to Thrive in Lockdown
Coming into our third lockdown there was one key concern in my mind… and it's probably not what you're thinking. Was I worried that our country's welfare was yet again in the hands of politicians? Or was I preoccupied by the extreme underfunding the NHS faces for the third wave of COVID? Obviously, I was worried about all these things, but mainly, I was asking myself: "what the heck am I gonna do now?" Banana breads have been baked, wardrobes have been cleared out, I've re-decorated my house roughly 62 times… what could possibly be left to do?
The answer, really, is not much. But it's 2021, people! We're the digital generation! If there's anything I've learned from three lockdowns (and counting), it's that phones aren't always these evil soul-sucking devices that will ruin our lives, but sometimes come in pretty handy. I mean, imagine lockdown without this mode of communication we all rely on so heavily. So, instead of preaching a generic lockdown 'how to guide' of baking homemade bread and DIY panelling… I'm going to teach you how to use your phone properly to make a digital lockdown work for you!
Instead of clearing out your cupboards, clear out your Instagram
We've all been there, you're on your third consecutive day of lying in bed, eating kettle chips for breakfast, lunch and dinner and you likely can't remember the last time you showered. You lack motivation, strength or just any sort of get-up-and-go. Then, you check your Instagram, and you find your feed full of size 6 women who have just finished workout 3 of the day (without a single smudge in their perfect layer of makeup), and just have to show you the kale smoothie they just made. Hurts, doesn't it? This is your wakeup call… clear out your Instagram! Social media should be a place where you can go to see people you care about, become inspired or, if all else fails, feel content that you aren't the only one who hasn't got out of their dressing gown since last Tuesday. It's a big task, and it may even take up a few days (hurrah!) but once you've unfollowed all of those 'influencers' that are more interested in sharing their 20% off code than admitting they too are struggling right now, I promise, you'll feel so much better.
I'm not to saying you shouldn't follow any influencers, just follow the right ones. A personal fave of mine is Rosie Ramsey, mum of two and wife to the hilarious Chris Ramsey. She has no issues with posting truthful stories about the horrors of recovering from a C-section or admitting she hasn't washed her hair in a week, and sometimes even posts videos of her dancing around her kitchen like a mad woman belting out Bootylicious at the top of her voice… it's infectious, trust me. Another account you simply must check out is our very own Queen of the Castle, Giovanna Fletcher. Just like Rosie, she's brutally honest - which we all need right now - and often posts short stories just chatting away to her followers about her day, like we're her friends sat across the table from her. In a time when human contact is hard to come by, it seems the closest thing to, and often brightens up my day. They're regularly makeup free, showing their unedited bodies in all their glory and honestly, they're a joy to follow.
Get your motivation on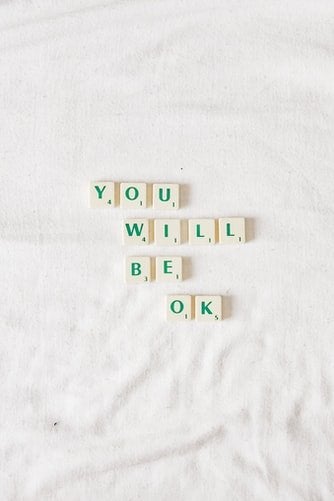 Photo by Sincerely Media from Unsplash
Now that we've cleared out all the influencers that were putting us down and holding us back, it's time to add some motivation to the mix. Despite the joy that these 'real life' influencers (as I like to call them) bring me, it sometimes doesn't help me with my get-moving attitude… as I'm often left feeling better about doing absolutely nothing (which is sometimes absolutely needed). This is where your motivation apps come in. Go to your App Store and type in 'motivation' - you'll be hit with an abundance of apps designed exactly for that… to motivate you. Whichever one you choose; I'd recommend you allow notifications (some let you decide how many per day). So, after your morning catch up with your pal Gi and your check up on how Rosie's newborn slept last night, you'll get a notification with a quote that will set you up for the productive day ahead. Today, for example, I was reminded at 9am that I 'got this' and to take 'one day at a time.' Length and cheesiness levels vary, but they always make me feel a bit better and ready to tackle my day. Try it!
So, this lockdown, instead of doing your third ASOS order of the week or moving your dresser to a new corner of your bedroom, tackle your phone. Take a seat (somewhere comfy), grab a drink (water is fine, wine is preferable) and get rid of those negative parts of your phone that bring you down day after day, and add a little bit of positivity to your digital world. You'll be thriving in no time!
Words By: Laura Cameron
Edited By: Laura Murphy