In a world where women are made to feel ashamed of their bodies, practicing body positivity is incredibly valuable, but it is not easy. Some days, it can be difficult to love your body, or even to like your body. On bad body days, it's important to take time for yourself and be gentle with yourself. These are some of the strategies for self-care that I have found to be the most helpful on days where it's hard to love your body. 
1. Get in front of a mirror  
This might sound counter-intuitive, but looking at your body as a whole can actually be very helpful on a bad body day. If you're laser-focused on an insecurity that you have, then it can be difficult to assess your body as a whole—your view of your body becomes pigeonholed into one feature and blown out of proportion. Getting in front of a mirror will allow you to step back and look at your body as a sum of its parts and view it more realistically. It will also allow you to focus on some of the parts of your body that you are feeling good about. Even on days that you are really struggling with self-image, there is always something that you can find to like about yourself: maybe it's your hair or the cute outfit you chose that day. Looking for something to love in your appearance can be difficult on a bad body day, but it's an important practice that will make it easier to love your appearance every day. 
2. Take a bubble bath or get a massage   
When you're having a bad body day, it can be really helpful to focus on not what your body looks like, but on what it feels like to be in your body. Experiencing pleasant physical sensations like a bath or massage can help with that refocusing. These sensations can get you out of your head and into your body, and focusing on being present in your body rather than scrutinizing it might help you feel better about your body.
3. Do some journaling 
Journaling is likely the most classic self-care strategy on this list, but it can be incredibly helpful on a bad body day. Getting your thoughts down on paper, or maybe writing about something that you're passionate about will distract you from your body-related worries and will also remind you that what is on the outside is genuinely not what counts Getting your thoughts down on paper can help you process potentially negative emotions, and writing down your great ideas can remind you of the wonderful things that come from your mind, rather than your body. 
4. Dress up  
Sometimes, when you're feeling rough about how you look, you just have to fake it 'til you make it. Put on your luckiest, and cutest outfit—whatever you think you look the best and most yourself in—and show the world the most confident you that you can be. Getting ready leads you to devote special attention and care to your body, which means that, in a way, you have to show it a little bit of love. This doesn't always work out when you're having a rough body day, but letting your body shine as is can be a powerful step to loving your body.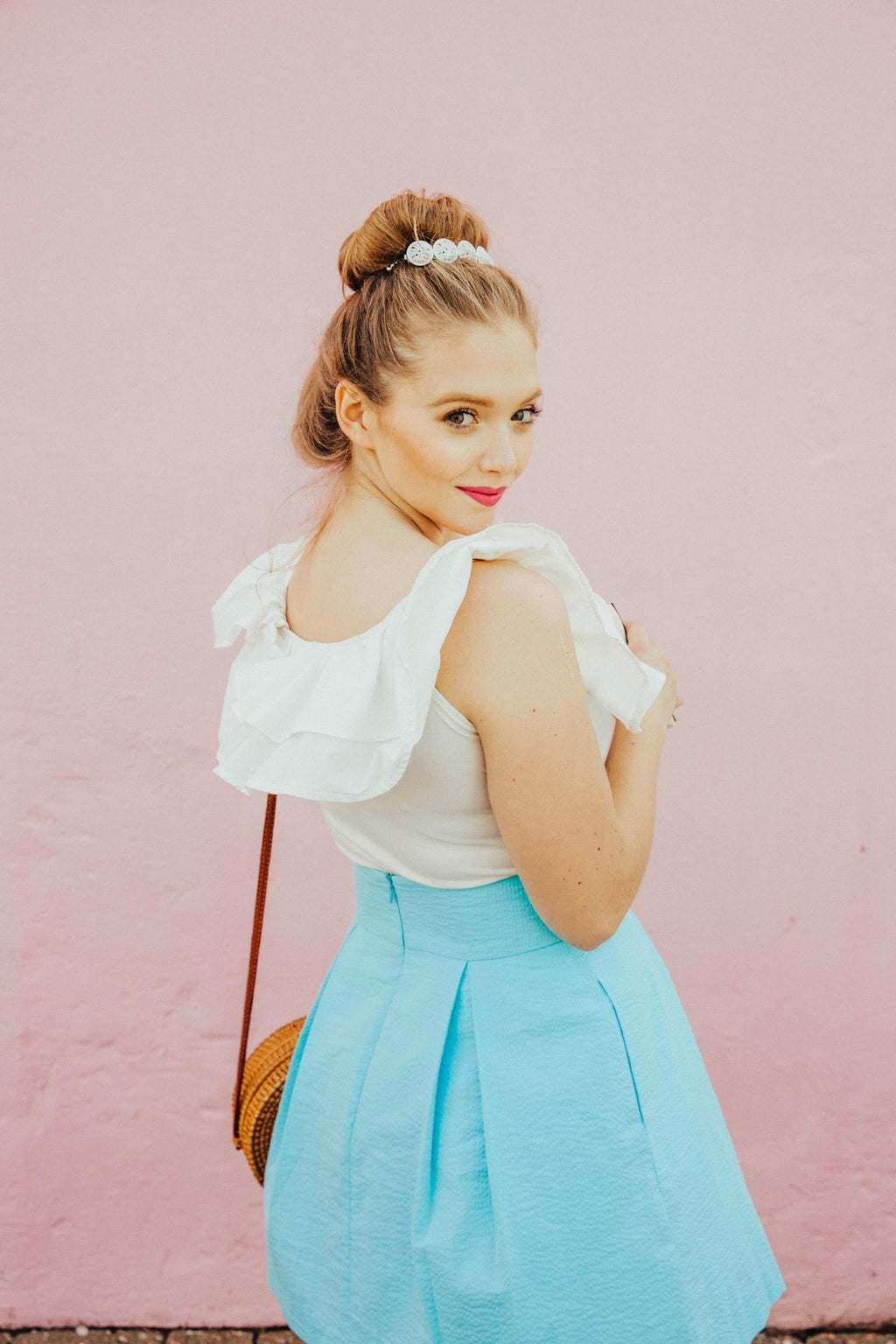 5. Dress down  
There are other times, however, when you just need to free yourself from caring what the heck you look like. Throw on the clothes that make you feel the most relaxed: gross sweats, that baggy t-shirt with your high school mascot on it. It's a great feeling to get all dressed up and feel like you look great, but on some days when you're feeling bad about your body, you just need to completely separate yourself and your thoughts from your appearance. Dressing down can also remind you that you don't owe it to anyone to look a certain way, and that no one gets to have an opinion on how "dressed down" you might be. 
6. Dance 
The last tip that I have for feeling better on a bad body day is to experience all the things that your body can do! This will help instill some gratitude for your body, just as it is. I would recommend dancing because dance parties are amazing and joyful, but you can do anything that you love that involves moving your body (as long as it isn't exercising for the purpose of changing your body). Running, swimming, and dancing around in your room are all great ways to experience what your body can do, rather than focusing on what it looks like. 
Body positivity is never easy, and self-care won't make it easy to love your body, but making a commitment to treating your body with fairness and kindness is so worth it, and I hope that these strategies can help you a little further on your self-love journey.