For nearly six weeks now, the Internet has been aflutter with claims that Women Don't Owe You Pretty author, Florence Given, has stolen the ideas and style of black author Chidera Eggerue. The claims, led by Chidera herself, have caused a stir within the feminist internet community, as Given is being accused of plagiarising the work of black authors and using the proceeds to line her own pockets. There is a lot to unpack and there are a number of insidious claims circulating about how this perpetuates white supremacy, so let's rewind.
Who is Chidera Eggerue?
Chidera Eggerue, alias The Slumflower, is a British Nigerian writer and fashion blogger. She is best known for her book, What a Time to be Alone: The Slumflower's guide to why you are already enough, published in 2018, and the online campaign #SaggyBoobsMatter. Last February, she released her second book, entitled How To Get Over A Boy. She is verified on Instagram with 339k followers.
Who is Florence Given?
Florence Given is a 22-year-old Instagram influencer, who gained traction in 2018 when she started a petition to cancel the Netflix series Insatiable for its fat shaming content, accruing nearly 300,000 signatures. Since then, she has won Cosmopolitan's UK Influencer of the Year 2019 for her work on women's mental health. She has around 580k followers on Instagram, and published her debut book Women Don't Owe You Pretty in June of last year. 
What connects them? 
The pair shared the same management (Diving Bell Group) and at one time seemed to be friends. Florence Given cites Chidera Eggerue in her acknowledgments page at the back of her book. Given explains: 'In a world where the voices of marginalised people are intentionally silenced, mocked or ignored when speaking up on the very same issues that thin, cis, non-disabled white women like me are not only heard on, but praised for, I want to acknowledge that the sections in this book on my understanding of prettiness, desirability, privilege, unconscious bias and systems of oppression didn't just fall into my head. I wasn't taught any of this in school, either. I had to learn, predominantly from Black women.' Eggerue has also praised Given in the past: "Florence has a way of effortlessly reminding you of who you were before the world barged in and I hope as many people as possible are able to cross paths with her wonder!". What's more, a quotation from Chidera calling Florence a 'powerhouse' appeared on early editions of Women Don't Owe You Pretty, before they were removed (at Chidera's request) and replaced with the 'The Sunday Times Bestseller' header.
So what are the claims The Slumflower is making against Florence Given?
On 9 December 2020, The Slumflower took to her Instagram stories to compare her own book What a Time to be Alone with Given's Women Don't Owe You Pretty. The story (now no longer available) showed her laughing in disbelief, saying, "I laugh because…I mean…I mean…I mean', with each 'I mean" punctuated with Eggerue's flicking through the pages of her own books next to Given's book, demonstrating the similarities. She continued: "It speaks for itself. […] Women Don't Owe You Pretty would not exist without What a Time to be Alone and How To Get Over A Boy." The insinuation is clear: black voices are being spoken over by white voices saying the same thing, and white voices are being heralded as ground-breaking and influential – much like the phenomenon Given wrote about in her acknowledgements page… The Slumflower explained: "Black women continue to pave the way, set the trends, and set the pace. [Given's] book is generating wealth. Black women's ideas generate wealth for white people. But that wealth doesn't go to our community," she stated. "Before publication, I made everybody on her team aware that I was uncomfortable with how much her work evolved from illustrations to suddenly looking and sounding a lot like mine… Black people's trauma is not a teachable moment for white people but I really do hope that from this situation, we can focus on the bigger problem at hand here, being white supremacy and the ways Black women are sent to the back even in their own liberation movements."
In her Instagram story, Eggerue claims to have been behind a new wave of self-help literature that is unique to her, and accused Given of copying the style of her book, which is graphic-heavy, favouring bright colours and large, eye-catching slogans. To illustrate her point, she included a side-by-side comparison of her book with Given's, both open on an alarmingly similar page. Florence's book is pictured open on a page with the graphic title: 'Women do not exist to satisfy the male gaze', whilst the page in Eggerue's book is entitled: 'Stop Trying to Impress Him'. Both share the same colour palette, bold lettering, and sentiment.
"I want you to use this opportunity to think about and observe the ways that, especially in the publishing industry, Black women rarely receive our flowers and when white people repeat what we say, or gentrify our sentiments, they receive the praise, they're referred to as ground-breaking and extraordinary. This is exactly how white supremacy works," said Eggerue.
The Slumflower's Instagram stories ended with a concluding statement that she does not does not think Given is a 'bad person', and believed the situation was redeemable for her if she donated a 'significant amount' of the proceeds from her book to Black organisations.
Addressing this comment directly, Given issued a statement: 'Re-distributing money whenever I receive it is something I've been practising for years as part of my personal anti-racist/social justice work. I wouldn't usually speak about my donations publicly […] because it comes across as performative. But since I've been publicly asked if I plan on donating any money from my book, I am sharing this information.' She then lists some of the charities she has donated 'a significant portion' of her advance to, such as Black Minds Matter, For the Gworls, and Go-Fund-Me pages 'that directly support Black trans people with money for housing.'
However, Given's donation to Black Minds Matter was refused, with the charity claiming that they are 'not a platform to be used as a quick fix', and whilst Given's donation offer 'may have come from a good place, as an organisation that stands for deep-rooted equality, [they] cannot sincerely accept it during this time'.
Events have progressed since this statement, as it seems Eggerue no longer believes Given's way to redemption lies in donating to Black charities, but instead directly to Eggerue herself, in what is commonly termed 'reparations'. In an Instagram post shared on the 5th January, The Slumflower issued a statement asking for reparations from both Given and The Diving Bell (her former agency). She asks either for them to 'Pull WDOYP [Women Don't Owe You Pretty] from print and compensate […] everything [Given] has earned in her royalties from the book and we can leave it there, as that serves justice', or 'keep the printing of WDOYP going and split [Given's] royalties with me 70-30. That's 70% of [Given's] royalties going to me and 30% of the remaining royalties to [Given]'.
Several Black activists on Instagram have since spoken out, including Aja Barber (sustainability activist, verified with 227k followers on Instagram). Barber has expressed her concern that Eggerue is pushing for individual rather than collective movements which serve only herself. In a tweet, Aja Barber (@AjaSaysHello) writes: 'I think we need to have a conversation about individual vs collective movements and weaponising progressive language for very personal gain. Because it's effecting [sic] folks on a broader scale and it seems people have forgotten what doing the work should actually look like'. Black trans model Munroe Bergdorf (verified with 545k followers on Instagram) explained on Twitter: 'This is very cult leader like behaviour. Trumpian almost. Followers being blindly lead [sic] on a campaign of lies and greed. Fact & truth matters, as does the law. There is a reason none of this was taken to her lawyers. Because there is no grounds for plagiarism. There never was.'
Following Eggerue's sharing of her PayPal details on social media in order to let white people pay her reparations, @MunroeBergdorf tweeted, 'If you a white person sending The Slumflower money via Paypal. You are being conned. Donate to a black mental health charity. Not to the bank account of someone who is already making six figures annually. Donate to the black community, stop funding bullying and harassment.'
The situation continues to unfold like a gruelling tennis match, the ball continually flying from one court to another, with each serve of the racket hitting back with another violent claim. That mixed race or light-skinned people (like Munroe) are throwing dark-skinned people (like Chidera) under the bus, siding with white supremacy. 15 to Chidera. That Chidera is creating a smear campaign in the name of personal gain. 15 to Munroe and Aja. That Munroe is a 'c**n' for siding with a white person (a violently derogatory term which has its roots in slavery, now used by Black people to refer to a 'Black person who postures themselves for white validation and money' according to Chidera's own definition). Ball hit out of bounds.
The situation is snowballing out of control, moving further away from the original claims of plagiarism and white supremacy, and instead becoming a popularity contest-come-influencer takedown, the winner being whoever is the most liked by fans and people in the industry. None of this is helped by supporters of Chidera – predominantly white women – demanding statements on the situation from other Black activists (like Barber and Munroe) who, in speaking out against Chidera, are then harassed and trolled – again predominantly by white women. Barber, who has lost Instagram followers since speaking out, has said "What I've learned most is that inner white supremacy means listening to only one Black person and patrolling and policing the rest of us on their command. That's not liberation. That is actual hell. Instagram is currently hell." Florence has also lost followers since the claims came out: she was close to 600k followers on Instagram at the beginning of December, but her follower count has fallen to 580k, whereas Chidera had roughly 318k followers on Instagram around the time she first made her claims and now she has 338k followers.
With more and more influencers being dragged into the situation, widening the reach of people involved, it can be difficult to remember what started it all. Let's return to the original claims of plagiarism, shall we?
Florence Given's response
On Saturday 12th December, Florence Given released a statement on her Instagram stories, addressing the claims The Slumflower made against her. After four days of silence – something which many took as confirmation of her performative activism – the writer explained 'that what has happened here required a response and not a reaction, so I wanted to take my time with this.' She continued, 'I care about Chidera a lot, she was my friend, I've supported and shared her work and books on my platform for years. She absolutely has inspired me, and she is credited multiple times throughout my book.'
On claims of her copying, plagiarising or appropriating The Slumflower's style and content, Florence writes: 'On the very first page of my book, What a Time to be Alone is referenced as a nod to the fact that it also touches on prettiness as currency […] How To Get Over A Boy was published in February 2020 and I handed in the final manuscript for my book in November 2019, so it was physically impossible for me to have seen her work or copy it. Chidera and I share the same management and literary agent, and the teams worked across both books. It would have been in no one's interest to allow for plagiarism.' What's more, she highlights that her style and brand has been unique to herself since she was 14, when she was 'making art in bright colours' and at the age of 18 'started posting them on Instagram […] paired with slogans about rape culture and sexual harassment'. She maintains that 'you can scroll through to the bottom of my Instagram and look through my highlights, to see that my book is a reflection of the brand, colour scheme and style that I've been building for years, before any of these books were ever published and I was aware of Chidera's work'. 
She has also since published a second statement (hard to keep up, I know), further refuting claims of plagiarism. A week ago, Florence posted: 'I can confirm that the accusations against my book are entirely baseless and without merit. To be absolutely certain, I had asked my publisher if we could get a lawyer to look at these claims. Two lawyers who specialise in intellectual property have separately reviewed mine and both of Chidera's books fully, and BOTH lawyers found absolutely NO plagiarism or copyright infringement in Women Don't Owe You Pretty." She continued, 'No one has a monopoly on writing about their experiences.' Chidera and her followers responded that since the legal system is one entrenched with white supremacy, the outcome was never going to favour a Black woman over a white woman – especially when the lawyers are being paid by the white woman herself. Eggerue said was aware of this from the start, which is why she has publicly made her claims via social media, where she can (somewhat) take control of the narrative, whereas to make a legal claim would be lengthy, taxing, and probably biased against her.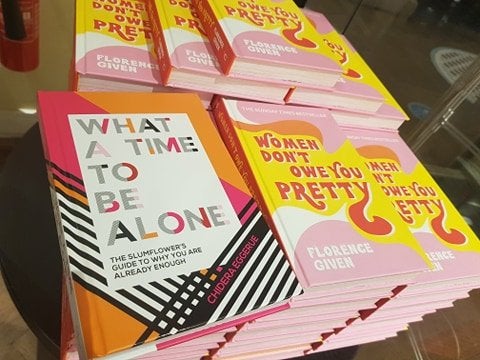 [What a Time to Be Alone amongst several copies of Women Don't Owe You Pretty in a Waterstones display. Photograph by Ruby Nicholson]
Just how similar are the books?
Having purchased and read both authors' books myself, I have come to this conclusion: though the books touch on similar themes, like 'love yourself', 'get rid of toxic people in your life', and 'don't settle', they are very different books. Chidera writes from the perspective of a Black woman, an Igbo Nigerian who grew up with Igbo as her first language. As a result, her book draws upon the influence of Nigerian proverbs and idioms which she claims 'literally saved [her] life' and are printed intermittently throughout the book, translated for the reader. My favourite one is 'Onye sį a cha ya ishi a chara John: ǫ kwakwara ishi John kwara?' [he who is asking for the same haircut as John: does he have the same shaped head as John?]. In other words: comparison is fruitless when we are all different individuals. Florence, on the other hand, writes from the perspective of a white bisexual woman, queerness being something Chidera herself says "is not my experience, I don't touch on that".
Florence has stated: 'My book is approximately 40% original illustrations, 40% memoir material (my own lived experiences), and the other 20% is feminist theory and concepts that have existed for decades and are cited throughout'. She explains that she talks from her own experiences, and does not try to speak for other voices, but does acknowledge, where appropriate, that many of her lived experiences 'are harder for marginalised women'. Florence's book straddles the self-help/feminism genre. In stark contrast, Chidera never once mentions the word feminism or feminist in her book. Her book firmly belongs in the category of 'self-help', although it could be said that some of her advice takes its inspiration from feminist thinking. Her work is punchy and sloganistic, with quotes making up the bulk of her content, such as: 'Hold on to the friends who make the effort to save your birthday in their calendar', or 'try not to be a prick'. These slogans take up a whole page, sometimes two, and the rest of the book is filled with some illustrations and very little extended prose. The whole book can be read cover to cover in under an hour and it so it begs the question: what emotional or intellectual labour does Eggerue think is being stolen from her? Not a single word in her book is original or ground-breaking: it is just proverbs and slogans. Given, too, traffics in slogans such as 'maybe it's a girl crush, maybe you're queer', and 'stop raising him, he's not your son'. However, much of her content is expanded upon in lengthy prose, and feels ever-so slightly less like a Pinterest mood board (but only slightly). I was able to read WDOYP cover-to-cover in about three hours; it's lengthier and more detailed than Eggerue's work.
There are instances where you can see direct similarities between the two works. I was struck by one page of The Slumflower's book, which simply had the words 'I do not owe anybody "pretty". Whichever state I choose to show up in will always be enough' repeated five times, in all the signature colours Florence uses on her front page (pink, orange, red, white). However, this bite-sized, sloganized phrase used across both books predates both women's work. The thinking behind 'women not owing prettiness' is not new. Erin McKean, in a blog post written in 2006 entitled 'You Don't Have to Be Pretty', spoke at length about the beauty myth, stating that 'you don't owe prettiness to anyone…prettiness is not a rent you pay for occupying a space marked "female"'. In fact, Florence Given begins her book with this quotation, claiming, 'This quote changed my life and inspired the title of this book.' She pays homage to other feminists who paved the way before her, including The Slumflower: 'Chidera Eggerue touches on prettiness in her book What a Time to be Alone and in her #SaggyBoobsMatter movement to promote a message of anti-perfection […] This book – Women Don't Owe You Pretty – is my interpretation'. It's difficult to argue for plagiarism – by definition a process of stealing work and passing it off as your own without credit – when an author and their ideas are constantly cited and promoted…
What's more, the 'Dump him' feminism which The Slumflower and Florence are claiming as their brand, has in fact been around for years. 'Dump him' was made the iconic phrase that it is today in part by Britney Spears, who wore the infamous 'dump him' shirt in 2002. In reality, much of the feminist theory discussed in both works has been circulating for decades, and so to claim ownership of it in 2021 is misguided at best, and ignorant at worst. Whilst I applaud both women for attempting to make feminist theory accessible to Gen Z and the new generation of feminists, is it possible that this slogan-based feminism is causing more harm than good?
The Takeaway
There is one woman who constantly cites the work and ideas of other women in her writings, offering an 'interpretation' of these oft-discussed themes, and one woman who puts forward these same subjects – without citation – under the guise of original, ground-breaking content. It is the former who is being accused of theft, plagiarism and white supremacy. The thing about advice is that it is meant to be passed down. And since self-help books are essentially an amalgamation of advice the writer has collected from others, and through lived experience, you cannot 'own' the advice.
We can debate whether these kinds of books (feminism-lite, graphic-heavy self-help books which prettily repackage well-known ideas in order to make profit for the individual) are worth publishing in the first place. But the fact is, both books have helped – and continue to help – readers struggling with their self-esteem, identity, break-ups, boundaries and more. After all, this is the reason both women published their books, right? To share their experience and advice with others in order to improve people's lives. When these good intentions become an individual-centred Insta-war over who invented coffee-table literature first, it starts to get a little embarrassing. And when the negative implications go beyond the individuals this 'feud' centres on, when it starts to negatively impact other Black activists, when well-meaning supporters begin to attack other marginalised voices on the internet in the name of 'intersectionality', it needs to stop.
We also need to talk about the trend of building women up, idolising them and then delighting in their downfall. Jameela Jamila often talks about this insidious, misogynistic trend, stating: 'Media throws women onto pedestals that they can't balance on deliberately to enjoy watching them fall'. This happens constantly, through lists of 'top 10 feminists' or '100 influential people you MUST follow'. All of this serves to highlight women of note, who are then greedily devoured by the public whose sport is to prey upon women in the limelight, eagerly waiting for them to slip up. Publishers' attempts to create a feminist cult around young women in their early twenties are doomed to cause repercussions when the work of these women reaches a larger audience. Staging Florence Given, a blonde, thin, white influencer as the representative voice of queer, grassroots feminism is bound to irritate people. Likewise, presenting influencers like Chidera Eggerue as the sole representation of Black radical feminism is also going to cause backlash. The teams working behind the scenes to promote these women are doubtless aware of the consequences of portraying Instagram influencers as the torchbearers of feminism. In a VICE interview given in September, eerily foreshadowing the Instagram dispute, Chidera explained that she was 'logging off' of social media after the pressure she felt being an activist in the spotlight: "Trying to be the perfect activist, trying to have the perfect caption, the perfect comeback, the perfect analysis on this situation that hasn't even happened 24 hours ago. It's a lot." Ironically, Given herself fell under scrutiny for the same issues surrounding the 'perfect comeback' of which Eggerue writes.
None of this helps the cause. None of this helps the liberation of women and non-binary people. Nor does it aid the liberation of Black and brown people, when donations to Black charities are denied and funnelled to one individual. The exceptionalism and individuality which social media promotes is directly antagonistic to collective liberation movements like feminism, something which all people involved in this 'internet drama' claim to promote. Be careful who you choose as your idols, and be sure they're upholding the ideals they claim to promote.
This article was written on the 24th of January 2021.