On International Women's Day (Monday 8th March), I interviewed a KCL grad student and one-third of the all-female team behind the grade tracking app 'UniMate'. We discussed launching an app during Covid, being a student and what it means to be a woman in technology.
Can you just tell us a little bit about what UniMate is: what's your elevator pitch?
'UniMate is basically an app for University students across both the UK and Ireland, to help them track all their grades; calculate what they're currently on track for, and also help them predict what they need to – say – get a first or a 2:1. So it's really an app that helps students throughout their time at uni, not necessarily just when you've got your diss[ertation] and you're wondering "what do I need to get in my diss to pass", but really to help them [throughout the university process]. For example, we've recently added a deadlines feature, so it's just a handy tool for students to keep track of their progress because there really isn't anything that helps them do that so far.'
How it works: Once you've downloaded the app, registered, and completed our short onboarding process, your degree years will have been automatically populated, with default credits and weights. All you need to do is add your modules, assignments and grades (if you have any). You'll then be able to track how you're doing in each year, module and assignment, see your upcoming deadlines and also calculate what classification you're currently on track for, along with being able to predict what marks you need to get in each module to reach your desired classification.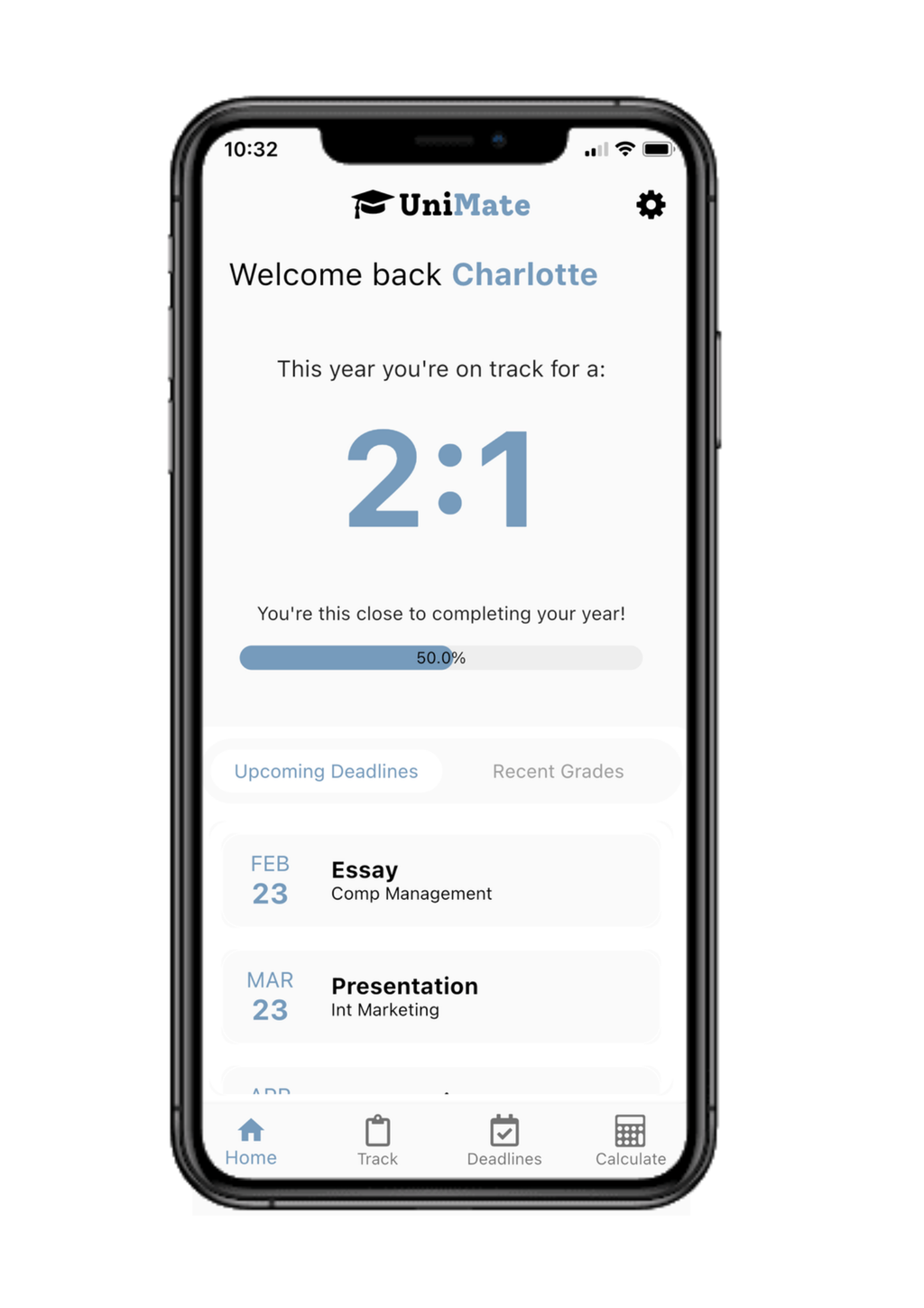 So what did you identify as a gap in the market that UniMate fills?
'It's really the fact that you're a student who's [at university] to get your degree, to get your certain classification, and there's no tool out there that tells you what you're averaging. It kind of came to be in my final year [of undergrad] when I was like: "I don't know what I'm going get. Am I going to get a first? Am I going to get a 2:1?" I was doing all the calculations and then my uni provided an Excel spreadsheet but it wasn't very user-friendly and you couldn't put in specific deadlines. I thought: "I just wish there was an app that could do it all for you!". And obviously, there wasn't one then, so I decided to make one.'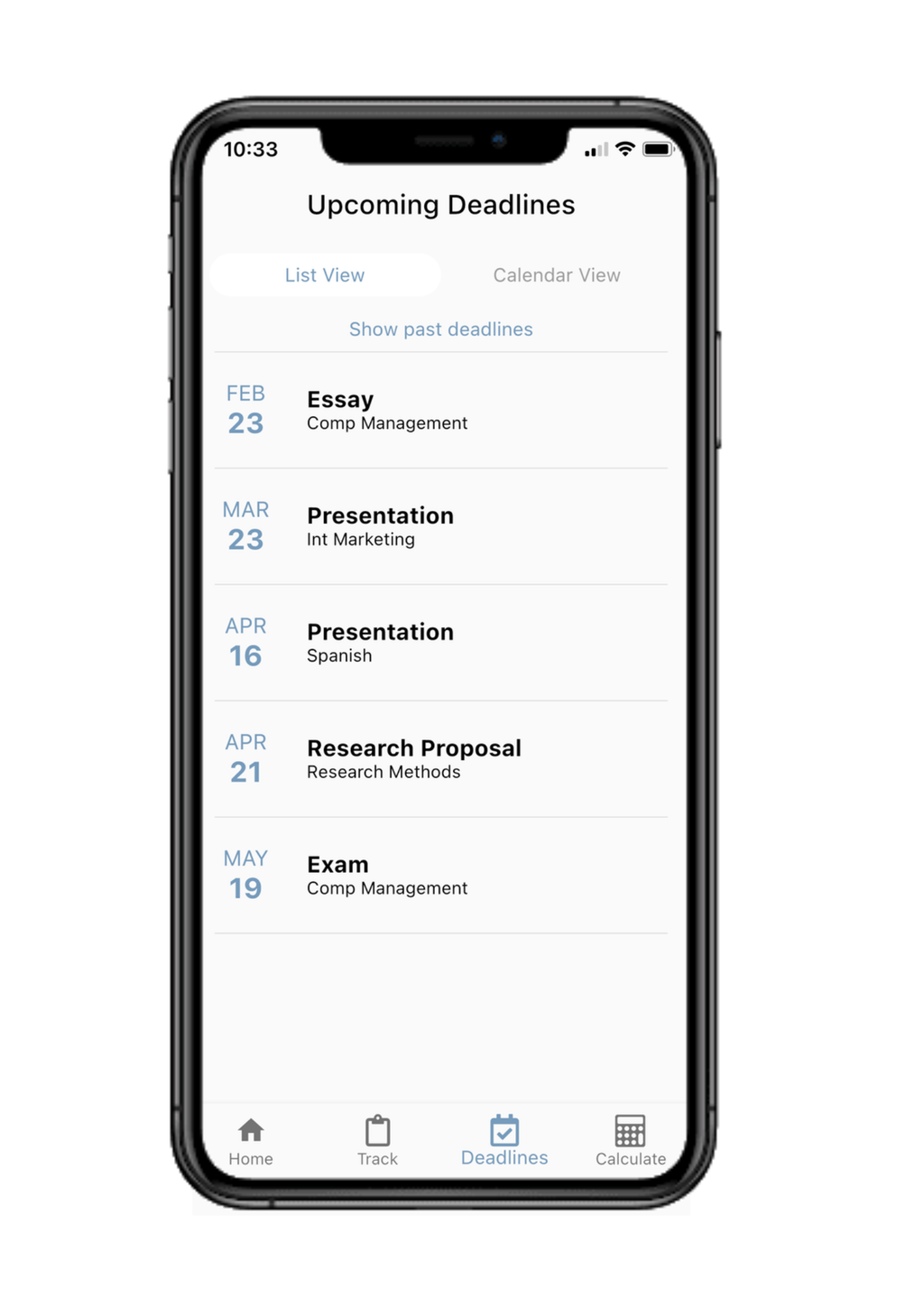 UniMate's 'conception' was in July and its launch was November of last year – quite a speedy process. But obviously last year we were (and still are) in the midst of a Coronavirus pandemic. So I was just wondering if COVID-19 had a role to play in creating the app. Do you think that if you had been out and about rather than stuck at home, you wouldn't have created the app?
'I mean 100% the app is due to Covid. [laughing] Completely, I think I came up with the idea […] around this time last year, and then I did this app Web development course with my friend Irina [Roman] (who is the CMO now). I had a lot of free time so I thought: "I'll learn app development!". So I started doing that and then had UniMate as a side project to work on as I was learning. As it went on, I thought "this could actually help a lot of students!" And then I worked on it all summer. I was doing an internship for a start-up at the same time as well. So I was doing that [the internship] during the day and then [UniMate] in the evening. Because of Covid, I wasn't going out all that much – and I was actually living alone for 5 of those months, so that also really helped. It was very depressing at times, but it helped get the app to where it was. And also, the app kept me sane during that time.'
Once you create an app, it's not just out there in the world: you still have to do so much with it. It's a lot of up-keep. So how are you managing to juggle both your degree, and this app you've just launched?
'Again, Covid really helped. [laughing] I'm not going out – you know, there's no bar, no clubs. And so it's doable. Obviously during my exams I took a bit of time off – I say a bit of time off, I took four days off the app – during my exams. Because it's constant: you're constantly having to work on it. People think: "you've just released [the app], that's it!", and I just think: "If only you knew!". […] There were times, for example, when I was working last summer and I was rushing to try and get [UniMate] out, where I had a mini burnout and I had to spend a few days at a friend's house. It does get tricky in that respect, but I feel like I've gotten much better at time management. I'm dreading when things open up again: I think I will face that hurdle when it comes.'
Now would be a great opportunity for you to get out there what happens once you've launched an app. What kinds of things do you still have to keep doing? What do you wish you could tell people so they don't assume the work stops post launch?
'I mean something we're constantly doing is thinking about how we can constantly improve it, and meet more issues that students are facing. We launched a very basic version of [the app], but there's so much more we can do with it. For example, the deadline section: we're looking at incorporating a few more features. […] And it's not as easy as adding a new feature and then just launching it again. You know, it's the design; it's the testing; it's the research and everything that goes along side that. […] We're a very small team – you know, [we're] students and [we're] working full time. I'm the support, so when people email about issues, I'm the one they're emailing as well. So it's just little things like that that are constant – and updates too.'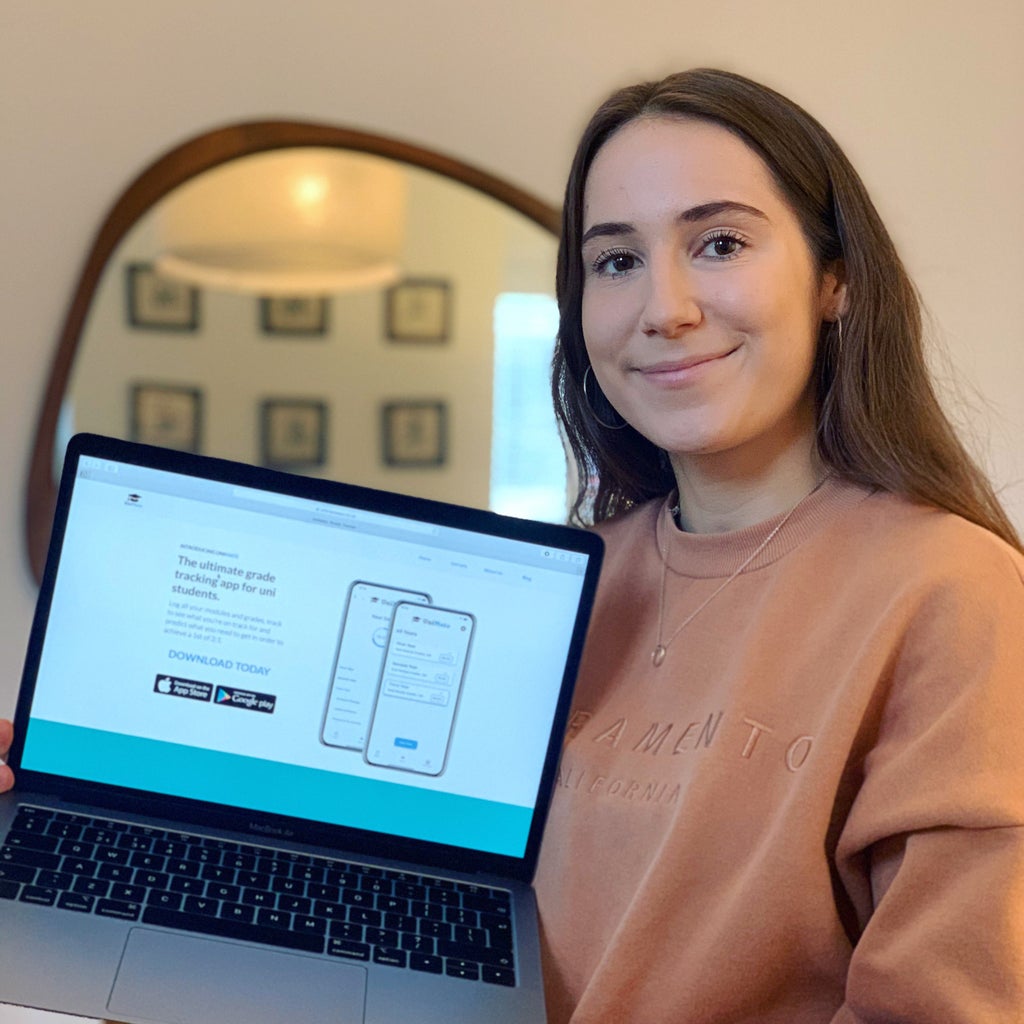 So you launched in November. What's happened for UniMate since then? What's the uptake been like?
'So it's actually been a pretty crazy few months. So we launched in November with no money behind it. So all the money that's been put in has come from my savings that I was meant to spend on my holiday that didn't happen last summer. So I thought "might as well put it in something else". […] And as of now we've got over 5000 users in a bit over three months, which is pretty crazy. We got on this student led Pan-European accelerator program, so we're currently doing that as well, which obviously takes up a lot of our time. We also applied for the idea factory competition at King's, and we won! We were one of the winners […] so we finally got a bit of money to put in the app. So it's been success after success these last few months. But, you know, it's more than that. Those things are great, but it's when students message you and they're like "oh my goodness, thank you so much – I finally know what I'm averaging" or "It's exactly what I needed". And all the long nights are made worthwhile.'
Tell us a little bit more about 'EdVenture'.
'So that's the accelerator program I just mentioned. So it's what they call a Pan-European – so it's across Europe – and it's these different start-ups that [take part]. It's not really a competition – it's more an accelerator where you've got access to loads of workshops, mentorship, you know, a whole team. I don't know how many we are in total – maybe 40-50 [teams] I think. I think it's just having that support is so nice when you're thrown into a sort of problem that you don't really know how to navigate. And being able to talk to all these other young entrepreneurs and people that are there to support you is, it's just really nice to have. Especially so early on – so we can learn from other people's mistakes, and bounce ideas off one another.'
You've had quite a successful few months since its launch, so what do you envisage – or hope – for the future of UniMate?
'I think there's quite a few directions we can go in, but I think as of now, growth is what we're aiming for. We don't charge for the app, we don't have any advertising on it. We very much stand by [the fact that] we just want to help as many students as possible. And we don't want money to be the reason students can't use our app. So I think now it's just spreading the word, trying to get as many people on it as possible, and just keep improving it. And creating this kind of community where we are able to help students and help them through their degree during an already very stressful time – especially now.'
What I really wanted to speak to you about today – especially as I'm interviewing you on International Women's Day – is your all female team. Tell me what's that like? How did you all meet and come to work together?
'Yeah, so the way we came together was quite odd. I didn't start this thing thinking "I'm gonna start a start-up and launch an app". I started working on it, and then Irina (we did our undergrads together – we were one the same course – you know, [she's] one of my best friends), we lived together and did a coding course together initially. And then I just talked to her about it, and she was like "I'd love to help you with it". So then she came on board. Initially it was us two coding it – we don't come from a technical background whatsoever – we'd only started web development and app development a few months prior to working on the app. […] We spent hours and hours just coding, and we'd have to delete it all – like seven hours of work – if it doesn't work. So we needed to get a developer on board. But finding a developer you can't pay is the impossible task. I was reaching out to my network, posting it on LinkedIn, and I messaged Becca [Hallam, CTO of UniMate]. So Becca is actually one of my best friend from school's girlfriend – so that's how I met her a few years before. She was on the same course as one of my best friends from school who did engineering at Imperial. So I messaged her, cause she'd done an app in her final year project, and I was like "Hey, Becca, do you know anyone who might be interested?" and she was like: "I am!" [laughs]. So then she came on board in September. The rest is history. It's all people that were in my life before, and we just formed this team. And we work so well together – I couldn't think of a better team – it's just so nice to work with these girls. We're working, but our calls and stuff – we just have a good time.'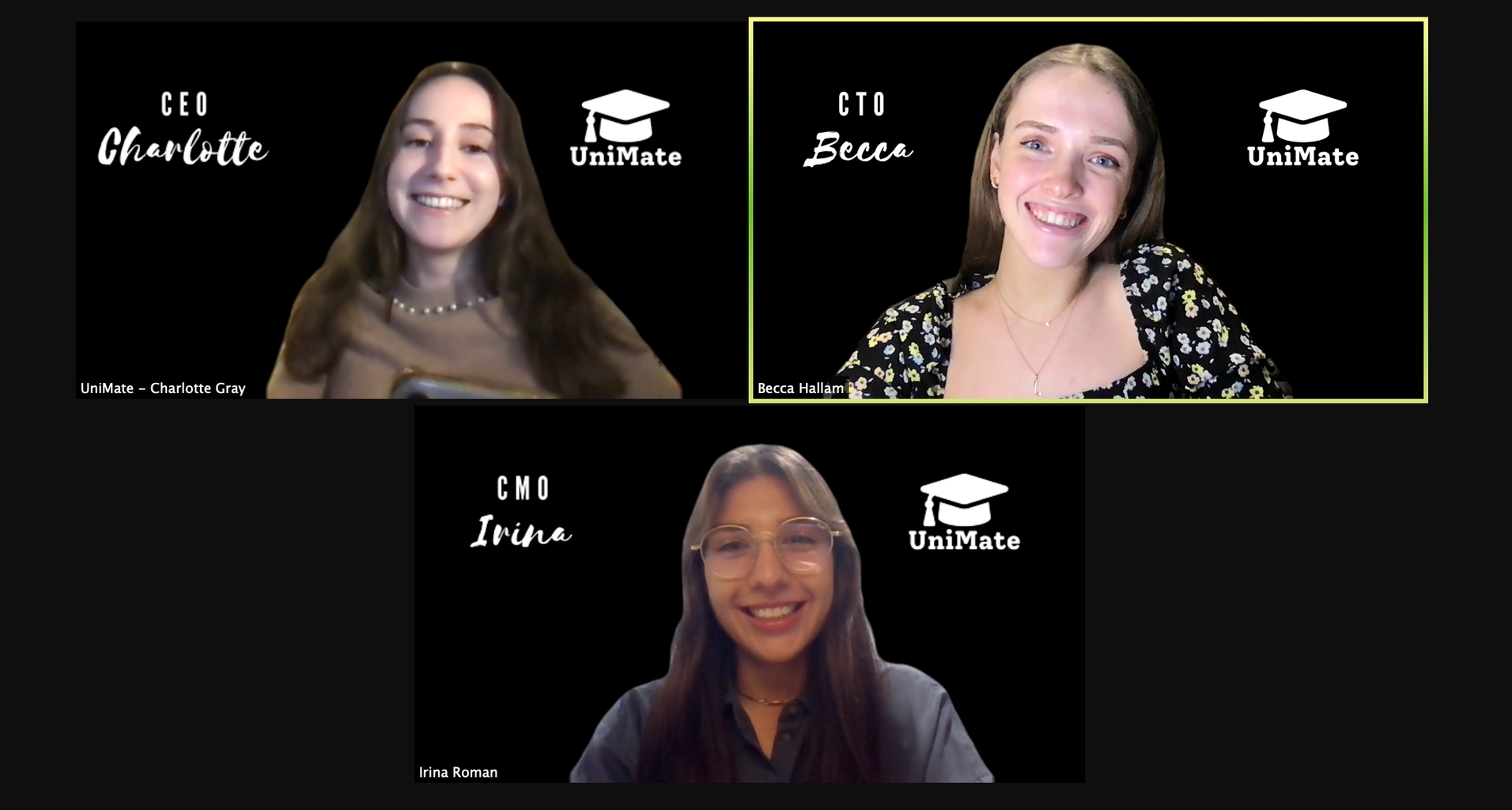 I know it's early days for you as a team, but what do you feel it's like being an all-female company in the web and tech industry? I don't like to make assumptions because we are in 2021 now, but a lot of these web and tech teams seem to be dominated by men. Do you resonate with that? Is that something you recognise?
'So I think – and I guess this doesn't really apply to a lot of other teams – but I think it's definitely worked to our advantage, as of now, because it makes us stand out. And so in competitions we enter, we can put: "we're an all-female team" and that actually looks quite good. […] And because we're in a kind of student industry/education industry, I don't feel like it discriminates as much because there are more females than males at University. Maybe if we were this biotech app or something else, then maybe people might not take us seriously. But I think, in our instance, we're seen more as students creating a student app, rather than a group of girls making a student app. So I think – if anything – it has played to our advantage in the sense that for the competitions we've entered, we can put that forward. And similarly, the way we got here as well. So Irina and I both did coding courses from Code First Girls, which are these coding programs to help girls get into tech. So the way we got into [the industry] was through those coding programs that were only accessible to use because we're female. So if anything, it's actually played to our advantage so far. Again, it's only been a few months and maybe further down the line it might negatively impact us. And I guess you do kind of see that when you look at young start-ups that I'm interacting with or the idea factory: it's all female, and the teams that won were all-female. But then you look higher up at the big companies – the big tech companies – and it's all guys. So you know, there's that disparity the higher you get. […] But we've just started, so I think it plays to our advantage, especially now that you have this whole wave of awareness that below 10% of investment goes to female teams. So I think people are trying to make that change, and we've been able to be part of that change in that respect.'
What do you hope, then, for the future of women in business?
'I was thinking about this today, because obviously it's International Women's Day, and then the CEO of Bumble, Whitney Wolfe [Herd], recently [her] IPO [has launched Wolfe Herd into a rarefied club of self-made female billionaires] – that was a big thing. I can't wait for the day when it's not a big thing. And you don't have to make a big deal out of it anymore. And we don't have to be an all-female team, we can just be a team. And it doesn't have to be 'women in business', it can just be people in business. I think right now we need to make this distinction – you know, really push for it – but I think the ultimate aim is that we no longer need to make that distinction: we don't need to make a big deal when a woman is CEO and doing really well, because that should be the norm. I think it's going to take a very long time to get there, but that's my hope, and I hope I can live through that and see that day. […] But I think that's when we'll have made it as females in business, is when we're just in business.'
Yes I love that! I know you're just starting out, but do you have any advice for anyone looking to become an entrepreneur? For someone looking to launch a product; start-up; app, what advice would you give them?
'Just do it. I think everyone has so many ideas – everyone is really creative, has a niche or something they can improve on. But the challenge is execution. And the execution is the tricky part – it's not the coming up with the idea – and that's when I think a lot of people drop off and don't want to commit, because that's when it gets hard. And I'm not going to lie, it is. You've got some very late nights, and moments like "why did I decide to do this?", or "I could be so much happier right now if I never came up with this idea". And these are obviously the lows, but then you've got the highs that just make it so worth it. Just stick with it. Do as much as you can yourself. I see all of these people think "I need to pay an app developer", or "I need a designer". But I designed the whole app myself with no design experience. Watch YouTube videos – there's so much online. Do it yourself and just execute it. […] Just go for it, and don't be afraid to make mistakes, don't wait for it to be perfect. You know, we launched in a few months, and, for me, it was like: "Let's get this out as fast as possible. We want to help students now, not in second semester" – so that was a very hard deadline I set for myself.'
Is there anything you came here to say that you didn't get the chance to say?
'I think if there's ever an opportunity to launch an app or start your side business, start a blog, if you're ever considering it, just do it. The only regret you're ever going to have is regret not doing it. If it doesn't work out, you end up in the same position as if you hadn't launched it. […] And if you've got the right people around you, it's going to work out. Whether that be support, or in your team. And find a good team! I think the team makes it all worthwhile, and makes all the difference. Don't rush into finding a team. I got very lucky – but I know a lot of people haven't necessarily been, and that can be quite tricky to get around after. Surround yourself by people you inspire you, and who are smarter than you, and whatever project you decide to work on will hopefully do well.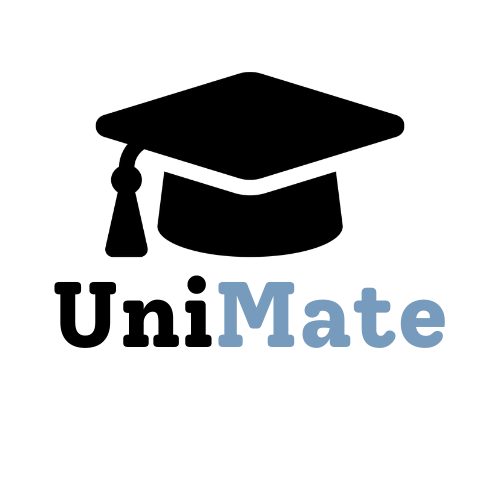 You can download UniMate via the App Store or Google Play, and follow them on Instagram at @unimate_app. See their website for more information.