Fun Spring Recipes to Do in Isolation
Alright everyone. Raise your hand if you're going a little stir crazy lately. Same here. While school and online classes take up a lot of time, there's only so many Netflix shows to watch and new hobbies to take up. Sometimes you just need a new activity at some point in the day, even if it's just twenty or thirty minutes. Here are some fun spring recipes to help you kill some time while we're stuck at home. (P.S. I've made and tasted all of these so I can attest that they're yummy!). 
1. Oatmeal Energy Balls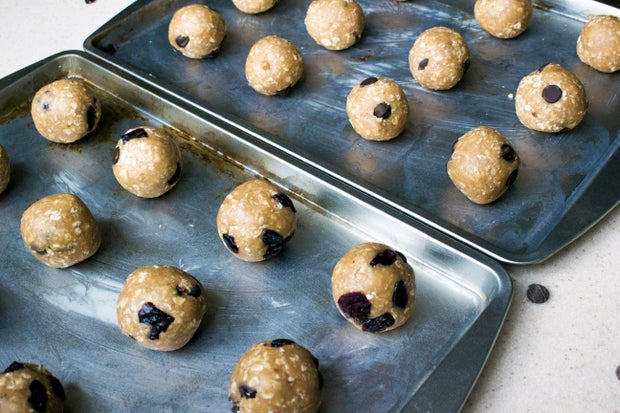 Brook Buchan / Spoon
These energy balls are so incredibly easy to make and are virtually everything good in the world rolled into one recipe. Though it can be quite a messy process, these are amazing for a post-workout snack or a late-night sweets craving. Ingredients include oats, coconut flakes, peanut butter, honey, flaxseed, chocolate chips and vanilla extract, but you can add or substitute virtually anything. Try chia seeds, almond butter, cinnamon or agave to spice things up a little bit! 
2. Homemade Ramen 
When a recipe for homemade ramen popped up on my Pinterest feed one day, I thought it would be a lot harder to make than it actually was. There are only a few ingredients you might not already have at home and some ingredients are even optional. You just need a few packages of ramen (depending on how many you want to serve), vegetable broth, some chopped vegetables, olive oil, soy sauce and a few other things! You can add a protein for more of an energy boost too. 
3. Taco Salad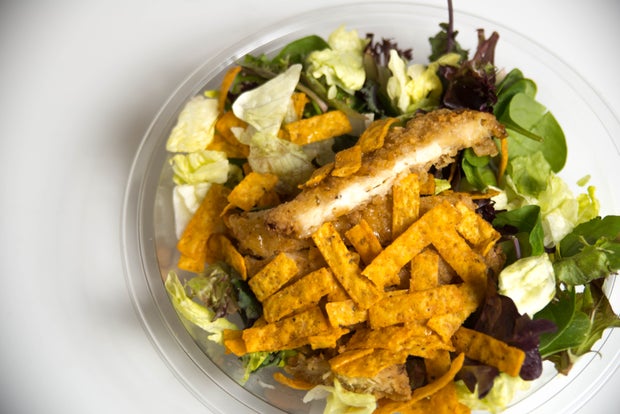 Alex Frank / Spoon
Okay, I can't lie on this one-- I definitely made this one up. No fancy Pinterest recipe here, but still a yummy option if you're looking for a healthy lunch or dinner option. I start with lettuce or spinach as a base and add any other chopped veggies I want to use that I have on hand, usually cucumber, carrots, peapods and whatever else I can find. I like to add a protein like chicken, but you can really use anything in place of this, or even a plant-based protein. I add a few scoops of corn and black beans and top it off with avocado, western dressing (this is the best part! It's similar to French dressing), and some crushed up lime or jalapeño chips on top. 
4. Chocolate Muffins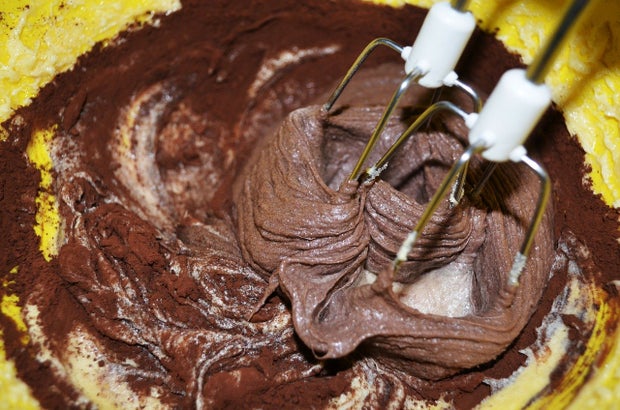 PublicDomainPictures
These chocolate muffins have a little bit of a healthy spin on them, with just half a cup of sugar and some applesauce and honey to help sweeten them. Not only are these so incredibly easy to make, but you can also make a bunch and freeze half to pull out at a later date. You won't even notice these are a healthier version of something yummy; they taste virtually the same! Plus, they take around an hour to prep and bake, so they're a good activity when you have a little bit more free time on your hands. 
Hopefully these few recipes can give you something to do during this time when we're all staying at home and can give you something new to try out. Trying out new recipes is a great way to pass the time, plus you get to taste test along the way and eat the finished product too!