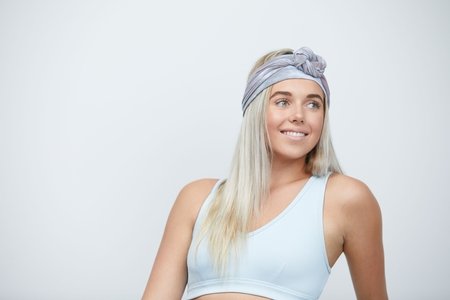 Meet Callie Jardine: Fitness Enthusiast Behind "I'm Sweaty and I Know It"
To put it bluntly, Callie Jardine is an incredibly cool human. She's a wellness blogger with a passion for food, exercise and positivity. Impressed by the online space she's created to spread her passion for health, I reached out to her; in doing so, I was inspired by her dedicated and hardworking spirit.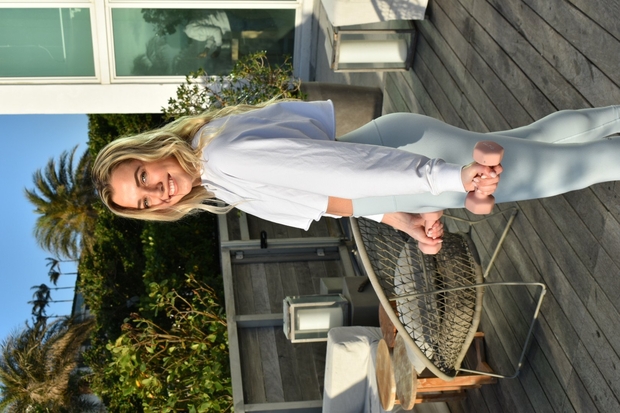 Her Campus (HC): Tell us about yourself!
Callie Jardine (CJ): Hey guys! My name is Callie Jardine. I'm a bit of a mutt when it comes to where I'm from. I was born in Midland, TX, lived in Calgary, Canada for nine years, Houston for five, Pittsburgh for one and now I'm attending the University of Miami (in Florida) as a junior. 
When I'm not laying at the beach enjoying my all-time favorite sound (the crashing ocean waves), I'm teaching Pure Barre, looking for the trendiest restaurants and coffee shops, taking photos for my page, writing blog posts, experimenting in the kitchen with "weird" healthy food recipes, and sweating it up at either a Pilates, cycle, boxing or barre class.
HC: How did you grow to love health?
CJ: As I previously mentioned, I lived in Canada, which is the hub for ice sports. I first strapped on a pair of ice skates when I was two years old; ice skating was my entire world by the time I was eight. For ten years, I trained and competed as a figure skater, which is essentially a full-time job in health and wellness.
Unlike most kids, I was hyper concerned about my health. My meals were crafted to fuel and nourish my body. 5 a.m. training session fostered my long-lasting discipline that has been beneficial in all walks of life. Once I stopped consistently skating in college, I felt like something was missing in my life, so I became a fitness instructor. 
I've also had health issues since I was a kid. In 5th grade, I developed severe acid reflux and a dairy sensitivity, which forced me to be even more conscious of what I ate.
As you can see, almost every chapter of my life has fed my love for health and wellness in some way. I recently started a health and wellness blog called I'm Sweaty and I Know It to share my passion and love for health in all areas of life.
For anyone struggling to develop a passion for health, I advise you to try out different fitness classes, recipes, etc. You just have to find your niche! 
HC: What lies about health do too many people believe?
CJ: Oh my gosh, I could go on and on about this… DIETS!!! Dieting is wildly unhealthy for you… A diet is a DRASTIC temporary change, like if you were to walk into a smoking hot room after standing in an icy cold room. Not a fab feeling. There's no transition period!
A few summers ago, I tried the keto diet which cuts out most carbs (aka super unrealistic and difficult to do). For a month, I dieted religiously and stuffed my face with cheese, meat and vegetables (remember that I'm dairy sensitive? Yeah… no Bueno).
The keto diet taught me that everyone has unique eating needs. Diets are not made for YOUR body. Lifestyle changes are the more effective approach.
It's not natural to eat too much or too little of one thing. ALSO, eat to FEEL better, not look better. It's all in the mindset. If you allow cheat days once a week but consistently focus on clean eating, then I guarantee that you will get the results you want and live a happy and nourished life.
Also, antibiotics are not great. Take rest days when your body hurts and drink garlic, lemon, ginger, honey and cayenne pepper when you are sick!! Go the holistic route!! 
HC: How do you balance your busy schedule? 
CJ: I list my heart and soul out. Each night, I write out the next day's 6 personal and 6 professional tasks ranked in order of importance.
Additionally, I do the 30 min – 5 min work method. I set a timer to grind on one list item for 30 min with zero distractions and then take a 5-minute break to stretch and move around before resuming a new task.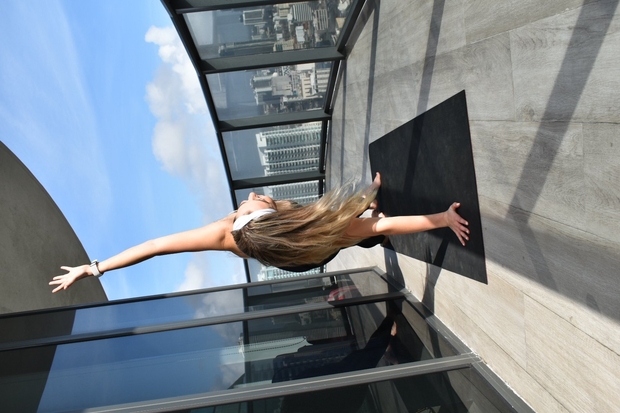 HC: Favorite snack?
CJ: Sea-salt plantain chips all the way! Super healthy and the perfect mid-day snack. Oh, I also adore Hu Kitchen dark chocolate gems (no refined sugar and amazing for your heart health!).
HC: If you could have dinner with anyone, who would it be? What would you eat?
CJ: Kenzie Burke. I actually ran into her a few weeks ago in Miami and asked her a few questions about food combining (that's what I've been doing for eating); this girl is an absolute health and life QUEEN. She focuses on simplicity in eating and life and I think her old soul is full of wisdom that every millennial should hear. We'd definitely go eat somewhere vegan! 
HC: Opinion on "cheat days"?
CJ: They're totally natural! We're all human. We need to have some cheat days. It all comes down to how many cheat days you give yourself and what a cheat day entails.
Each week, I give myself one cheat meal. The funny thing is that I usually leave the meal happy but an hour later feel awful because my body has adapted to clean eating. 
HC: What advice would you give to someone who looks up to you?
CJ: Be patient and keep your eyes on your lane only! Keep learning each day that stress and the need to micromanage every area of your life only harms you. Things will work out one way or the other and there's ALWAYS a solution to a "no." Also, with social media, it's wildly easy to get caught up in what other people are doing and compare yourself.
Do what makes you the best aka "sweatiest" version of you!!
XX CAL 
You can find Callie on Instagram (@imsweatyandiknowit) or at her blog: www.imsweatyandiknowit.com
All photos provided by Callie Jardine.
Answers have been modified for clarity.
Want to see more HCFSU? Be sure to like us on Facebook and follow us on Instagram, Twitter and Pinterest!