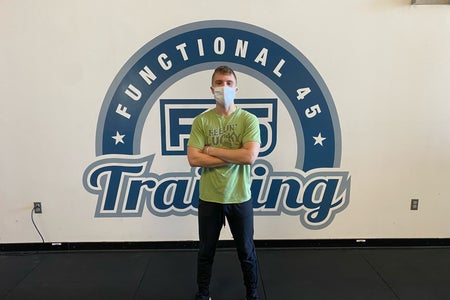 Original photo by Emma Roberts
Joshua Lutz: Inspiring Others To Get Fit
It's well known that Florida State University (FSU) Campus Rec offers group fitness classes like spinning and F45, but not many gymgoers know about FSU's free personal training program. Joshua Lutz, a senior at FSU with his NSCA-CPT certification, is one of the trainers who run a 10-week program called Start to Fitness at the Fitness and Movement Clinic. The program is designed for beginners to reach their fitness goals with the help of a certified personal trainer. I saw an advertisement on Facebook in January for the coaching program and signed up. Personally, this is where I met Lutz, who leads our small group every Monday and Wednesday. After every set, he always finds a new phrase to use to compliment us on our efforts, whether it's "Stupendous work!" or "Amazing job!" Lutz told us he literally looked up phrases he could use, so he wasn't repeating the same motivational quote every time.
Now in his senior year, Lutz has had years of workout experience. However, he didn't start off at FSU as an experienced trainer. Lutz's fitness journey began at the end of his freshman year at Florida International University (FIU) when he found himself not knowing what to do with his free time.
Lutz recalled, "I was on facetime with a friend and was complaining about how now that school was over, I would really have nothing to do since at that point I had basically no hobbies. My friend suggested that I should try using the gym, and the next day I went to my local LA Fitness and just kept going daily."
While most people lose motivation after time, Lutz found it fairly easy to stay consistent in the gym at first. He found himself using the gym as a way to waste time during the summer until he transferred to FSU in the fall. He had been recently fired from his job and school had ended, so he started putting his energy and effort into working out. His time in the gym paid off, as he used his experience to earn him a position as a personal trainer at FSU. Personal training was not what Lutz expected to do but he spontaneously applied after not hearing back from the Facilities and Operations staff.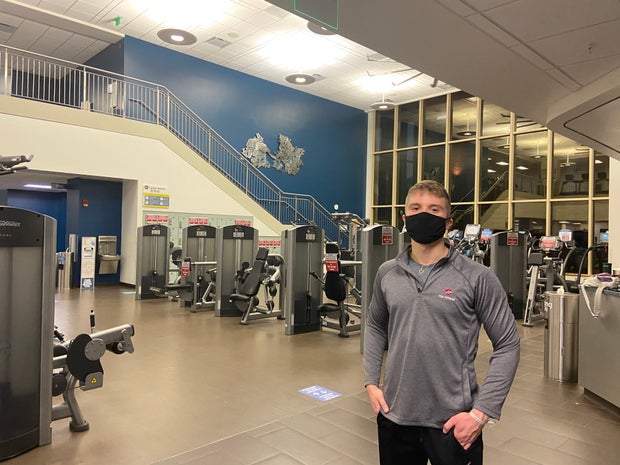 Original photo by Emma Roberts
Lutz said, "I never truly believed I would become a personal trainer but I miraculously got an interview for the personal trainer position. I knew that I had minimal knowledge of fitness, but I wanted to learn so much more and figured that they would most likely teach me true fitness knowledge to be an effective trainer, rather than the fitness advice you see on Instagram."
With a year and a half of training under his belt, Lutz has worked with and met a variety of different people, which is an aspect of his job that he enjoys. His clients tend to mostly be beginners who need some guidance on how to exercise properly. Whether their goal is to squat heavier or to lose weight, he has a similar approach when training all of his clients.
Lutz explained, "I try to instill confidence in all of my clients and push them to challenge themselves so that once we have completed all of our sessions, they can see how far they've come and be proud of it. I also like to emphasize the benefits fitness can have on other aspects of life since the hard-working attitude you bring into the gym can be transferred to almost anything else."
Outside of training and work, Lutz continues to consistently go to the gym and can often be found at the Leach in his free time. One of his personal goals is to increase his bench press weight to a single rep of 275. He reminisced about when he first started lifting weights because at the time he could barely bench press the barbell.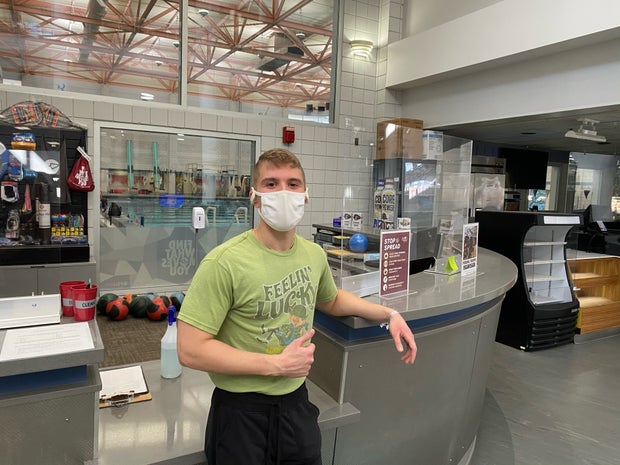 Original photo by Emma Roberts
Lutz said, "When I first started using the gym, I could barely even lift the barbell when it came to the bench press. I would be so impressed by anyone who could bench with a 45-pound plate on each side and thought that anyone who could bench 185 pounds was basically 'The Incredible Hulk.'"
While Lutz is far from a beginner anymore, he remembers the start of his fitness journey and applauds anyone who is getting started in the gym.
Lutz remarked, "There is no such thing as a 'perfect time' to do anything; the perfect time is now. Obviously, it's intimidating to enter a new environment, especially when those around you are more advanced, but each person in the facility had to start at one point, and the only reason they are where they are now is because of the amount of time they have consistently put in."
Want to see more HCFSU? Be sure to like us on Facebook and follow us on Instagram, Twitter, TikTok, Youtube and Pinterest!