Her Campus (HC): What inspired you to launch Drip Drop Fitness?
Summer Griffith (SG): I was born and raised in New York City, and when we moved to Florida, I went to FSU   and I went back to NYC a lot for internships. I wasn't 21 yet, so I got creative with things to do at night. Since I couldn't go out to bars yet, I started getting into fitness. I experienced how New York City had so many cool offerings for fitness. There's everything from stand-up surfing, to biking, to boxing, to dancing—I mean everything! So, I started to go to different studios, and I experienced so much when I was there one summer. I came back my senior year, and I realized, "We don't have anything like that here in Tallahassee that's fun!" I Ioved the idea of making fitness fun, and not just something that is focused solely on weight loss, or how much you can lift, or how early you can wake up. I thought, why can't we just do something fun, but still take care of your body. So I was like, I want to start something in Tallahassee that focuses on making fitness fun!
HC: How did you come up with the name Drip Drop?
SG: It sounds funny, but when it comes to you, it comes to you. It just popped in my head. I was in a fitness class and I was stretching over and my sweat was coming down into my face and it dropped on the floor. My mom was visiting me during my internship in New York at the time, and I came home to my mom and I said "Drip Drop!" and she said "What?", and I said "Drip Drop!" I just loved it because I wanted our logo to speak to what it was, that we sweat. I love to sweat; I dislike workouts where you don't break a sweat. I believe sweat is a visible outcome of hard work. I wanted people to know that we sweat; this not a joke. This is a real workout. So with "drip", I thought of sweat, and with "drop," drop it to the music, drop it like its hot, drop your stress, drop your worries, drop your insecurities, and come have fun!
​HC: How is DDF different now from when it first opened?
SG: When we first opened, we weren't offering Pilates or Boost, which are our strength classes, we were just offering Happy Hour, our dance cardio class. We also have added our great half-hour classes. A lot more teachers have come through here. We are constantly improving our formula for our classes. We have had to figure it out as we went. I think that's a big thing because, if I didn't open the studio until I had the formula perfect, we would still be waiting on Drip Drop. We keep working on refining and perfecting that formula. We try to stay true to who we were from the beginning. The biggest change is just growth. More instructors, more people, more retail, more offerings, more classes.
HC: What is one big thing you've learned from being an entrepreneur?
SG: The biggest thing is learning that you can't make everyone happy. At the end of the day, it was your idea, it was your business you started. For me at least, a lot of this was my idea, and I just have to stay true to my gut and run things the way I see fit. Of course, I stay open to feedback, but I think just knowing you can't make everyone happy is important and if people want your product, they will come and they will pay for it. After 3, almost 4 years I am confident in our offering and our community. If someone really wants to be here, they will pay for it. They'll come here and they will enjoy it!
HC: What is your approach to advertising and marketing?
SG: Word of mouth I think for every business, is the most invaluable thing, and we've always played on that. We encourage people to bring friends, we reward them for bringing friends. We have punch cards for them to bring friends. This way we can track it and the biggest area we get referrals from is word of mouth. This is great, but it also discourages me from doing much advertising because word of mouth really helps. I've never paid for print ads or poster billboards. We post on Facebook about events so people know about them. We post a lot on social media, people repost us, we like telling instructors to bring their friends as well. It's all genuine posting and sharing. So we get a lot of referrals. I'll always hear things like "Oh, a girl I used to work with went here," or "My mom's dentist told me about it,". I meet a lot of people who find us on social media and people who find out about us by driving by because we have such big signage. So those are the three main ways people find out about us.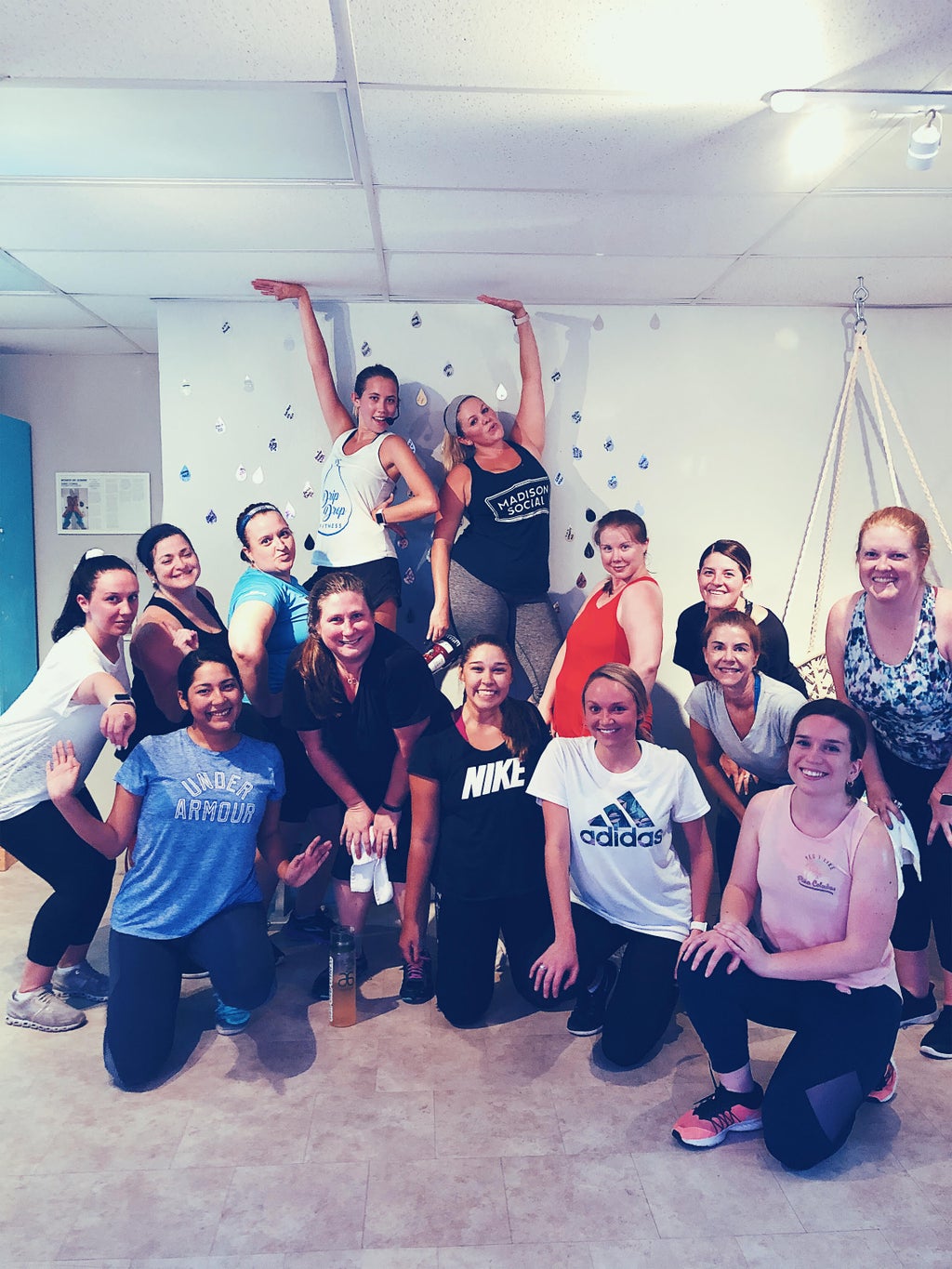 HC: Do you have any advice for someone looking to start their own business?
SG: Do your research. If you're going to take the time to make something, try to make it something new and different. People always assume entrepreneurship is like an invention. I didn't necessarily invent this. I made it, but I didn't invent dance cardio. I knew I could do it better, and I could introduce it to this market. So just do your research, and if it's already out there, how can you do it better, and how can you do it differently. And ask yourself if you're passionate about it, and what about it you are passionate about. I wasn't a passionate dancer, but I love to have fun, and I love to dance for fun! And I love people, and I love the atmosphere and community, so that's why I did it. I think the biggest thing is figuring out if you're going to jump in can you make it different, can you make it better, and can you be passionate about it.
HC: What do you love most about Drip Drop?
SG: My team! I love having my people help and be a part of it. It's exhausting doing it on your own. It makes it so much better when I know I have people I can count on, I have people that post on social media, people who are proud to work here. And members of course, but my team helps execute the vision of Drip Drop.
Want to see more HCFSU? Be sure to like us on Facebook and follow us on Instagram, Twitter, TikTok, Youtube and Pinterest!