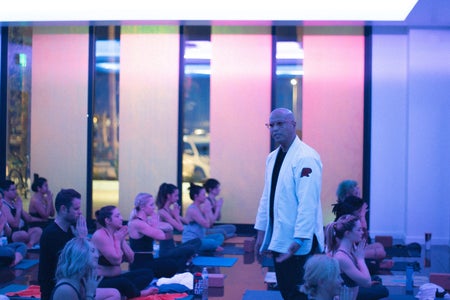 As a writer in the fitness and athletic section, it's obvious I was involved in athletic extracurricular activities growing up. I was a dancer from ages 3 to 16 then became a rower. My brother played baseball, lacrosse, and golf, my mom practices yoga as well as HIIT, Tabata, and spin, and my dad loves to spin and do interval/strength training. While I was in high school, I vividly remember my mom talking about this one instructor at the yoga studio in my hometown named Cidney, who required each student to have clean feet before they attended his class. She would always come home drenched in sweat and feeling super accomplished. It wasn't until mid-2019, when I heard that Cidney was opening his own studio at the brand new outdoor shopping and business center, 2nd & PCH. Since I heard how amazing of a teacher he was, I was excited to take classes from him. When I was home for winter break, my mom dragged my dad and I out of bed and brought us to one of Cidney's test classes, "HAWT-BOD'' on Christmas morning. From that day forward, Cidney was no longer an enigma. HAWT Yoga rang in the New Year by opening in 2020 before having to temporarily close due to COVID-19 just a few months later. Fast forward to Winter break 2020, I invited Cidney over to my house to chat with him about how he got into Yoga, his influences, being a small business owner during COVID-19, and the future of HAWT.
1.

Her Campus CU Boulder: "Let's start with an introduction, what's your name, business, and how long you've been teaching yoga?"  

Cidney Corpuz: "My name is Cidney Corpuz, I am the owner of HAWT Yoga, and I've been teaching for 10 years." 

2.

HCCU: "What was your life like before HAWT? How did you get into practicing yoga?"  

CC: "Before I became an instructor, I was working in Brea for Bank of America's corporate call center as the assistant general manager of their restaurant. In addition, I was a Sushi chef for 7 years and had my own catering company, Purple Rice Sushi. Once the recession hit, I was homeless for two months and was forced to cut ties with my business. 

I was lost, trying to regroup, come to terms with being in an economic depression, and the one thing that has always kept me sane as a chef was yoga. I used yoga as a personal sanctuary as a way to escape the fast-paced environment I had to endure as a chef. That's when I started to take yoga seriously and look into teacher training."

3.

HCCU: "What does your background consist of? How has it influenced the principles of HAWT?"

CC: "I take my practice very seriously. I've been studying Martial Arts since the 2nd grade after a bully assaulted me. Two key components of Martial Arts are strength and empowerment - those two themes have helped me manage my auto-immune disorder, Psoriasis. Since childhood, I struggle with body image from the scarring and disfigurement from psoriasis. Exploring beauty and the ability to feel sexy, translates into HAWT's emphasis on strength and stability, confident-calm, as well as the tagline 'SEXY X STRONG.' "

4.

HCCU: "How has Coronavirus impacted you as well as HAWT? What does the future for HAWT look like going forward?"

CC: "Because we were open for 75 days, we don't qualify for disaster relief or any assistance. Right now, our biggest obstacle is operating at 10-20%. I've enforced guidelines for students - they must wear masks upon entering and exiting the studio. Students are required to set up their mats 6ft apart from one another and have the opportunity to take off the mask while taking a class. It took a while for the culture to acclimate to these protocols, because everyone wants to do the right thing, however, they just don't know the rules of this one place. We have to be consistent about how we communicate and enforce these rules and regulations. 

As far as the obvious, I think Covid has helped us define and strengthen our brand. If we can push through this pandemic and survive being open for a year, we are gonna kick ass."
Here we are in March 2021, and HAWT is still operating at 10-20%. LA county is still in the 'purple tier' in California's reopening plan which means gyms, schools, and theme parks are still closed. If you're interested in keeping up with Cidney and HAWT yoga, be sure to follow him @Hawtyoga on Instagram.