Victory Lap: The last semester of College
Hey, Y'all, it feels like it's been forever since I typed out a real conversation without HerCampus CAU readers, but I'm back in motion. If you didn't know from previous articles, my name is Tayla Camper. I am a graduating senior attending Clark Atlanta University, and as I reflect on my last semester of both college and writing for HC, I have learned so many things about myself. It's very easy to get caught up in ALL of the wrong things in college; focusing on everything but your own self, but it happens to literally everyone.  This article isn't exactly the perfect list; it isn't for everyone. It's for me and for whoever can relate, however; here are some things that I've so far learned entering a new year and a final semester. 
Do not sweat the small stuff. Hell, don't sweat the big things too much either. It's your last semester, live it happily (this is important), don't let anything small or problems you had from the last year stop your happiness in these last four months of school. If there's a bigger issue, try to realize the bigger picture that it will pass and that even that issue is not worth spending your last semester slumped. Have fun because you can!
Spend time with your loved ones. This is self-explanatory, but this is the last time that you will be in this area with the people you entered college with. Your best friend might not be right down the hall, they may be hours away and that's okay. Spend time while they're right next to you, spend time with those who decided you were important to their lives and will support in your next chapter.
Not knowing the next step is normal. This is something I originally struggled with in college, but then I realized how young I am and how small this fraction of college really is. Beneficial, but small. The four years you spent are indeed coming to close, but that's for an entirely new door to open up (whatever that may be) just hold on.
 Discover new things you love and achieve them. Over the winter break I took many days to exercise, shower and relax. These are all small simple things, but I took the time to care about my health, my body and enjoy some much-needed TLC. I recommend it. Bonus points if you get your nails and toes done right after a nice bath. 
Be proud, you made it! This is so important. So many students stress on the after without realizing how proud of themselves they should be. College is simply not for everyone; it isn't as easy as getting up and going. College is taxing, stressful and will test you in ways unimaginable, if you're graduating, be proud of yourself.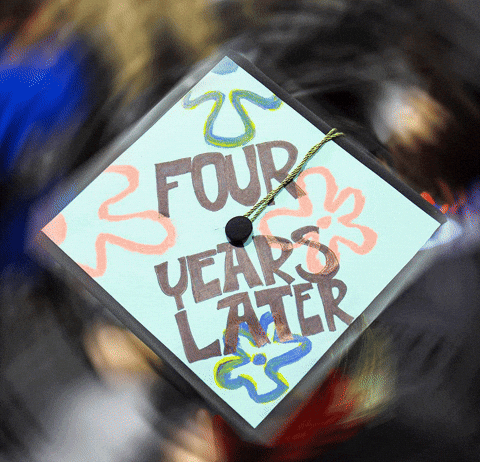 These were the top five things I learned thus far. It's only January of my senior year but it has been a monumental month of my life that I will never forget. As my months pass by, I plan to continue adding things to the list, I plan to watch it grow as long as it can and I plan to learn at least five new things about myself each month until I graduate. So, be on the lookout for part two in February!