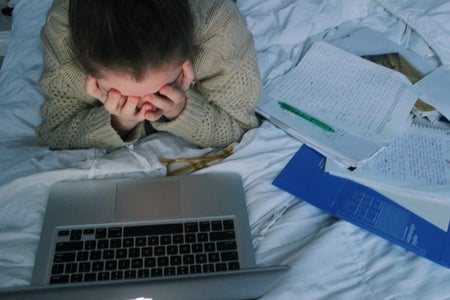 Anna Schultz / Her Campus
Tips to Get Through Finals in Quarantine
Believe it or not, the fall semester is almost over and it is time for final projects, essays, and exams. Since the college wants to limit the spread of the virus, students are being asked to go home for Thanksgiving break and not return for finals. In-person classes will come to an end and it's up to us, as students, to figure out how to study and take exams from home. For many of us, this can make everything a little overwhelming, especially when we are juggling so much online work and so many syllabi. I've created a list of helpful tips to get through finals from quarantine. 
1.

Make a schedule for yourself

Working from home or from a dorm can be distracting, and I know it's hard to focus. I like to use an app called ClassUp that allows you to create a school/work/regular schedule and even share it with your friends. If you'd rather write your schedule down, that's fine too; just pull out your agenda and get to work.

Start by writing down all the dates of your final project/assignment deadlines as well as the dates and times of your finals. Once you've done this, start making a plan to finish up work in your classes and study for your exams. 

2.

Step away from your desk!

In addition to including all of the academic work you need to complete in your schedule, try to allot time for stretch breaks, walks, or even a coffee break with a friend. If you are truly in quarantine or isolation, use this time to journal, do some yoga, sit under the sun at your window, or call a friend instead of going outside. Believe me, this will keep you sane. I've made the mistake of not making a schedule, staying sedentary, watching way too much TikTok, and losing my motivation.

3.

Don't overwhelm yourself

Acknowledge your successes and let them motivate you to keep working hard. and dedicate time for academics and yourself. I'm not sure if you all are having a similar experience, but online classes have made me focus even more on upcoming assignments, grades, and whether or not I missed a discussion post. Instead of letting these thoughts take over and make you anxious, try to take them one at a time so that you can move forward rather than getting stuck in a mental block and doing what I do...taking a two-hour nap.

4.

Give yourself something to look forward to!

Plan something to do after all of your exams, whether that is watching movies with the Google Chrome extension, Teleparty, making hot cocoa and curling up with a book, going on a socially-distanced outing like ice skating, or going on a hike with a friend or family member.

We all have different things that make us happy and it is important to make time for yourself and do what you enjoy, especially after a semester of ups-and-downs and lots of adapting.
Remember, you've gotten this far, now you just need to cross the finish line. We're all in this together, let's hurry up and put 2020 behind us.