Healthy Options for the Holiday Season
Holiday season is officially upon us. With the culmination of Halloween and Thanksgiving festivities, Santa on his sleigh will soon be ringing his bells! Oh, and we can't forget about New Year's Eve! If you are currently in a food-induced coma just thinking about all the delicious meals ahead, you're probably wondering how to approach the holidays in a healthier manner. But fear not! Choosing healthier options during holiday meals is a lot simpler than many think. Here are some suggestions on cutting back on unnecessary fats and sugars this holiday season. And don't worry, there is always still plenty of room to indulge!
According to Oprah.com, (and I mean, who doesn't trust Oprah) choosing the healthier options doesn't mean you have to give up your favorite foods. Simply avoiding turkey thighs can cut you back on more calories than a thick slice of prime rib has! On the other hand, "skinless white meat, is a top source of lean protein, with only 102 calories in three small slices." Also, plenty popular side dishes we love are surprisingly good for you! As sweet as those sweet potatoes are, they contain tons of vitamins, and are shown to maintain a healthy blood pressure (Medical News Today). If your favorite side-dish is cranberry sauce, consider making your own with agave-nectar or raw honey instead of sugar. And if you are planning on having some delicious apple pie for desert, loading up on some string beans as well can't hurt! It's all about balance, people.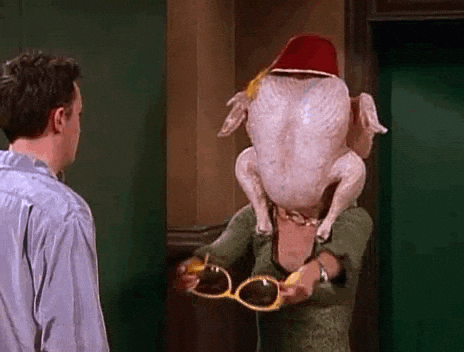 Many families have their own traditional meals they prepare. But if you're going for the classic Christmas ham, fitday.com suggests an apricot-citrus stuffing to add a delicious vitamin-packed boost. And similarly to those Thanksgiving sweet potatoes, roasted butternut squash is an easy and potassium filled side-dish to go along with any holiday meal. As for New Year's, it's all about the hors d'oeuvres. Consider leaning towards veggie based ones, or non-fried options such as shrimp cocktail.
Holiday times are all about friends, family, and of course, food. Therefore, remember it's more than okay to indulge in your favorite holiday meals. After all, holidays just wouldn't be the same if everyone were super health-conscious about them. However, it's not all that difficult to throw in some more healthy options. Enjoy the holidays, and Bon appetit !