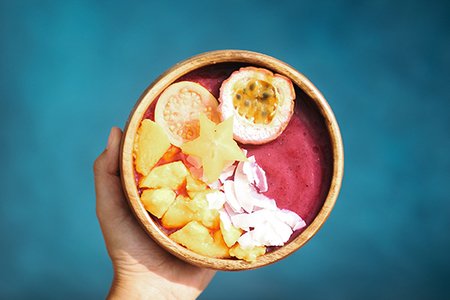 Tessa Pesicka / Her Campus
Your New Favorite for Healthy Dining on Campus: Life Alive Cafe
Sometimes I wonder why society is skeptical about healthy food. Every time I want to order a salad, my friends will comment either "oh, you are so healthy!" or question if I am on a diet. However, healthy eating isn't always related to weight-loss; sometimes it's just to make you feel good and fuel your body for the rest of the day. Some people think vegetables cannot fill you up and give you satisfaction. Well, I really think that I am joyful and satiated every time I have a wholesome plant-based meal at Life Alive Cafe. 
The vibes of the cafe are lively and welcoming, and the food is more than amazing. You can really feel satiated from their grain bowl, and my all-time favorite is the Green Goddess, particularly because it has kale and creamy avocado on the top!
Another grain bowl that steals my heart is the Rainbow Harvest. It is a colorful and beautiful bowl full of the essential nutrients you need for the day! I think they make carrots really yummy, especially because I don't usually eat carrots!
As a kale-lover, I also recommend Forbidden Kale to you. This is a bowl of salad that is flavorful and served with crispy chickpeas! They also have a non-dairy option; you just have to inform them when you are ordering!
If you are just looking for afternoon snacks or breakfast, I highly recommend their peanut butter acai bowl! 
For another breakfast option, I personally really enjoy their strawberry steel-cut oats. They are warm and will fill you up for the entire morning! I sometimes just order a bowl of oats and work, so I can be productive and concentrated for the entire morning!
Aside from the amazing food, Life Alive is also a good place to work and study. 
Next time you are looking for plant-based dining on campus, remember to put this cafe on your list!
Want to keep up with HCBU? Make sure to like us on Facebook, follow us on Instagram, check out our Pinterest board, and read our latest Tweets!