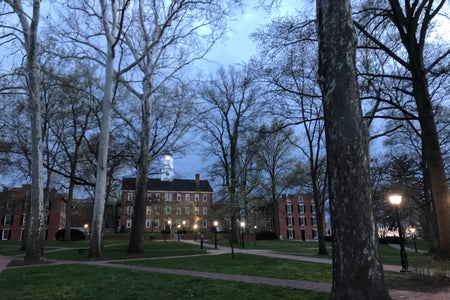 What I Didn't Know About College as a High Schooler
When I started college in 2018, I had no idea what it would be like. I don't have any older siblings or know many older college students, so I was going in pretty blind. If you are anything like I was in high school, here's an honest look at what college is like that would have surprised me:
1.

The amount you stressed about getting into college will seem stupid in comparison to getting a job after college.

There's no Common App for the real world... When you're applying to college, you know that you have four more years to figure out what you want to do and how. But when the time comes to graduate, filling out job applications is that much more frightening, because there is no safety net anymore. While taking the SAT and writing dozens of college essays is stressful, try and keep things in perspective because the best (and hardest) is yet to come.

2.

Instantly meeting your best friends for life and never seeing your high school friends again is unlikely.

It's the 21st century. It's much easier to stay in contact with your old friends than your parents tell you. But this also comes with a price – there are times when everyone actually around you is too busy on their phones to do something social. And honestly, some of the Instagram posts of seemingly amazing social lives can be a little fabricated.

3.

Somehow college is both socially overwhelming and lonely, but rarely a happy medium.

There are days when you have six classes, a club meeting, and you're going to the gym with one friend, eating dinner with another, and working on a group project right after. There are also times when there's no time to eat meals with other people, or you don't have plans on a Friday night and you hear people right outside your room seemingly having the time of their lives.

4.

Professors don't really care about you if you don't make an effort to get to know them.

They treat you like the sort of adults you are, so they'll leave you alone unless you go out of your way to get to know them or seek out help in the class, especially in a big lecture. Both terrifying and reliving. Bottom line is, if you want to develop a personal relationship with your professors and feel more at ease in class, you should definitely go to office hours or attend guest lectures that they recommend to show that you care. Not only will it make class less daunting, but it will also be extremely helpful once you need letters of recommendations for internships or grad school applications!

5.

You'll continue to develop interests you never would have thought possible.

The activity fairs are pretty amazing and will surprise you. I suggest trying out at least one new thing that is unrelated to your major. I've wanted to be a college DJ since I watched Pitch Perfect in seventh grade, and here I am now, thriving at WTBU, BU's student-run radio station.

6.

It's incredibly stressful, and not everyone would agree, but there is a reason why people say it's the best four years of your life.

College isn't always easy, but you'll have times so legendary that the stressful moments don't even matter at the end of the day. You're only an adult and teenager at the same time for a few years, and there are adventures and opportunities so great ahead that you'll remember for the rest of your life.