Since I have been home from college, I've been spending a lot of time on Pinterest and Instagram, where people are constantly posting recipes they have made during quarantine. That inspired me to begin this column, where each week I will choose a recipe, make it, and document my experience!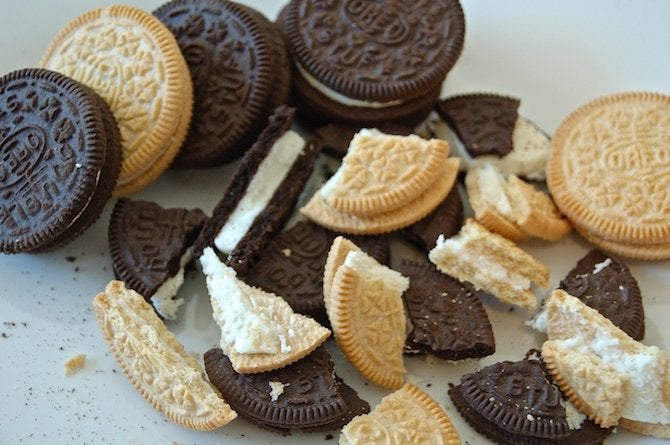 This week, I decided to try a recipe for Cookie Dough Oreo Brownies that I found on Pinterest from a blog called Just So Tasty. I had never made these before, and they seemed like the perfect quarantine treat. I mean, what beats chocolate chip cookies, Oreos, and brownies, all in one?
The brownies are essentially a bottom layer of chocolate chip cookies, a layer of Oreo cookies, and then brownies on top. The recipe outlines how to make the chocolate chip cookies and brownies from scratch, but it also says that you can use a box mix for either. I wanted to do everything from scratch, so I opted for that route, but ran into a problem that I think many people are probably also facing: a lack of all-purpose flour. This recipe calls for all-purpose flour for both the cookie layer and the brownie layer, but there was none in my pantry. I went to two local grocery stores in search of all-purpose flour, but to no avail. I did, however, find bread flour, which can be substituted for all-purpose flour, but does not work quite as well due to different percentages of protein in the bread flour.
So, my search for all-purpose flour continued. The next day, I called four more grocery stores, and each one said that they weren't sure when they would receive another shipment of all-purpose flour. But, they also said that my best bet would be to come right when the store opens because the flour had been going so fast. The next morning I woke up at 7:45 AM so that I could be at the grocery store right when it opened. I was disappointed to find no flour at the first store, but was overjoyed when my mission for all-purpose flour proved successful when I found a 2lb bag at another grocery store.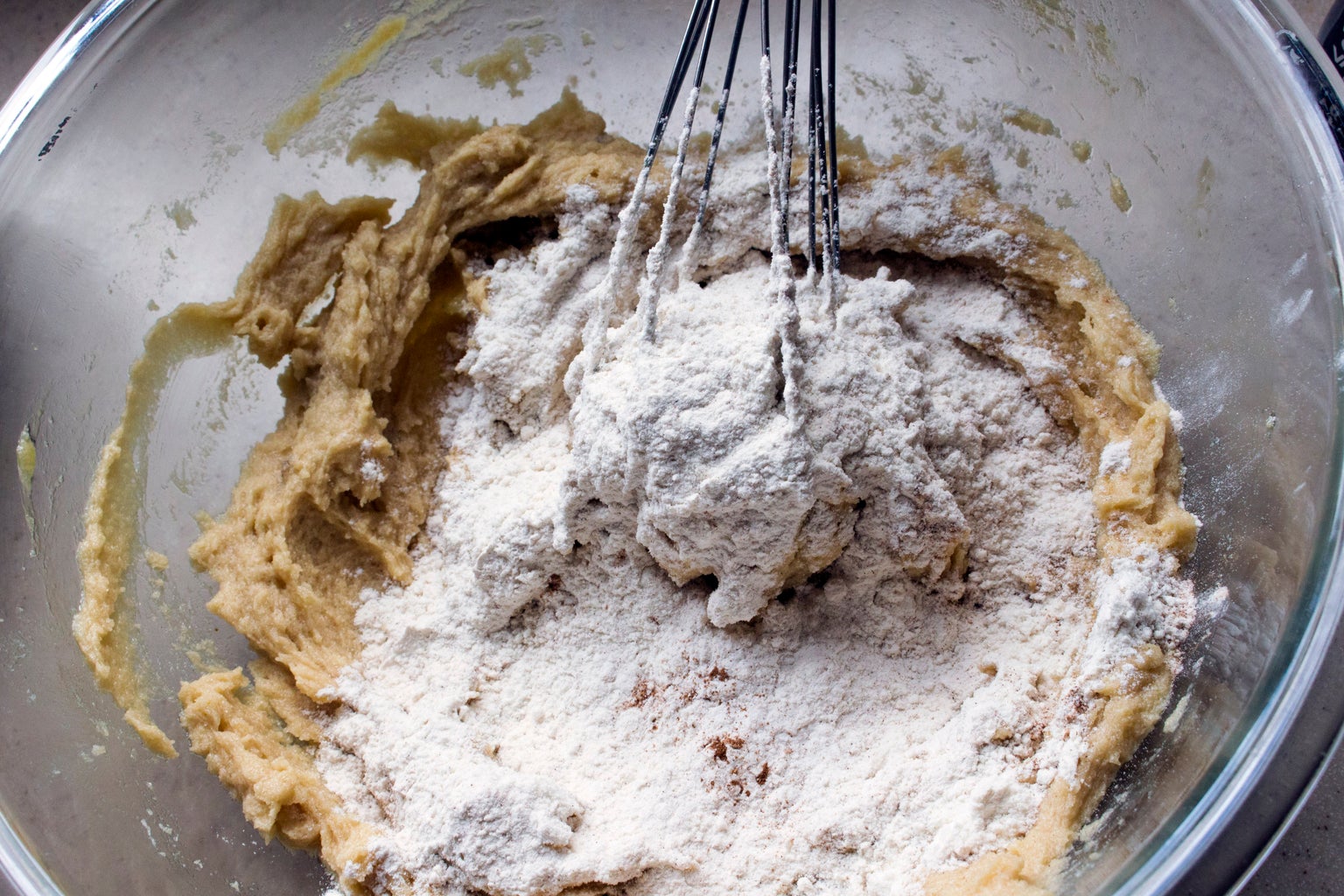 Thankfully, I had the rest of the ingredients for the recipe in my house. (Fair warning, however, this recipe does take 5 eggs, which are also low in stock at many grocery stores.) To begin, I made the cookie layer. This was a pretty typical chocolate chip cookie recipe, containing unsalted butter, brown and white sugar, two eggs, vanilla extract, all-purpose flour, salt, and chocolate chips. I used a stand mixer to make this layer, and then put it into my pan. The recipe says to put parchment paper on the bottom of the pan for easy clean-up, but I found it very difficult to spread the cookie dough layer with the parchment paper in the pan. I ended up ditching the parchment paper and just sprayed the pan with cooking spray instead. It was still a little difficult to spread the cookie dough into an even layer with a spatula, so I ended up using my hands (washed of course!) for most of it. The recipe uses measurements for a 9×13 inch pan, which I did, but can be split in half to accommodate a 9×9 or 8×8. 
The next step is to lay down the Oreos on top of the cookie dough layer, which was fun to do. I ended up being able to use about 22 Oreo cookies in total, placed in rows. Next, it was time to make the brownie batter. I rarely make home-made brownies, so this part was mostly new to me! The recipe calls for unsalted butter, finely chopped semi-sweet chocolate, white sugar, eggs, all-purpose flour, cocoa powder, and salt. I didn't have bars of semi-sweet chocolate, and since it just gets melted with the butter anyway, I used chocolate chips. Instead of a hand mixer, I just used a whisk and spatula to mix the ingredients together, and it worked just as well! The batter ended up being pretty thick, so I had to use a spatula to dump it onto the other two layers in the pan and spread it so that it was even, all while making sure not to move any of the Oreos.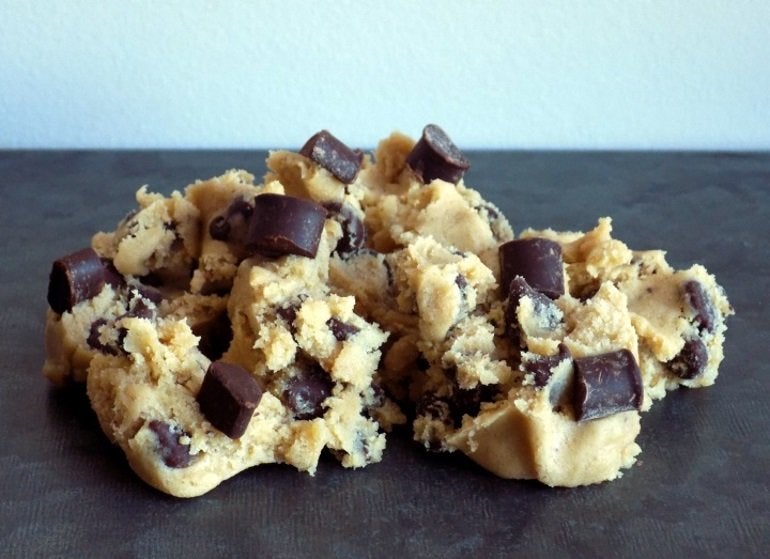 The recipe says to bake the brownies for 50-55 minutes at 350F degrees, which seemed like a very long time to me, so I poked a toothpick in at 40 minutes and they were definitely not done. I checked them every 5 minutes after that, and they ended up being done after about 55 minutes. She then says to let the pan cool for at least 4 hours before cutting into them. I was a bit impatient and couldn't wait that long, so I let them sit for about 30 minutes after coming out of the oven, and put them in the fridge for an hour after that. After they were pretty much cooled, I cut into them and tried them! They were really good, and the cookie layer didn't burn at all, which I was very surprised about! They are super rich however, so I cut them into pretty small squares. The 9×13 pan made a ton too, so I froze about half of them. 
This was such a fun recipe to make! I thought it was going to be a bit fussy with all the layers, but it was actually super simple! The final product is great too! If you make this recipe, please be sure to DM me a picture on Instagram @jennymnathan and tell me your thoughts!
Stay tuned for next week's recipe. I hope you guys are staying happy and healthy!
Want to keep up with HCBU? Make sure to like us on Facebook​, follow us on I​nstagram,​ check out our ​Pinterest​ board, and read our latest Tweets​!