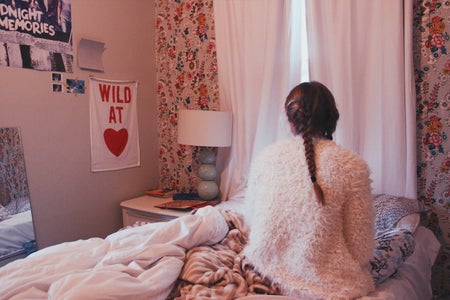 Anna Schultz / Her Campus
Five Ways to Stay Busy on Your Own
If you're a Boston University student, then you are glaringly aware of the fact that our classes have been moved online until April 13th in wake of the recent coronavirus outbreak. While this decision is indubitably necessary for keeping our community healthy and safe, it has left a lot of students unsure of what to do with themselves. Personally, I rely on my social interactions for staying positive and motivated. Unable to travel home, I will be spending a frightening amount of time alone in the next few weeks. At first, I was worried about this, but I am doing my best to look on the bright side and not pity myself, especially when there are others who are facing much tougher times than I am. Here are five things I will be doing to keep myself busy for the next few weeks.
Something I often wish I had more time to do is read. Now that I won't be leaving my dorm much, I will have time to catch up on the pile of books that I've repeatedly told myself to set aside time for. If you don't have access to any actual books there are plenty of free online resources, such as Open Library, OverDrive, and more. I also recommend checking out Trident Cafe's staff recommendation list. I've found a number of good books on this list and they have options for all sorts of readers. 

While I won't be attending FitRec any time soon, I definitely will be going on more runs around the track and doing at-home workouts. One of my favorite at-home workouts involves a deck of cards: each suit is a different exercise (situps, pushups, etc), and the number on the card drawn tells you how many of that exercise to do. Face cards are worth 10, aces are 15, and the jokers are 100 jumping jacks. Working your way through a deck is a great way to stay active while staying inside.

Since my drawing studio is no longer able to meet in person, I'm going to set aside plenty of time to make art on my own. Whether it's drawing, painting, or collaging, I'm excited to see what I can make with the limited resources I have. Give yourself some time to stop thinking and try making something! If you don't know what to make, one idea my professor gave our class is to create a set of rules that your piece must abide by. For example, I've created drawings that are only made out of triangles, use only three different colors, and only can be done with my opposite hand. These rules can help break your creative block, allowing you to get out of your head and interpret them on your own accord.

One of my friends has been kind enough to let me stay in her apartment while I'm stuck at school. This is my first time living alone in a place with a kitchen, and I intend to make the most of it. I'm super excited to try new recipes and foods I typically wouldn't eat. If you have access to a kitchen definitely check out Bon Appetit's website for ideas for new yummy things to cook.

One of the most important things to do in the following weeks is to stay updated and informed about what is going on in our country. Understanding what is true and not feeding into mass hysteria is critical for keeping our society safe. You can do this by staying up to date with trusted news sources, not panicking, and keeping a level head. If you want trusted information about the coronavirus, click here to head to the CDC's website.
I hope this gave you some ideas for how to keep yourself busy while your practice self-isolation. Make sure you prioritize your mental wellbeing in the next few weeks. Stay safe and healthy, and please remember that your actions impact people other than yourself.
If everyone has empathy and consideration for others, it will be much easier to combat this difficult time. 
Want to keep up with HCBU? Make sure to like us on Facebook, follow us on Instagram, check out our Pinterest board, and read our latest Tweets!