When I was growing up, going outside and moving my body around was a natural consequence of being a curious kid. I loved to play imaginary games and pretend that the trees surrounding me were grand palaces or humble homes in a sprawling mystical village. Certain patches of grass had powers and if you collected enough fallen flower petals, you could create a magical elixir that would allow you to fly. You get the gist. 
In middle school I was a much more athletic individual than I am now. I played soccer casually from second grade until eighth grade. I started off on left defense because for some reason I had a very powerful left foot despite being a righty. In fourth grade one of my coaches asked for a volunteer to play goalie and I shot up my hand because I thought it would get me out of running drills (it didn't). I despised running more than any other exercise. I would usually fall behind the pack and would eventually have to summon the strength to catch up with everyone else. If my coach was watching us, I would find some excuse to take a break like saying I had to retie my shoe when it was already snug. My heart would be pounding so hard I was convinced everyone else could hear it thudding on the inside of my chest. 
Despite my disdain for running, I bit the bullet in eighth grade and decided to try out for cross country. My coach had pitched it to the team as a great form of conditioning before our season started so I thought, why not give it a shot and see if I can improve. Long story short, I got lost––yes, lost––on our first run around the neighborhood because me and another runner kept chatting with each other. Our coach, who also just so happened to be my science teacher, had to get on his bicycle and ride around the neighborhood looking for us since we had both left our phones back on campus. It was a disaster and I promptly stopped showing up for tryouts. 
After breaking my wrist at the beginning of the season in eighth grade I was out of commission to play, so I became team manager. I was not so happy sitting on the sidelines watching my teammates have fun on the field, but at the same time I was glad I didn't have to do laps around campus. I know, I know, it's not the best silver lining, and pretty lazy-sounding on my part. Eventually my wrist healed, and it was somehow sophomore year. I decided to switch gears completely and try out for the newly minted lacrosse team, which was bound to be super casual since no one on the team had ever played before. My friends and I spent a lot of time trying to figure out how to cradle and catch the ball, but eventually I got pretty good at it since it required the semi cat-like reflexes I used to have when I played goalie. The next thing I knew, I was put on offense and I was incredibly nervous about it. To summarize the last two years of my athletic career, our team sucked, but we had a lot of fun.
Senior year I decided to leave the uniforms behind and focus on doing the things I actually loved to do: writing and art. Participating in sports eventually lost its appeal, and I didn't even like playing lacrosse very much. I pretty much gave up on trying to work out since I felt like I had nothing to be in shape for. But eventually, I realized that was a flawed perspective, so I decided to try to find a new way to stay active that didn't require playing a sport or excessive running. 
Enter: kickboxing. I found a local studio right near my house and I fell in love with it after just one class. My favorite part of playing soccer was punting from the goalie line since it made me feel powerful as I watched the ball launch 40 feet or so into the air. Kicking the free standing bags during kickboxing classes gave me that same rush, which motivated me to keep coming back to build up my strength again. There was a point where I was going to classes two to three times a week, but eventually college apps hit me and I had to cut back. I had never found a fitness class I felt so passionate about since the others I had been to were pretty judgemental spaces. I never felt comfortable lifting weights in a gym and I was not a fan of stationary biking because I'd rather go biking in a park then sit in a dark room with sweat-covered walls. The beauty of the little kickboxing community I found is that experts and novices alike always cheer on one another. Even when I made a mistake, my partners would help me run drills until I got it down.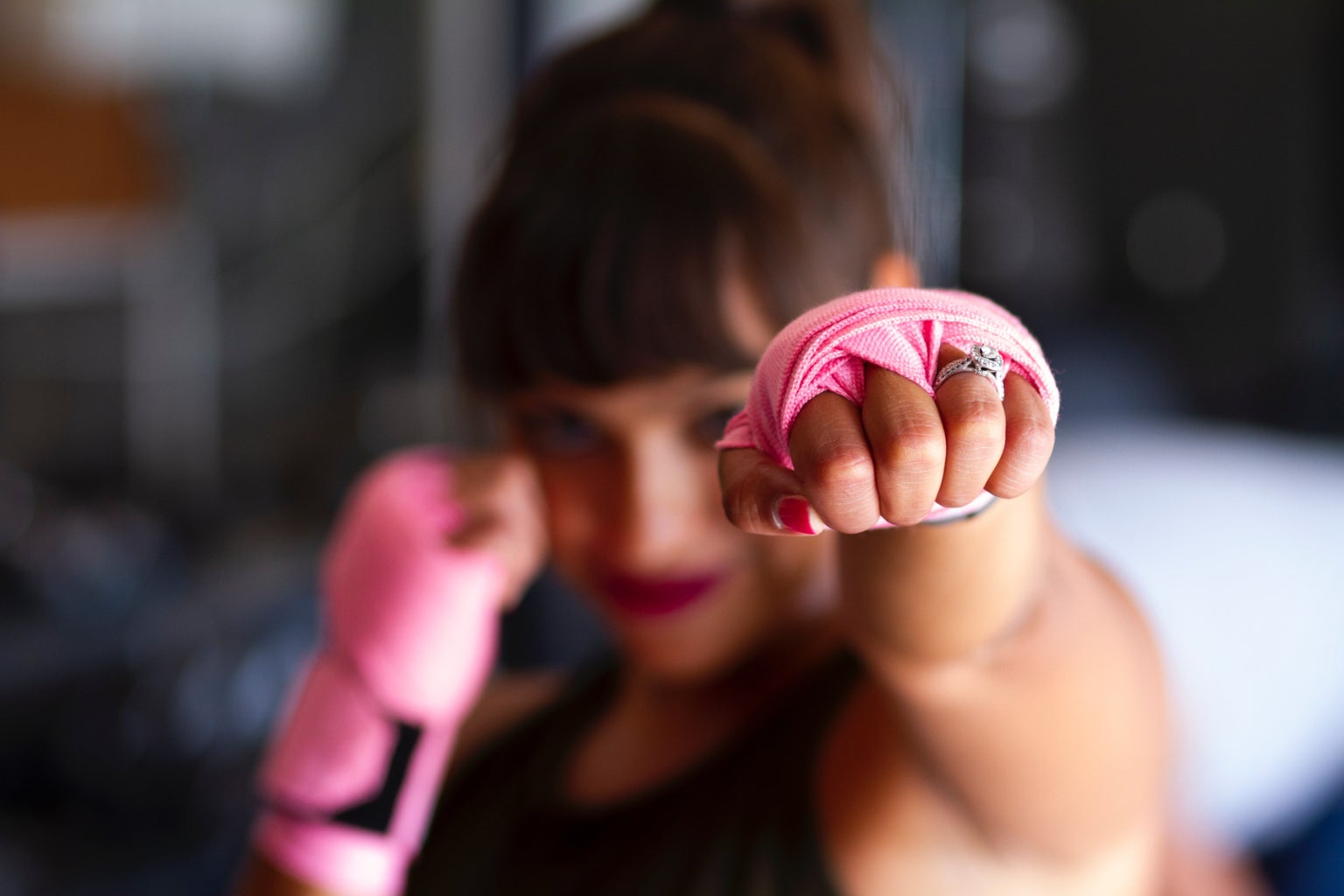 Once I moved to Boston, I was desperate to find another kickboxing gym, but they were all either too far away or way too expensive. I was nervous to go to FitRec since I usually like to be alone when I work out. My roommate and I decided to be gym buddies, which made going there seem a little less scary. We made a commitment to going once a week, but eventually our schedules got busier and we weren't able to coordinate as much. I had to strike out on my own and I was not happy about it. I usually spent 30 minutes on the elliptical and then I would seesaw between deciding whether I should do some floor exercises or get a smoothie and go. If I went with the former, I would awkwardly walk around the gym looking for the most remote and private corner, but I wasn't always successful. Eventually I got used to working out on my own, but I always noticed that I didn't push myself as hard when I was alone. When I started dating my boyfriend, I thought we could be one of those couples who worked out together, but I realized that we had completely different workout routines and it was best if we each did our own thing.
Now that we're in a pandemic, my workout routine is currently in flux. I bought a yoga mat the other week to motivate myself to get up and move around since I've been in sedentary-mode since I've gotten to school. I even tried to go on a run (I'm just as shocked as you) but it turned into more of a brisk walk around Brookline. Baby steps, baby steps. 
For this week's playlist I am sharing my go-to work out playlist. It's full of pump-up songs across a random assortment of genres. It's got some alt-indie bops, some Tyler, The Creator, some Anderson .Paak, and even some of The Beatles. Some of the tracks on this list are probably not the first songs that come to mind when you think of pumping iron or doing squats, but for some reason they give me a boost of energy.
I've had a complicated relationship with fitness and I still struggle with getting myself to work out. For me, it's not about losing weight; it's about building strength––and confidence. I try to remind myself to be grateful that I have a body that moves and stretches and bends and twists. Sometimes I want to give up less than halfway through a HIIT video for beginners, but I have to think of the bigger picture and remember that I'm only exerting a tiny bit of energy at this moment and that I will get through it. And to anyone else that needs to hear it, you will get through it too! 
Be patient, drink lots of water, and always listen to your body. :)
xoxo,
Emma
Want to keep up with HCBU? Make sure to like us on Facebook, follow us on Instagram, check out our Pinterest board, and read our latest Tweets!