Emma Off The Record: Home and Fuzzy
At this time last year, I was far away from home. I spent my first Thanksgiving out of town and I learned a very important lesson. This year, it was back to California for the usual bit and then some. We pulled chairs from every room in the house to squeeze fifteen people into our dining room, which was pretty cozy despite being packed in like sardines. I spent a day and a half helping my grandma and mom put together the grand feast just like old times. This year they put me in charge of the pie fillings which—and I say this without a hint of sarcasm—is one of the highest honors. It felt good to get back in the kitchen alongside my two favorite women in the world. At one point we were all huddled over the same pot together and I couldn't help but laugh at the thought that we looked like a little coven of witches.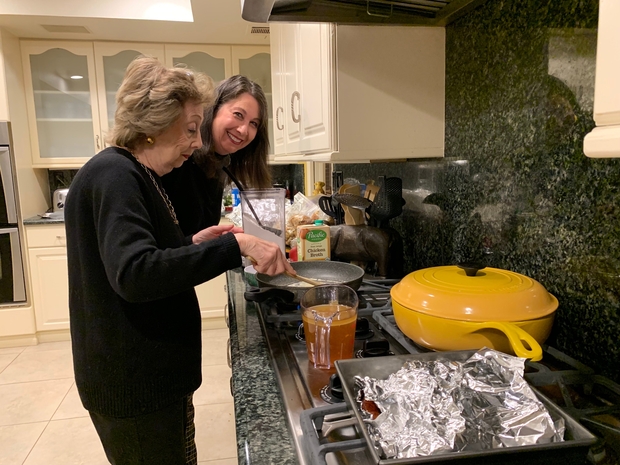 Photo Credit: Emma Kopelowicz
Our Thanksgiving was delicious as ever and the awkward conversations were pretty mild this year. I mostly felt grateful to be home and surrounded by loved ones. I was especially happy to have both of my grandmas at the table this year since one of them lives in New Jersey. I only get to see her a few times a year, so having her at my home for Thanksgiving felt extra special. Another lovely addition to my Thanksgiving was a surprise appearance from a few close family friends. My friend, Lily, is like a little sister to me, so I was so glad to have her over. We spent the evening playing catch-up, snacking on pumpkin chocolate chip cookies, and watching old episodes of Gossip Girl. Now that's the kind of evening to be thankful for.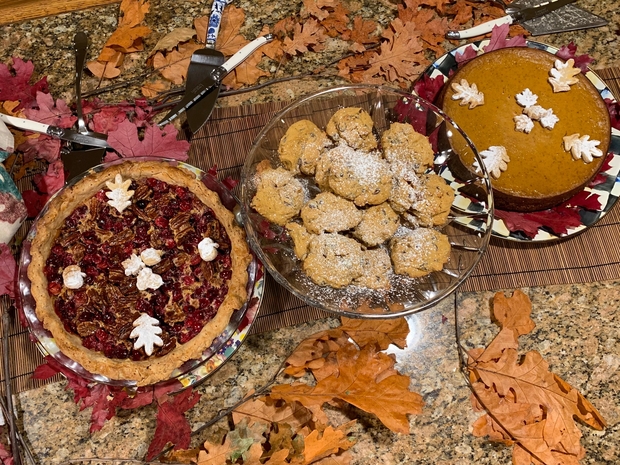 Photo Credit: Emma Kopelowicz
All of my close friends from high school also happened to be in town for this quick break. In our group chat, we joked about making PowerPoints to update each other on our lives, but then that turned into a reality. Some of us went a little more hardcore than others (I'm @-ing myself and my friend Dani, who added sound effects to hers), but the theatrics made the experience all the more fun. Even though it was pretty silly and slightly over the top, I'm so glad that my friends are down to be a bit extra sometimes.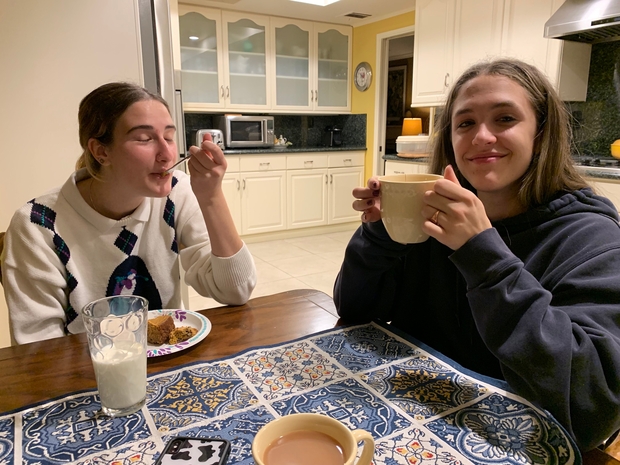 Photo Credit: Emma Kopelowicz
I listened to a lot of music over the course of the break, starting from my flight back home all the way to the Lyft ride back to my dorm. My boyfriend made me a short but sweet playlist of songs he thought I'd like and I gave it a listen on my way home for break. One song that stuck out to me was "SLOW DANCING IN THE DARK" by Joji, and from the title alone you can probably tell why. Yes, it's romantic, but in a tragic sort of way and, yes, I did tear up a bit when I heard it as I was staring out the window dramatic-movie-style. My friend Emma's PowerPoint presentation featured a very thorough slide on the music she's been listening to recently. Turns out, we've both been really into Yellow Days and Crumb lately. The day after Thanksgiving I went straight to work on writing holiday cards with a soundtrack of Lana Del Rey's last two albums playing softly in the background. Pro tip: her songs make a good alternative to holiday music if you're feeling a bit more emo. On my way back to Boston, I listened to some more light-hearted tunes by Still Woozy and "Sweet Virginia" by The Rolling Stones, which I couldn't get out of my head after seeing Knives Out (which was surprisingly good for a goofy whodunnit flick).
I mostly spent this break decompressing, eating good food, seeing friends, and spending quality time with family. It was short, sweet, and just what I needed before I headed back to the arctic tundra and whirlwind of exams waiting for me back in Boston. As much as I love the hustle and bustle of school, sometimes it feels nice to be back home, if only for a hot minute. These next few weeks are going to fly by and I'll be back in my own bed before I know it.
xoxo,
Emma :)
Want to keep up with HCBU? Make sure to like us on Facebook, follow us on Instagram, check out our Pinterest board, and read our latest Tweets!