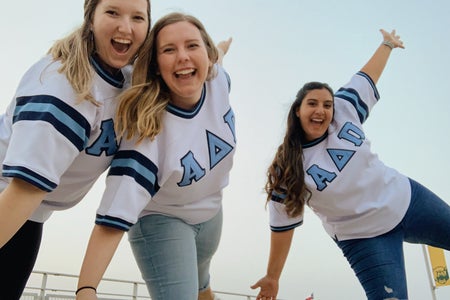 Original photo by Cassie Nataro
Confessions of a Sorority Girl
     If you asked freshman me, I never would've been part of Greek life. I viewed sororities as fake, pretentious and a waste of time due to the negative stereotypes that society and media play into. I am not blonde, tall and skinny, nor do I own any Gucci belts. However, I am a curvy, 5'5, Leo from Pennsylvania studying statistics with no intention of getting a 'Mrs. degree' anytime soon. Dating a finance bro named Thad, owning an entire pink wardrobe like Elle Woods and having your sorority be your only personality trait was not something I was looking for in my college experience and why I did not see myself being part of Greek life. 
     Yet, here I am. Now, I love being in a sorority and doing door chants, squatting for family pics with my big and little sisters, participating in rituals and painting bid day banners. My chapter is an organization that I am proud to be part of. We celebrate diversity and encourage individuals to thrive. They do not care that I love beige carbs or that I don't own cowboy boots; my sisterhood embraces my differences as assets to our organization. Here is the truth (or at least my truth) about sororities. 
Long-Lasting Friendships 
     I want to preface this by saying that in a room full of 200 people, there's bound to be a few people you do not like, and that is okay. My family with my big, gbig, and ggbig were the first to welcome and love me unconditionally in my sorority and we regularly have happy hour zoom meetings to catch up. Now, I have my own littles and grand littles and we go on dinner dates every month. I have met my two best friends in college in my sorority and they are people that I can always count on to be there. I've made so many amazing, caring and inspirational friends because of my sorority and I could not imagine college without them. These are the women that are my lifelong friends and I am blessed to call my sisters. 
There is Drama
     There's a lot of women together planning events and making decisions, which comes with a lot of strong opinions. You may think dressing up in camouflage for a new member dance is a great idea and someone else may think it is tacky. We all have different backgrounds and ways of expressing ourselves, which at some point can lead to conflicts and disagreements. People will talk about you behind your back, but that is bound to happen in all areas of life. I have found that knowing when to speak, when to listen, and when to step back have been key to dealing with the drama that happens within any organization. 
Leadership Opportunities
     My favorite part of getting to be in my sorority has been getting to enact change within the chapter and campus community. There are so many positions within each chapter from executive leadership to serving on a committee. There are also a lot of opportunities to be involved in Panhellenic leadership or the sorority's national leadership. In my time as an officer, I learned a lot about teamwork. I also got the opportunity to travel to Chicago (all expenses paid!) for a leadership conference where I got to meet sisters from all across the country. I encourage anyone in any organization to apply for a leadership position because it will enhance your resume, but it will also make you a more well-rounded individual. 
It Comes with a Price
     Dues are no joke. I am blessed to go to a college where they are more affordable because we don't have houses, but they still are between $500-$1000 a semester. It does pay for all of the events, shirts, pins and day-to-day operations, but it can be hard for a lot of people to afford. I've found my chapter is willing to work with me to be on a payment plan and there are a lot of scholarship opportunities, but not every sorority is like this and some can cost thousands of dollars a semester. I know many of my sisters work and I personally work two jobs at the moment, which my chapter has been nothing but supportive of because they understand that working to pay rent is a higher priority than coming to chapter. Dues are an investment in an organization for sure, so it is something to consider when joining Greek life. 
Volunteerism and Advocacy
     Before joining a sorority, I genuinely thought philanthropy was a giant hoax and a way to get money to party. Since becoming part of Greek life and serving as the Director of Philanthropy for my chapter, I have been able to raise money and awareness for our national non-profit and local philanthropies, as well as participate in other Greek organization's events to raise money for their philanthropy too. My sorority felt it was important to help small businesses, especially minority and female-owned ones because of the pandemic, so we had profit shares with restaurants throughout Waco to support their business and raise money for a non-profit that helps black women get access to mental health resources. At a national level, my sorority has started virtual programming where they bring in speakers to talk about various topics like difficult conversations, Hispanic Heritage Month, media accuracy, advocacy, mental health and more. 
Negative Stigma
     This is something that is, unfortunately, very likely to happen if you join Greek life. My parents were not supportive in the beginning and people will judge you. I find myself avoiding wearing letters when meeting with professors, fearing that they will see me as a ditzy sorority girl incapable of working hard to pass their class. While I know people are more than the logo or letters they have on their shirts, society does not see that. They see us as blonde princesses spending daddy's money and looking for a husband when that is not reality. Many of my sorority sisters work one or more jobs to financially support themselves and they are studying to be brain surgeons, lawyers, and engineers. The stigma is going to be hard to get rid of, but don't be afraid to prove people wrong. 
Networking and Connections after Graduation
     The biggest benefit of joining an organization that has hundreds of chapters across the nation and thousands of alumni is the networking opportunities. There are alumni associations in most cities and college towns that are great for meeting new people after moving and getting support from people who have a shared experience of being in Greek life. I know there are a few Facebook groups for my sorority that I am part of that people post job opportunities, apartment listings, and other various things that they need help with and there are thousands of people there willing to help out. I am honestly excited to become an alumna and meet older sisters from other chapters. The sorority experience is not just your time in college, it is for life. 
     I recognize that Greek life isn't for everyone and being in Greek life does not make me or anyone else better than those who are not. At the end of the day, sororities are just another organization on college campuses. My time in a sorority has shaped a lot of my college experiences and has helped make me the woman I am today, but it does not define me. I love my sorority experience and I hope others find their place within or outside of Greek life.