Congrats to our winner Taylor Jordan! Be sure to enter our current giveaways here!
Any girl boss can tell you that on top of earning your college degree and holding a few internships, landing a job after college has a lot to do with who you know in the industry. Never underestimate the power a little networking can have on your career!
Because we're all about mixing business with social fun, we've partnered with the Forté Foundation to provide one winner with ways to help jumpstart your career. Here's all the amazing prizes you can use as networking opportunities:
Starbucks $100 gift card – Take an industry professional to coffee and request an informational interview about their company.
Michael Kors bag – Use this chic bag as a conversation starter by asking your friend what they like to carry on their work commute.
$400 gift card to Bliss Spa – Invite your boss squad to a spa day for some serious bonding. Not a Bliss Spa near you? We'll allocate the funds towards a gift card to a spa in your area.
Amazon Echo Show provided by Cognizant – A new way to be together. Use the Echo Show to make hands-free video calls to friends and family­­––perfect for the modern multitasker. Thank you, Cognizant!  
Pimco swag bag – Complete with an umbrella, foldup-reusable shopping bag, tumbler, stainless steel coffee mug, beach towel and a $20 Starbucks gift. This has ~everything~ you need to be productive on the go.
Waterproof speaker provided by Goldman Sachs – get pumped up for your big days (and every day!) with tunes from this awesome waterproof speaker.
An expense paid trip to one Forte College Leadership Conference of the winner's choice – Forté hosts around six conferences a year for college students hosted by industry leaders.
GMAT Voucher ($250) – Is grad school in your future? Women who take the GMAT in college often score higher than any other time in their lives. Start a study group!
Enter here for your chance to win, and happy networking!
A special thank you to Forté corporate partners for their support!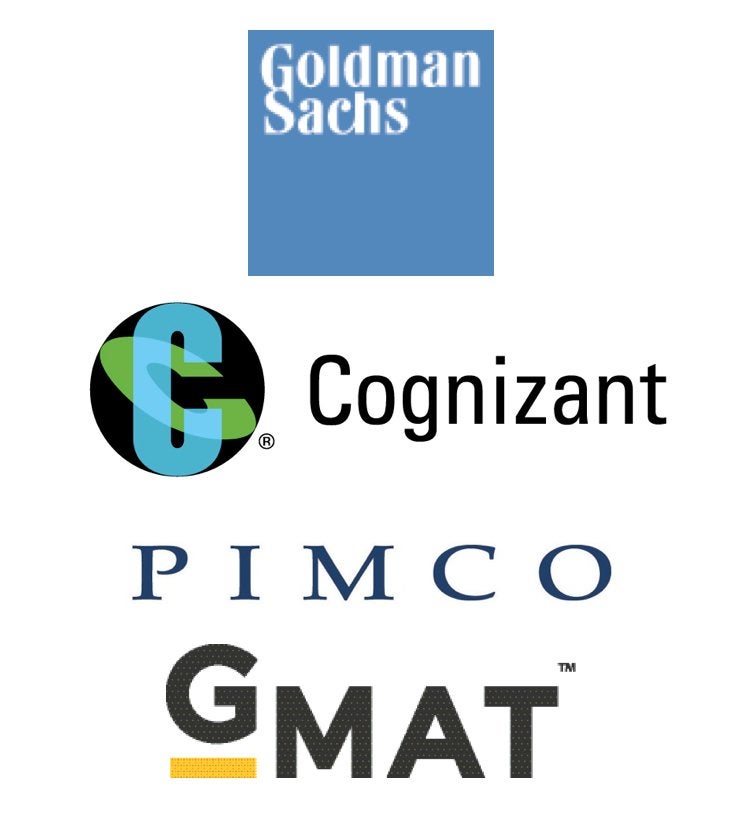 About Forté Foundation
In search of a phenomenal career? We'll help you build one.
Maybe you dream of founding a company. Maybe you want to champion social change, or serve as the CEO of a Fortune 500. At the Forté Foundation, we help you get there! Our network of 95,000 members and 130 top schools and employers works to launch women into fulfilling and significant business careers. Jumpstart your future by signing up for a membership, attending one of our events, and checking out our many resources. We're here with inspiration and advice, and we can't wait to help you make your mark on the world.
Want more? You got it.
College is the perfect time to start positioning yourself for the career of your dreams.  Your free student membership with Forté includes all these free benefits: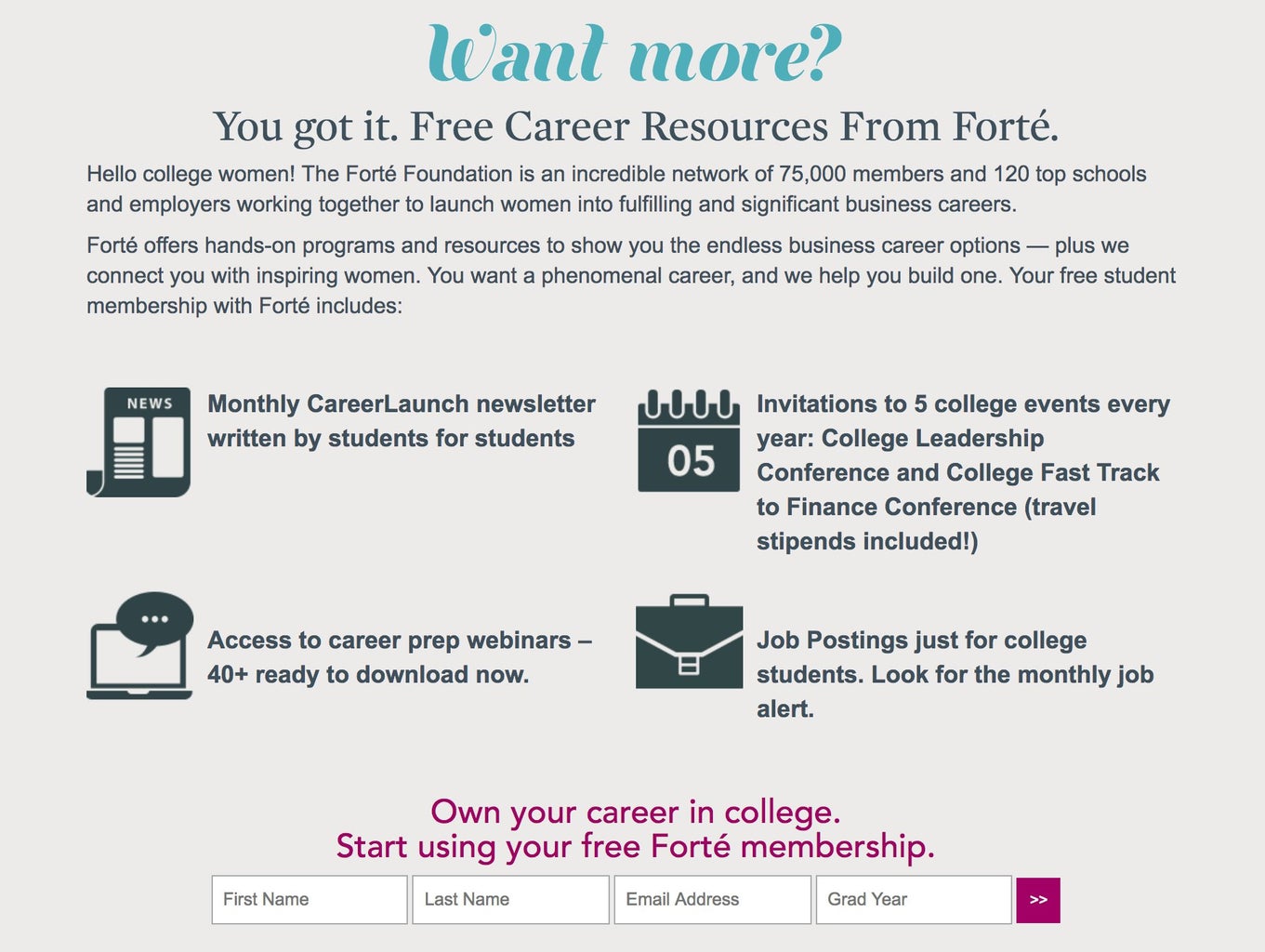 Women with MBAs are opening doors, building amazing things and shattering glass ceilings.
Women with an MBA experience a 51 percent increase in salary, and 85 percent of MBA graduates attribute their MBAs to advancing their careers. Here are a few Forté women that will be your next boss inspiration:
How can you land a spot at your dream job, too? Take the GMAT! (Graduate Management Admission Test)
Women who take the GMAT in college score higher than any other time in their lives.
Your GMAT score is good for five years.
That gives you options as you make important life decisions.
Taking the test while you are in college gives you more control over your schedule and more time to study.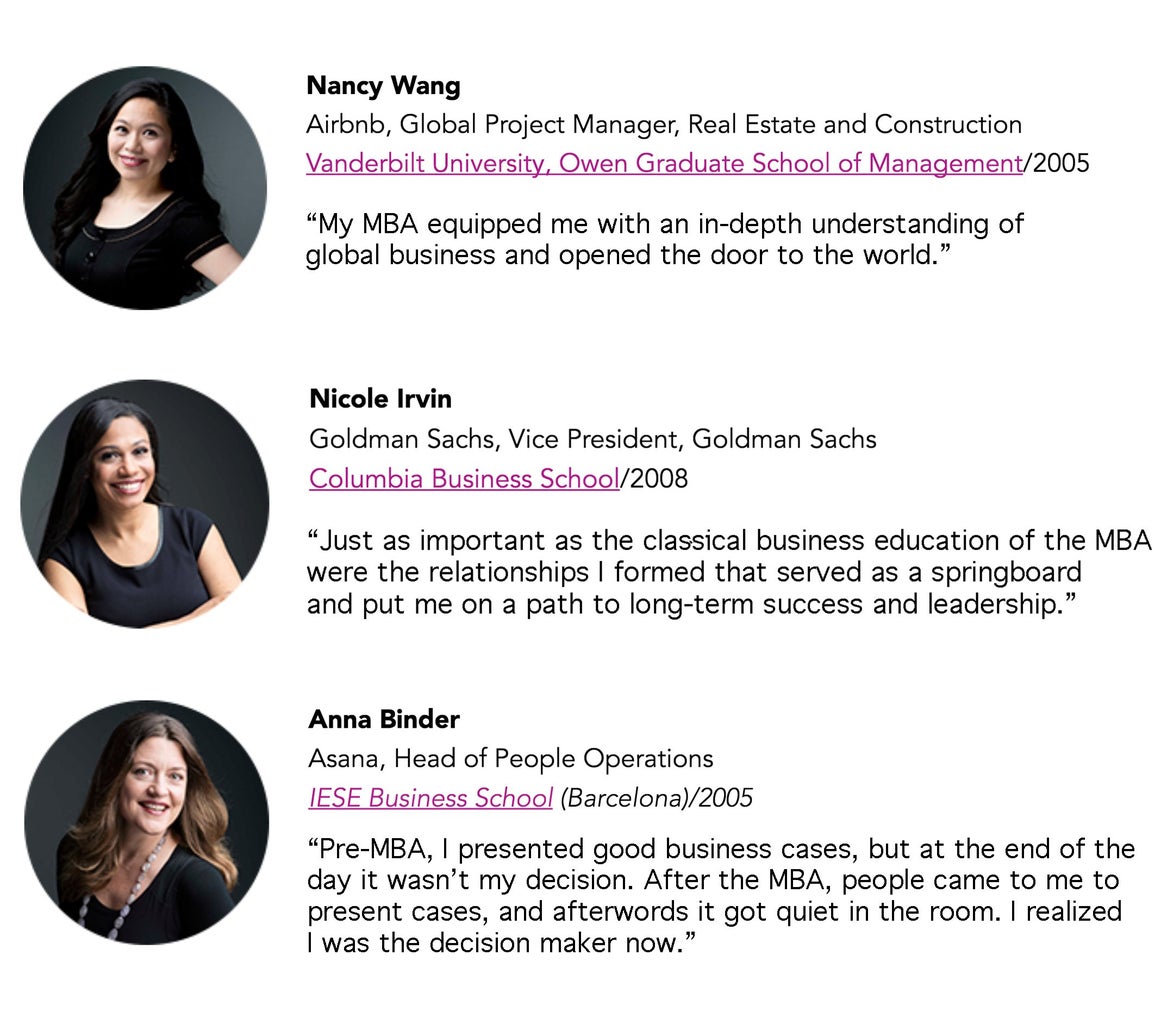 Join the Forté Foundation here, and start owning your career in college!
Special thank you to our partners Maven Clinic and Dormify for their support in the Her Campus x Forté Network Like a Boss Giveaway!