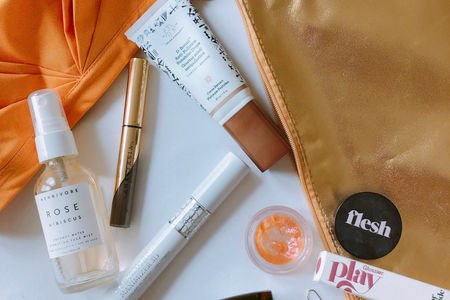 The 4 Products You Need to Incorporate Into Your Post-Grad Skincare Routine
Cleanse. Tone. Moisturize. Repeat. What was once a simple routine has now become nothing short of rocket science – especially considering all the big-name skincare lines that have recently hit the market. The other bit of news is that ~thanks to biology~ many people in their 20s are experiencing some changes just below the skin's surface (think loss of elasticity, slowed collagen production, and overall thinning).
Understandably, words like "anti-aging" and "firming" aren't even on your radar yet, but knowing what is happening below the skin can help you better design a regimen catered to its current needs. Luckily, I found a few key products perfect for prevention and your overall skin health. Take it from me and let my post-grad skincare routine give you some inspo. 
1. A multitasking cleanser
Eminence Clear Skin Probiotic Cleanser, dermastore.com, $42; shop now
Say goodbye to the store-brand face wash and say hello to cleanser fit for a queen. While drugstore cleansers might be easy on the wallet, many of them contain an unimpressive amount of fillers that can wreak havoc on skin and health.
Sonya Eleazor, a licensed esthetician told Her Campus, "A healthy complexion starts with a good cleanser. I always encourage my clients to find organic cleansers that cut out unnecessary chemicals. Your skin is your largest organ and it is constantly fighting off pollution, so why would you run home and slather it in more toxins?"
If you're in the market for your next "adult" cleanser, Eleazor suggests doing your research and making sure to read the fine print. Always look for a face wash made of natural ingredients and try to steer clear of the words "paraben," "sulfate" and "dye." Of course, you might have to shell out a few extra dollars to score the perfect quality cleanser, but it's important to remember your skin is an investment!
2. A niacinamide-based serum
InstaNatural Niacinamide Serum, instanatural.com, $18; shop now
Hard to pronounce but easy to love, niacinamide is the do-all-fix-all you need to add to your skincare collection pronto. As a thriving graduate, you may feel like you're straddling both youth and adulthood, but trust me when I say your skin feels the same way.
Many people still struggle with acne well into their post-college years, while also noticing the appearance of fine lines and wrinkles that weren't there before. This is why incorporating a multi-purpose serum is so important to your skin's health and happiness.
Niacinamide addresses everything from large pores and acne to wrinkles and dullness, making it the ideal starter serum for when you're getting serious about your routine.  There are an array of choices on the market ranging from expensive to a steal.
3. Hyaluronic acid moisturizer
Water Drench Hyaluronic Cloud Cream, peterthomasroth.com, $52; shop now
Nothing can compete with plump, glowing skin. One of the biggest threats to skin's health is a loss of moisture, especially in early adulthood when oil glands begin to slow production leading to dry, flaky skin. While a basic moisturizer is good, a moisturizer with hyaluronic acid is great. This magic ingredient packs a double punch by providing your skin with hydration and locking in moisture for an extended amount of time.
It might seem like a basic part of everyone's skincare regimen, but a carefully selected moisturizer is the key to prevention. 
Think of your skin as a crisp, dry sheet of paper that has been crumpled up tightly in your hand, and then unfolded. Chances are, your end result is a wrinkly mess. Now imagine adding water to the paper and repeating the same steps. Though there may be a few crinkles here or there, they are a lot less apparent.
Put simply, moisture reacts to your skin the same way water reacts to paper. So do yourself a favor and quench your complexion with a good, hyaluronic moisturizer.
4. Hydrating eye cream
Soothing Eye Contour Cream, aveneusa.com, $27; shop now
A lesson in hydration is the perfect segue into the next must-have skin product for young women: a quality eye cream. Your first instinct might be to lather your under eyes in an everyday moisturizer, but I'm here to tell you that you can do better!
The skin around your eyes is the most delicate part of your face and requires that you treat it with loads of TLC. When it comes to selecting your dream eye cream, feel free to find one that is specifically catered to your eye needs. A quick Google search is all you need to see there are numerous creams geared towards things like dark circles, wrinkles and bags.
Just make sure you're selecting a cream that provides good hydration and doesn't contain ingredients that can irritate your sensitive peepers. 
5. Low-strength retinol
Retinol Youth Renewal Serum Travel Size, murad.com, $25; shop now
Though some of us are lucky enough to remain flawless well into adulthood, don't be afraid to incorporate a low-strength retinol into your nightly skincare routine.
Taylor Johnson, a licensed esthetician states, "If you notice your smile lines and forehead wrinkles have become deeper or more pronounced, applying a retinol could be extremely beneficial. In your 20s, I would definitely recommend going for a low-strength product because our skin tends to become immune to chemicals over time. With that said, a lower strength is enough to help reverse signs of aging, while also giving you the option to increase your retinol strength when signs of aging become more intense."
At the end of the day, the most important thing is to take care of yourself and your health. Drinking tons of water, wearing SPF, and eating a balanced diet are some of the simplest ways to care for your skin, body and mind!
The Her Campus National Editors write about products we love and think you'll love too. Her Campus has affiliate partnerships, so we get a share of the revenue from your purchase.