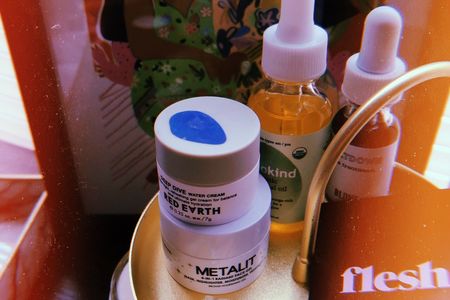 What to Emphasize in Your Skincare Routine If You Want to Go Makeup-Free
Let's get real here for a minute: wearing makeup in the freezing winter air is kind of... awful? I mean, it might look beautiful before you leave the house, but five minutes in and the wind has your foundation cracked, mascara is running everywhere, and lipstick is smudged all over the scarf you're using to hide your face from the frigid air. It's not the best look.
That's why I've been ditching the full face of makeup for a more intense winter skincare routine. Mascara and out the door? Sign me up.
Here's what I've been focusing on in my routine to keep skin fresh, and convincing me to stay makeup free!
Moisturize so much.
Obviously, I'm going to start with moisturizer. Whether you choose to use a sheet mask, a gel, a cream, or an oil, your skin needs moisture to survive the winter months. I personally use the same moisturizer both day and night, but many choose a lighter moisturizer during the day and a more intensive moisturizer at night to heal and replenish skin. If you have oily skin you may want to steer clear of oils in favor of a light moisturizer. If you have dry skin, oils are your friend! And best of both worlds is mixing an oil with your moisturizer to really hydrate dry skin.
When looking for a moisturizer, you want to steer clear of fragrance, mineral oil and artificial dyes in order to avoid any sensitivity or further breakouts. My current favorite moisturizer is the Clinique Dramatically Different Hydrating Jelly ($28-$14). This clear, gel moisturizer feels like water and absorbs super quickly into the skin!
Another factor: Drinking enough water is super important for keeping your skin hydrated. Up your water intake and use a good moisturizer every night, and you will notice a difference in your skin. There is only so much a moisturizer can do if you're not hydrating from the ~inside out~.
Exfoliate to feel extra smooth. 
Exfoliating can seem like a pain, but it's something you can do easily in the shower or right before bed. Flaky skin gets itchy and irritated, especially during winter, which is why it's so important to polish it off with a non-abrasive exfoliator. I'm personally a huge fan of ExfoliKate Gentle Exfoliating Treatment, because it's super soft and gets the job done so well. I just do it in the shower every other day, it's quick, easy, and leaves my skin feeling so supple and smooth. It might be a bit pricey, but a little goes a long way.
Also, chemical exfoliants like an exfoliating toner or serum is basically the coolest thing right now. These contain AHAs or BHAs, also known as acids that work to exfoliate the skin. Acids remove dead skin, brighten, improve texture, fade spots and leave you with a glowing complexion. The Pixi Glow Tonic ($15) is a great product to introduce acids into your routine without being too harsh or irritating. I recommend using this product at night after you wash your face and before you moisturize. With any type of acid, you'll want to slowly introduce it to your routine. Start with a couple times a week and then work it up to everyday use if your skin can tolerate it.
This OLE HENRIKSEN Glow2OH Dark Spot Toner ($28) is another chemical exfoliant that will work wonders on all skin types. It contains lactic acid and AHAs that will work to reduce the looks of fine lines and scarring while lightening dark spots and leaving your skin luscious and glowy. All you need to do is apply it to the areas of your skin in need of a little TLC with a cotton pad, let it dry, and move on with your night. I love a minimal-effort step in my routine.
If you have senstive skin, you'll probably want to avoid exfoliating, as it can make inflammation and breakouts worse. In your case, prioritize soothing and gentle ingredients above all. 
Brighten everything.
The major problem holding me back from reducing makeup use is my skin's texture and tone. Discoloration and scarring happen to everyone but, there are a few ways to improve skin tone and texture. The first is to use a Vitamin C serum. Vitamin C, also known as ascorbic acid, is a powerful antioxidant that works to brighten the skin, fade discoloration and improve the skin tone.
I love to use a Vitamin C serum in the morning before I apply SPF since Vitamin C can improve the efficacy of your SPF. I use the Pixi Vitamin C Serum ($24) along with an exfoliating treatment a few times a week, and I've noticed a huge difference in my skin's tone and dark spots.
If you're thinking about embracing the no makeup, or light-coverage makeup look, remember that your skincare routine can be your greatest asset. You'll never regret taking good care of your skin! But remember, no one's skin is totally flawless. Seriously. That's where confidence comes in, because going makeup-free means embracing what you have.