Margot Robbie is everything. Her husband Tom Ackerley? He's just her Ken. I know you've been keeping up with the IRL Barbie as she rocks the pink carpets at numerous Barbie promo events and I know we all need a reason to keep believing in love after Joe Alwyn and Dalton Gomez ruined our last few weeks. Ackerley, who's produced several movies alongside Robbie, is here to provide.
When she's not taking my breath away in her custom Schiaparelli Haute Couture black sequin dress or on set filming, Robbie is spending time with her real-life Ken — British movie producer Ackerley. They're a power couple on set and off; you might not know Ackerley by name, but trust me, you've seen his movies.
Which movies and TV show has tom Ackerley had a hand in?
Ackerley, like his beautiful wife, works in Hollywood. He's a film producer and actor who's dabbled in directing in the past. The 30-year-old Capricorn has most notably been a producer for I, Tonya, Promising Young Woman, and Barbie, which Robbie also co-produced. (He's also a producer for the Netflix miniseries Maid.) He's had his hands on multiple Academy Award-winning movies with both I, Tonya and Promising Young Woman. I certainly hope he gets another for helping bring us all 2023's Barbie.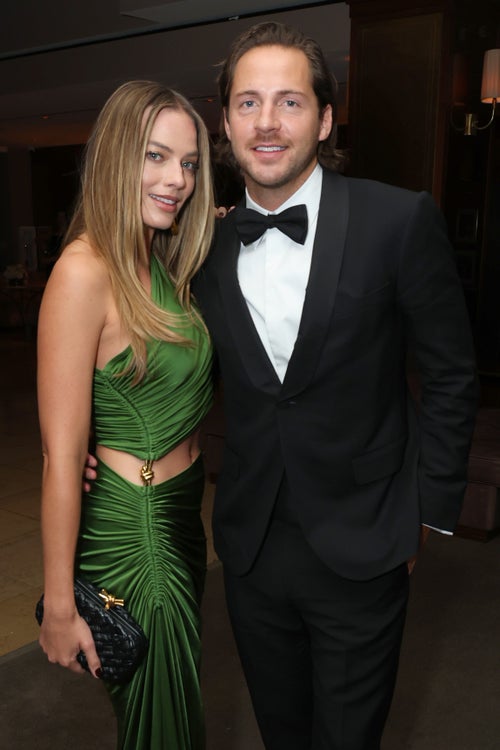 Also, for the Potterheads out there, Ackerley did play a Slytherin student in Harry Potter and the Prisoner of Azkaban. He's the one Tom Felton shoved before he took a bite out of his infamous apple. (His Insta handle, @alpha_meows, is reminiscent of the early 2000s when Harry Potter was coming out for sure.)
How did Ackerley and Robbie meet?
The talented husband and wife met in 2013 on the set of Suite Française where Ackerley was an assistant director and Robbie had a leading role in the film. They began dating a year later and had a private wedding in 2016 in Byron Bay, New South Wales. This made headlines in magazines like Vanity Fair when the stars revealed their newlywed status.
Ackerley and Robbie's relationship is super lowkey.
As of 2021, the pair lives in Los Angeles. (Sadly, not in Malibu with the Barbie Dreamhouse.) In 2014, just a year into dating, Ackerley, Robbie and their friends Josey McNamara and Sophia Kerr launched LuckyChap Entertainment. The production company is responsible for Barbie, BTW, and I, Tonya. You could say they have a working relationship.
The chill couple posts pics of themselves infrequently on social media, but is spotted by paparazzi at an airport or restaurant once every blue moon. They attend award ceremonies like the Golden Globes together and Ackerley even walked the pink carpet with her at the Barbie world premiere in L.A. 
Ryan Gosling might have my heart as Robbie's fictional Ken, but Ackerley is the perfect IRL partner for her in my humble opinion. After I, Tonya and Barbie, it's safe to say I'll be keeping my eye out for what the couple's next project is.