From Stories to Reels to putting your concise feelings into Notes to Scrapbook posts, Instagram has truly evolved since it launched in 2010. Now, a new Instagram Notes feature that launched on June 13 allows users to share their thoughts in a way that everyone can agree on: music. 
Instagram first released the Notes feature on Dec. 13, 2022, and ever since then, users have been using it to share their most random thoughts, from what they had for breakfast to their opinions on new releases, whether it be music, movies, or TV shows. It allows teens and Gen Z to communicate with their friends in an easy way that doesn't require you clicking on their Story, but rather just looking in your DMs. In fact, over 100 million teen accounts have shared a Note in the past 90 days. If you're someone who looks forward to seeing other people's Notes, you'll be delighted about the new update. 
Instagram Notes now lets you share your music recommendations.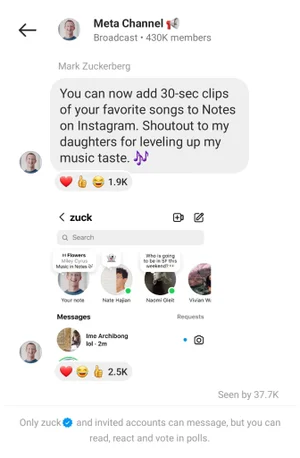 If there's one thing that connects us all, it's the love that we have for music. Whether it be Spotify Wrapped at the end of the year or just sharing our concert stories, we all love to share and talk about music. Well, with the new Notes feature, you'll be able to share a 30-second clip of a song in a Note to help you express yourself and share your mood, feelings, or simply what you're listening to, much like back in the early 2000s when you could put a song on your MySpace. Meta CEO Mark Zuckerberg announced the news on his Meta broadcast channel on June 13.
Whether you're blissfully in love, just got your heart broken or in a fight with your BFF, you can use the new music feature to share those emotions with your followers. Along with being able to share music on your Notes, you can also add a caption to the Note alongside the music, which will be perfect for reviewing music like Olivia Rodrigo's "Vampire" and Taylor's Swift's Speak Now (Taylor's Version) within the next month.
The feature has already received positive reviews from users who were able to test it early, like Gen Z indie musician Mikayla Geier. "I'm obsessed with this new feature on Instagram, because I love discovering and connecting over music with my friends," Geier said.
You can now see translations for Notes in different languages. 
One of the most useful advances to come out of this update is the ability to translate Notes in different languages. Whether you're learning a new language and want to test it out on your Notes, or you follow people in different countries that don't speak the same language as you, Notes just made communicating a whole lot easier. Much like with Instagram Stories and posts, there's a "See translation" button you can click at the bottom of the Note that will show you what it says in your native language. As someone with a close friend who lives in Spain, I know this will come in handy. Different languages shouldn't stop us from communicating and consuming information, and Instagram's new Notes update makes sure of that. 
If you haven't already, make sure you try out the new Notes update to share whatever song you can't get out of your head or be able to see what your followers say without having to copy and paste it into a translation app. May you use the new Notes update to your full advantage and enjoy the potential dance parties and new musical discoveries it brings you!