It's 2023, and menstrual care essentials are still taxed as luxury items throughout the United States — making items like tampons, pads, cups, and other menstruation products costly and unaffordable, especially to low-income communities. While the fight to repeal the tampon tax has been ongoing for years, eight menstrual care brands teamed up to challenge the tax themselves. Oh, and they're reimbursing you for the unfair tampon tax when you purchase their products.
On Oct. 11, leading menstrual care brands August, Cora, LOLA, The Honey Pot, Rael, Here We Flo, Saalt, and DIVA teamed up to launch The Tampon Tax Coalition. Beginning on Oct. 11, menstruators who purchase products from any of these brands (whether in retail or online) will be reimbursed for the unjust tampon tax after reporting their purchase to www.tampontaxback.com.
For some of these brands, it's not their first rodeo when it comes to challenging the tampon tax. In May 2023, August launched the #TamponTaxBack initiative, which pledged to reimburse individuals for any tax paid on purchases of August tampons and pads. The gender-inclusive menstrual care brand saw success after the initiative, and invited other inclusive (and female/POC-owned brands) to join them in doing the same.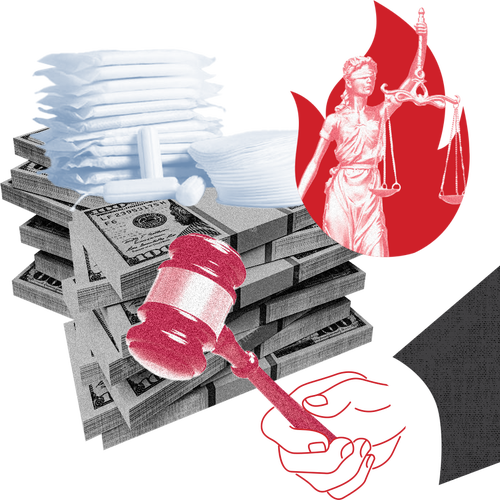 "With this coalition, we are fostering a new ethos where industry competitors are becoming unlikely allies, joining forces not for profit, but for equality," said Nadya Okamoto, co-founder of August, in a statement. "I've fought to end this unjust tax for more than a decade — back when it was still active in 40 states. By locking arms with our period care competitors, this coalition is a powerful next step to hopefully abolish the tampon tax across the country and provide educational resources for menstruators." 
Where is the tampon tax in effect in the United States?
While some are no longer impacted by the tampon tax, menstruators in many states are still subjected to luxury taxes for menstrual necessities. The Tampon Tax Coalition will be reimbursing the tampon tax for folks who purchase products in the following states:
Alabama
Arizona
Arkansas
Georgia
Hawaii
Idaho
Indiana
Kansas
Kentucky
Mississippi
Missouri
North Carolina
North Dakota
Oklahoma
South Carolina
South Dakota
Tennesee
Utah
West Virginia
Wisconsin
Wyoming
How do I get reimbursed for the tampon tax?
When you purchase products from August, Cora, LOLA, The Honey Pot, Rael, Here We Flo, Saalt, or DIVA — and you live in a state where the tampon tax is enforced — you can report your purchase to www.tampontaxback.com and receive your reimbursement within 24 to 48 hours. To do so, simply visit the website and enter your phone number. From there, you'll receive a text confirmation and will be prompted to send in photos of your receipt(s) for the products purchased. (Note: Your receipt must be sent within 10 days of purchasing products.) The receipt must include all items purchased as well as the store location as well.
From there, the teams at these brands will calculate what you're owed and you'll receive a payment via Venmo (or PayPal) within 24 to 48 hours.
While the tampon tax continues to hinder menstruators in various states, it's empowering to see brands stepping up to the plate and doing what's right by their customers. So, if you live in a state that still taxes menstrual care essentials as a luxury, this is your chance to get your money back — it's what's fair, after all.