Valentine's Day is the penultimate sexy holiday. You can have an elegant candle-lit dinner out or delicious entrees at your own dining room table, and of course, you can finish off the evening with much more than just chocolate lava cakes with strawberries. Whether you've been dating your partner for a decade or just 10 days, you can make your intimate evening unique with a striptease.
Fear not, you do not have to be a professional exotic dancer or even remotely flexible to make a striptease for both you and your partner to remember. You can try something new sexually and channel your inner Samuel Ball from 13 Going On 30 and Jennifer Aniston from We're The Millers this V-Day with some simple moves and these tips.
Kayleen Mesa, a holistic sexuality coach, feminine embodiment mentor, and content creator knows that this may sound daunting. "A worry I often hear women experience in the bedroom is related to a fear of taking up too much space in their sexual expression and radiance," she says. "They fear they will be judged or criticized by their partner for how their bodies look, or that they won't be sexy enough or look 'ridiculous' if they express themselves in this way, but oftentimes this means that what they fear others will see in them are actually invitations to cultivate deeper self-love and intimacy within themselves."
Here are some ways to let loose and honor your own sexuality while having a surprise for your partner, too.
Get Yourself In The Mood.
"A powerful way to start tuning in with our sexuality is by spending time learning the language of our bodies. Our feminine terrain," Mesa tells Her Campus. Whether you want to use a vibrator for a few minutes ahead of time so you feel aroused, want to try a bath with massage oils, or even want some red wine or hot tea, do whatever you need to do get in the right headspace and feel awesome. If you feel sexy, you'll be sexy.
Mesa explains, "Sexual empowerment and liberation ultimately comes down to becoming our own best lovers. Staying curious, open to exploration, and excited to get to know ourselves on a deeper level. What makes us feel good, safe, and fulfilled from the inside out without judging or forcing ourselves but rather staying centered in love." 
Dress In Something Comfortable.
There's no need to get a whole new outfit or super expensive lingerie just for this. The thrill of the striptease is in the anticipation of the strip itself. Opt for a matching or complimentary underwear set and wear a fancy dress, skirt, body suit, or even an oversized button-up shirt. You'll want to make sure each layer isn't too tight so your underwear doesn't get caught during your striptease.
Take Your Time.
The whole point of a striptease is to slow down and really build the sexual tension between you and your partner. Take your time when slowly unbuttoning a shirt, playing with your bra straps and unclasping the back, etc. You can even create a sexy playlist that lasts as long as you'd like to perform for your partner. Whether you want to have a heavy rock sexiness during your tease or a sweet sensual backtrack, the theme and timing are up to you. Certainly, don't feel afraid to practice and time it out beforehand, as well.
"Sensually dancing to our favorite playlist in front of the mirror while speaking loving compliments to ourselves as we make visual contact with our naked bodies can be a beautiful and powerful way to create space for authentic self-expression, boost our self-esteem, and unlock a deeper connection with our bodies, vulnerability, sensual and sexual beings," Mesa says. "It's also an opportunity to witness what kind of thoughts and emotions such as fear and shame come up as we let our expression unfold letting it open us to a deeper awareness of where these beliefs and blockages are coming from and the ways we're being invited to practice loving and accepting ourselves more deeply."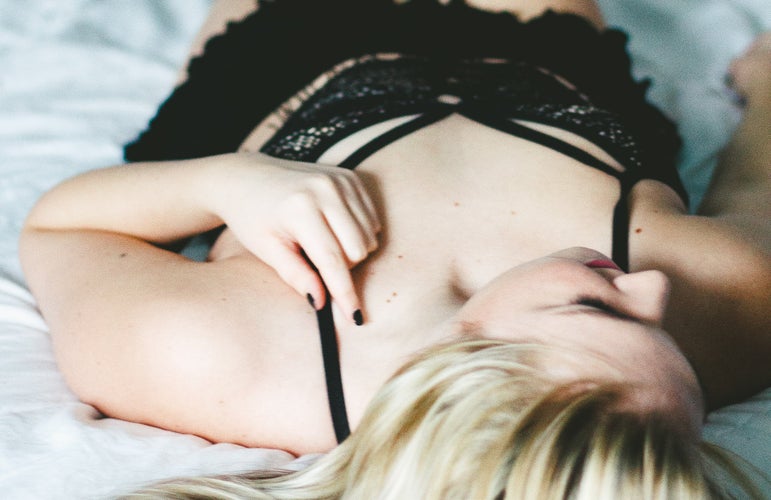 Make Sure You Have A Good Internet Connection.
If you're in an LDR, you will definitely want to make sure you have good Wi-Fi on both ends when you FaceTime for Valentine's Day. You don't want to have any screen freeze-ups before things start heating up.
Use Props.
Whether you're crafting a character and wearing a costume for your striptease or not, you can definitely incorporate some sexy props. You can use a riding crop for a dominatrix-y vibe, massage yourself with oil in front of your partner, sensually play with fresh roses and touch your partner with them, etc. You can even use handcuffs to restrain your partner during the tease as well. Again, feel free to do what makes you feel sexy, empowered, and confident.
Be Prepared For What Comes After The Striptease.
Stripteases don't always conclude with sex, but if it does, make sure you have all your supplies in one place. Keep your condoms, lube, sex toys, towels, any anything else you might need handy nearby. Your future self will totally thank you.
Enjoy your Valentine's Day, and here's to hoping all your clothes end up on the floor. Wink.
Follow Kayleen Mesa on Instagram and TikTok for more holistic sexuality content and feminine empowerment videos.