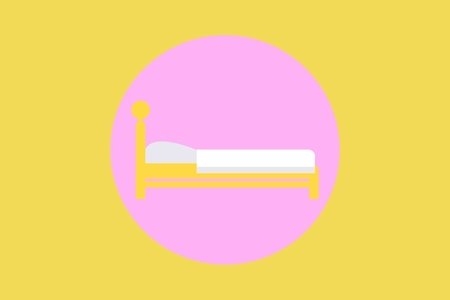 Original Illustration in Canva for Her Campus Media
How These Sex Toys Can Help You De-Stress
A lot of us have been under a lot of stress lately, I mean probably more than usual. There's no denying that times are especially tough right now, which is why now more than ever it's so important to take care of mental health. When it comes to de-stressing, we are often advised to exercise, journal, or meditate. However, there is one method that we underestimate the power of: masturbation. 
Although we've come a long way when it comes to sexual empowerment, there still seems to be a taboo, especially for women, when it comes to self-pleasure. Despite the stigma, masturbating is completely natural and nothing to feel ashamed of. Whether you are single, in a relationship, or situationship, masturbating can help anyone de-stress. 
To understand the mental health benefits that come with masturbating, we must normalize it as a wellness activity. Having an orgasm releases endorphins which are the chemicals in your brain that make you feel good. These chemicals help to create a state of relaxation. There are many forms of masturbation, and there's no right way to do it. All bodies are different, so what is pleasurable for me may not be the same for you, which is why it's important to get to know your own body and do what makes you feel good. 
Now, if you're like me and new to the world of sex toys, no need to worry! There are many different options out there, but here is a list of sex toys to help you de-stress.
This toy is a vibrator that also has an oral-like suction. This toy can stimulate your clitoris and G-spot at the same time. It's also 100% water-proof which means you can take that bubble bath to a whole new level.
If you're looking for something thicc, Carter is a dildo that's not lacking in the girth department. Despite its size, this silicone didlo is still soft enough to give you the right amount of fullness. Also, how can you not love the fun colors? 
The Clear Quartz Crystal Yoni Wand is perfect for those who enjoy a smoother form of penetration. The wand can also be used to massage different areas. Because it is made of crystal, you can also play with different temperatures. 
I'm a little embarrassed to admit this type of sex toy was something completely new for me. The Starlett is a clit-suction toy perfect for beginners. This is perfect for someone looking for an oral sex sensation. 
Whether you're an experienced toy user or a newbie like me, masturbating can significantly improve your well being. Spending more time alone doesn't mean we can't enjoy the benefits of a good ol' orgasm. Use this time to explore the different forms of pleasure you can offer yourself, because it's really just another form of self-love.