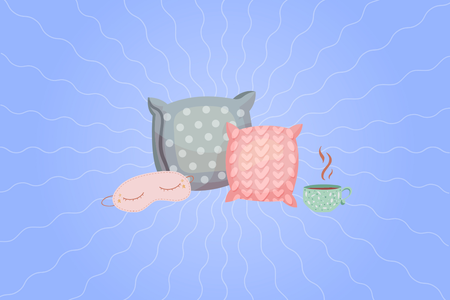 10 Products to Help You Get Better Sleep this Year
In college, my sleep schedule was pretty nonexistent. After one too many all-nighters in the library, I grew to appreciate the value of a good night's sleep and the positive lifestyle changes that came with! In a world where we're always on-the-go, it's time to start prioritizing rest. Here are ten items that will help you get better sleep this year so that your waking hours aren't just spent dreaming about your next coffee. After all, zzz time is the new me time. 
Stay cozy while you dream with this adorable Plush Sheep Mask from Aerie. It's soft, lightweight, and perfect for the nights when counting sheep just isn't enough. Pro tip: keep one by your nightstand as a reminder not to scroll through your phone for hours at bedtime.

Aerie, $6.47; shop now

I discovered Alexandra Winbush at a popup in New York City a few years ago, and instantly fell in love with her loose leaf tea selection. Every night before bedtime, I love brewing some tea as a ritual to settle down for the evening. For the ultimate self-care experience, you can snag Alexandra's Sunday in Brooklyn Set, which features my fave lemongrass tea, a luxurious candle, and a curated playlist just for you. Seriously, the dreamiest.

Alexandra Winbush, $39; shop now

PSA: don't forget about your skin as you're drifting off to sleep! I received this moisturizer as a sample a few months ago, and let me tell you, it has drastically improved my skin. Like adding a shot of protein to your daily smoothie, this Drunk Elephant Protini™ Polypeptide Moisturizer gives my skin the boost it needs, so I no longer have to go to sleep and wake up with itchy, tight skin.

Sephora, $22; shop now

4.

Essential oil diffuser

I love adding aromatherapy to my nighttime routine, and this essential oil diffuser transforms my room into an at-home spa! It's elegant as it is functional, with adjustable light settings and a modern look. Try adding 2-3 drops of lavender, bergamot, or chamomile essential oil for a restful night.  

Bed Bath and Beyond, $39.99; shop now

My daily challenge is having to resist buying everything from Aerie. However, investing in your sleep is worth it — after all, what other activity do you participate in every single day without fail? This soft, pink comforter set from Aerie is like a breath of fresh air, and the wavy tie dye print is simply adorable.

Aerie, $149; shop now

Calming the mind is an essential part of getting a good rest. On the nights when I'm struggling to slow down, Insight Timer is my go-to app for sleep meditations, grounding exercises, and even yoga nidra, a relaxation practice that sends me into a blissful sleep every time. You can access thousands of free meditations (including some recorded by well-known voices like Gisele Bündchen and Arianna Huffington) all for free!

Insight Timer, Free; explore now

Chances are, you know that looking at screens all day isn't exactly helpful for your sleep. As someone who is constantly on her laptop, I swear by these blue-light blocking glasses, which protect my eyes, make screen time more comfortable, and make it easier to transition to bedtime after a long day of work. 

EyeBuyDirect, $9; shop now

When my friend visited me in the city a while back and showed me her mini white noise machine, I was shocked — why had I never thought of this before?! Whether you want to fall asleep to ocean sounds, a gentle stream, or simply want white noise to block out your neighbor's party that's way too loud, this mini sound machine will help you fall asleep wherever you are.

Bed Bath and Beyond, $24.99; shop now

This nighttime pillow spray from REN Clean Skincare features a unique blend of essential oils to help you destress, relieve tension, and restore natural sleep balance. Simply spray three pumps onto your pillow before bedtime, enjoy the earthy fragrance, and prepare to relax.

Sephora, $25; shop now
Remember, self-care isn't complete without sleep! From soft bedding to beauty rituals that help you relax and unwind, there are many ways to make your sleep routine the best part of your day. Try these dreamy essentials, and remember: it is okay to rest.