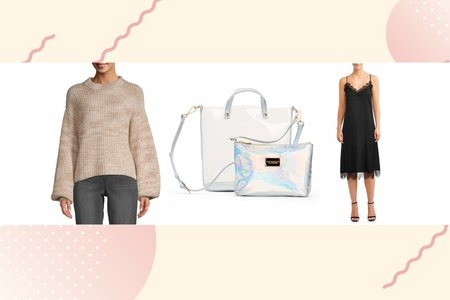 Can We Talk About How Walmart Seriously Stepped Up Their Style Game? Here are My Fave Pieces Under $20
About a month ago, on a particularly sizzling day in Tallahassee, I decided to spend my lunch break wandering through Walmart because 1) I needed the exercise (working a desk job will do that to you) and 2) superstores are always freezing, which was perfect for my sweaty face. I never really expect to see anything exciting in Walmart; it's more of a grocery stop when Publix seems too far away or too expensive. My walks through Walmart became a sort of habit that I looked forward to every few Mondays when I was too lazy to utilize the standing part of my standing desk. 
A few weeks ago, I was doing my usual rounds when I spotted them: the "it" girl shoe of the fall season. Snakeskin booties! At Walmart! For only $19.98! I immediately took off my Target work heels and tried them on. Needless to say, I had a total Cinderella moment and Walmart has been my spot for style steals ever since. Here are my current faves. 
Happy shopping this holiday season and don't forget to give Walmart a try. I know that it's much more intimidating than Target with its unflattering fluorescent lighting and carts that somehow always have squeaky wheels. But trust me, it can be so worth it for both you and your wallet. 
The Her Campus National Editors write about products we love and think you'll love too. Her Campus has affiliate partnerships, so we get a share of the revenue from your purchase.