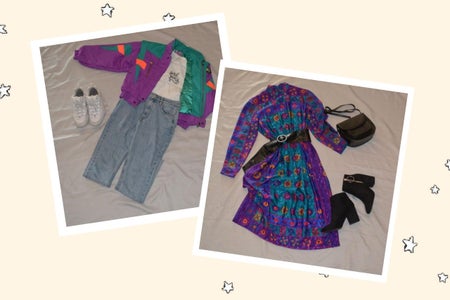 I Dressed Like My Zodiac Sign for a Week, & Here's How it Went Down
If you're someone who spends any amount of time on social media, you've definitely seen the many YouTube and Instagram posts dedicated to dressing like your zodiac sign. But for someone like me who's not an influencer and doesn't spend their days vlogging and doing photoshoots, how practical is it to dress the way your star sign predicts?
While prepping for the week before starting university classes, I decided to try out dressing like a Leo. I was running around quite a bit, and to undertake this journey, I started with a little bit of research. A few fashion magazines suggested I go for statement-making accessories, wild patterns, and extra-short hemlines. My everyday style should be loud and proud, and my outfits should speak for themselves every time I walk into a room. But all the outlets I researched agreed that I should go with leather, sexy cuts, bold pieces, funky elements, and anything that's show-stopping.
Although I adore funky clothes, I don't exactly love being the center of attention. Which is why I knew that this week was going to require me stepping out of my comfort zone for sure.
I decided to start out the week bold — and by bold I mean outrageous. This geometric-patterned dress is loud, bright and bordering on costume-y. I paired it with a black belt, witchy boots and a saddlebag purse to cut through the pattern.

I just loved this outfit y'all. It's a piece of clothing I thrifted a while back, and I haven't had much of a chance to wear it. I've always been scared that I would get some unwanted attention, but this experiment gave me the perfect opportunity.

The only downside? I live in Puerto Rico, and trust me when I say I was sweating a lot.

After Monday's statement outfit, I decided to tone it down a little. But just a little. I am a Leo after all.

I recently got my hands on a vintage jacket from the '80s with shoulder pads and a bright color-blocked print. I used the jacket to dress up an otherwise low-key outfit: classic white tee, mom jeans, and my FILA Disruptors.

Again, this outfit was a little warm for a summer day because the jacket is thick.  But because I was running errands, going from store to store and doing some grocery shopping with my mom, it wasn't so bad. It'll be perfect once the cooler fall weather starts to roll in.

I planned this day strategically because I knew I wanted to wear these white boots at some point in the week. It had to be a day when I wouldn't be walking or moving around much. These boots are killer on the feet!

The perfect opportunity struck because I had a meeting, and this meeting was with my co-Campus Correspondent, so my outfit wouldn't be too much. The walk from my car to the Starbucks was long but I had been smart and placed insoles inside the boots. Starbucks was our meeting place of choice after I discovered that there's a secret menu according to your zodiac signs...the irony.

When you dress boldly, there's some confidence that naturally comes with it. I felt comfy and stylish, and I think this was my favorite outfit by far.

I had to run around a lot on Thursday, so this outfit ended up being perfect. I had to get some party supplies for a party I was throwing, pick up my sister, see a friend, and so many other things. I was all over the place, but I was v comfy.

The white ripped pants were cotton and it helped me stay cool, and the top was in an absorbent scuba material. I know the red and white might not seem particularly bold or daring, but anyone who wears white pants definitely seems like a badass to me. They can stain with just about anything and everything.

I decided to end the week with a bang and bring out my space platform boots. These boots are my babies. They're iridescent and just make me feel like a badass space princess. Plus, they gave me the added height I needed to be able to pull off these pants, which are super long and I'm only 5'4". I had a relaxed Friday, and I went with my sister to a friend's get-together. I was comfy and chill all day long.
And that concludes my week of dressing in my most extra Leo style. As someone who loves fashion, dressing up like my star sign for a week was a blast. I had to push out of my comfort zone and color palette to truly embrace the Leo aesthetic.
Even though all of the pieces I wore were already in my closet, I really tried to style them in ways I normally wouldn't. Now I'll definitely start to embrace dressing a little more boldly from now on.