Over the past year, the athleisure apparel trend has reached new heights. Whether it's tie dye workout sets or matching loungewear pieces, transitioning to a more remote and virtual lifestyle has us reaching more often for our favorite pairs of comfy leggings rather than jeans or formal attire. However, many of the activewear brands that I've tried either don't flatter my body or are cheaply made. Since one of my goals this year is to purchase sustainable clothing pieces over items that come from fast fashion brands, I thought it was the perfect time to invest in an ethically made workout set.
The story behind Girlfriend Collective
When I first looked into Girlfriend Collective, their company transparency was one of the first things that stood out to me. Not only is the brand sustainable, but they also prioritize ethical labor practices. Girlfriend Collective's mission is to produce high quality, eco-friendly activewear while actually informing consumers about where and how their products are made.
On their website, the company is refreshingly transparent about a variety of important information, such as the recyclability of their products and packaging, their manufacturing locations, the process behind their fabric production, and much more. Girlfriend Collective also provides consumers with the ability to view their ethical labor certification and Oeko-Tex certificate, which guarantees that Girlfriend Collective's fabrics are free of harmful substances.
Beyond sustainability, Girlfriend Collective is also committed to providing an inclusive environment for their customers. The brand includes sizes that range from XXS to 6XL, and their models are incredibly diverse. Girlfriend Collective's social media posts and campaigns present models of various genders, races, ethnicities, and body types. 
After reading through all the sustainable and inclusive practices that Girlfriend Collective is committed to, I decided to purchase two of their most popular items: the Compressive High-Rise Leggings and Paloma Bra. I've been testing out these two pieces for about a month and here's what my final opinions are:
Compressive High-Rise Leggings
Compressive High-Rise Legging, Girlfriend Collective, $68, shop now
To be honest, I wear leggings 90 percent of the time right now, so I had some pretty high expectations for the Compressive High-Rise Leggings. At $68, these aren't the most expensive leggings, but they weren't super inexpensive either. These leggings are made from 25 recycled water bottles, and are ultra high-rise. I tested these leggings out during a variety of activities, including hiking, running errands, and at-home workouts. 
When I wore the Compressive High-Rise Leggings out on hikes, I thought they performed really well. For reference, I'm usually between sizes 8 to10 in bottoms, and purchased a size medium in the ⅞ length option. I found that these are definitely compressive leggings, and they flattered my curves really well. I felt supported while hiking through rough terrain, and they almost never rolled down during my hikes.
When worn out on days that I was running errands, I found that these leggings were quite comfortable. However, I personally preferred wearing these during workouts because they are on the thicker side. As far as opacity goes, I purchased these leggings in the color Thyme, and noticed that they were completely opaque. 
Overall, I really love these leggings and think they're worth the price. The quality of the fabric feels so luxurious and the colors are beautiful! 
Girlfriend Collective Paloma Bra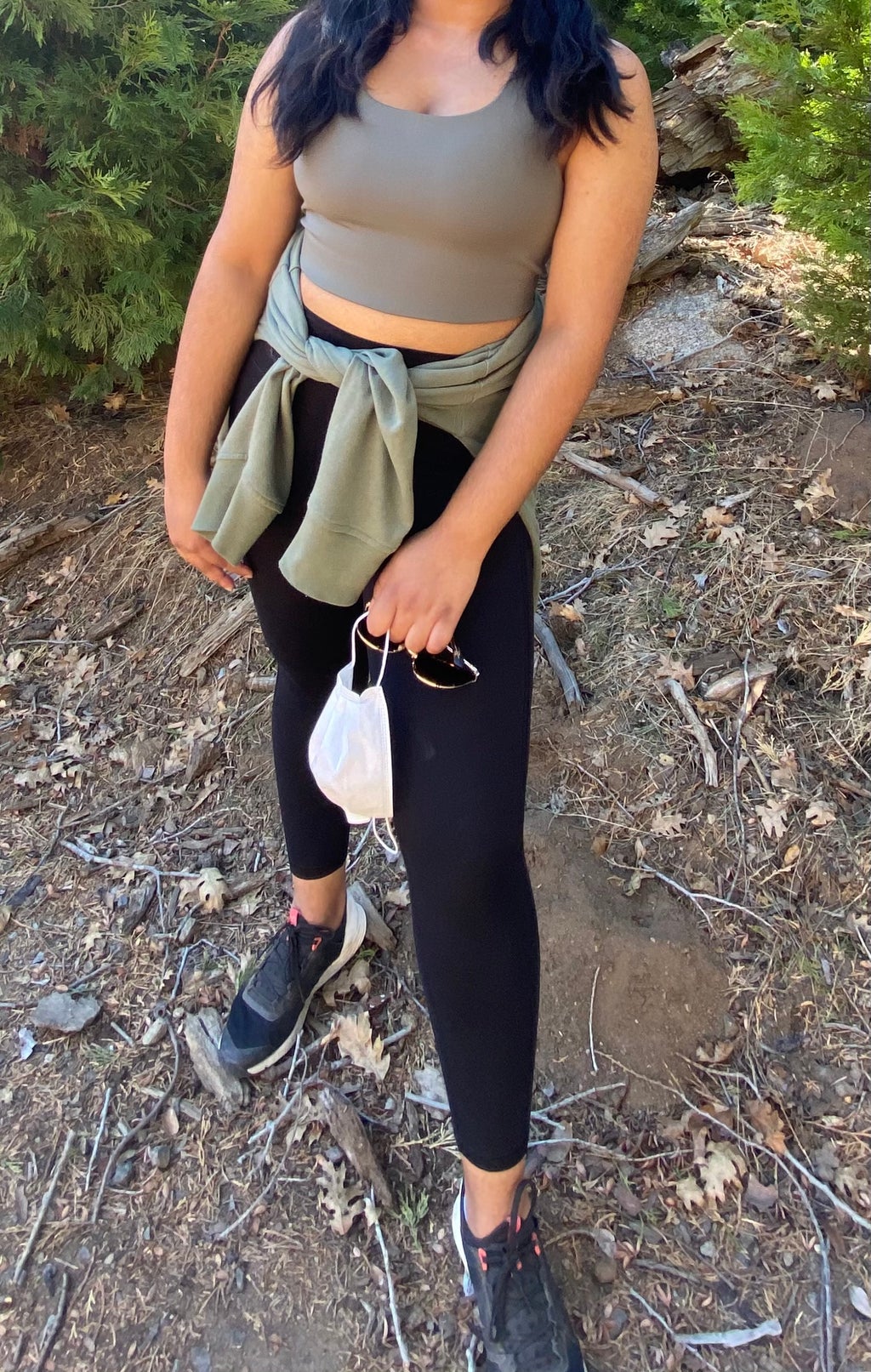 Paloma Bra, Girlfriend Collective, $38, shop now
Let me just tell you now, I absolutely love this bra. Out of all the sports bras I've ever tried, the Paloma bra is the most comfortable and supportive one I've worn. For reference, I purchased a large in this bra and it supports my chest perfectly. This bra is $36 and features a racerback design and a super comfy support band. It's made from 11 recycled water bottles, and is buttery soft. 
Personally, I dislike removable padding in sports bras, so I loved that this bra doesn't have removable pads. I also loved the longline silhouette of the bra, which is so flattering. I wore this bra on multiple hikes and felt that it provided the perfect amount of support without adding a lot of pressure on my chest. 
I'm all about supporting companies that produce high-quality products while making a positive impact on the environment and planet as a whole. The clothes we purchase have real impacts on the world around us, and Girlfriend Collective isn't only providing ethical options, but educating consumers on the importance of knowing where your clothes come from and how they're made. Activewear is a staple in most of our wardrobes, so why not purchase from a brand that actively promotes inclusivity and sustainability?