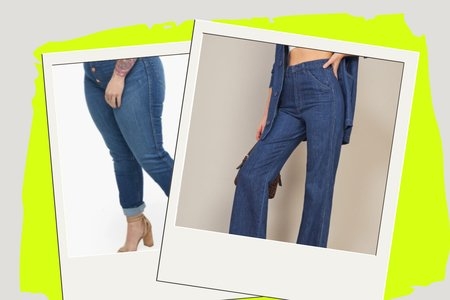 8 of the Best Sustainable Jean Brands to Shop If You Want to Curate an Eco-Friendly Closet
In the wake of a sustainable shopping moment, we as consumers have done a pretty dang good job so far in doing our part. With fashion being the 3rd most polluting industry in the world, more style-savvy shoppers are turning towards more ethical and sustainably sourced fashion in an attempt to break away from fast fashion's detrimental environmental impact. TBH, besides good ole thrifting, it can be hard to shop for clothes that are sustainably sourced and created — whether it be price accessibility or size inclusion, there are a number of factors that can make the sustainable switch seem daunting.
Even if it is a little more difficult to shop for sustainable staples, it's definitely not impossible. In my opinion, a good pair of sustainably made jeans is the best place to start. If you're looking to invest in some ethically-sourced, eco-friendly denim to kick start your sustainable closet, here are a few of my favorite brands that have helped me along the way:
Eloise Jean, Reformation ,$128, shop now 

This LA brand's summery slip dresses have become a cult favourite amongst Instagram influencers thanks to their Parisienne appeal, but behind the chic florals, Reformation is a leading brand in sustainable fashion, being 100% water neutral and using nearly 85% less water than typical clothing bought in the US. Made from sustainably sourced fibres, these retro-style jeans are equally 'French girl-cool', super flattering and save 536 gallons of water compared to the average high-street pair, which uses over 1000 gallons. 

High Rise Jeans, Re/Done, $295, shop now

Originally created as a premium jeans site selling on vintage Levi's, Re/Done expanded to create its own line of repurposed denim. Repurposing and recycling clothing reduces the amount of textiles that end up in landfill or incinerated, and these bleached, deconstructed jeans have a relaxed, vintage feel. 

Hightop Mid Indigo Jeans, Nudie Jeans, $199, shop now

Alongside reselling second-hand products and recycling worn out denim, Nudie Jeans sources all of its jeans from certified 100% organic cotton and recycled polyester. These classic skinnies are full of character. 

Crop Jean, Everlane, $78, shop now

A pair of white jeans are a summer essential, and the cropped hem and high waist on these Everlane jeans make them super flattering. Not to mention they are made in a factory in Vietnam that relies on solar power, recycles 98% of its water and contributes any waste to creating cement to build homes for local people in need. 

Jerry High Rise Vintage Straight, DL1961, $239, shop now

Straight leg jeans have been having a moment in the fashion landscape over the past few years. We're loving this patchwork style, and New York brand DL1961 sources its denim from ethically sourced cotton fibres and natural indigo dyes, and recycles 98% of the water it uses. 
When curating your eco-friendly closet, try shopping for a sustainable pair of jeans. Not only will they be a long-lasting investment, but they'll surely look super cute with any outfit.
The Her Campus National Editors write about products we love and think you'll love too. Her Campus has affiliate partnerships, so we get a share of the revenue from your purchase.