In Her Campus' series Closet Check, we're getting a look inside the closet of a college student and learning all about how they put together their favorite outfits. In this piece, we talk to Julia Heming, a senior at Stony Brook University, who's all about feminine looks.
Name: Julia Heming, 21
Year: Senior
School: Stony Brook University
Where do you live? Off campus in a house
These responses have been edited and condensed for clarity.
The Closet Check
I have a mix of dressers and a closet in my room. In my closet, I have lots of organizers to keep folded items or shirts, and obviously protect all my beautiful bags. I also keep a shoe organizer next to my closet to keep everything organized while keeping the germs from my shoes off my clothes.
I moved in with my boyfriend, who actually has a ton of clothes too, so I took over the guest room and kind of turned it into my dressing room! It's the perfect place to sit and drink my hot lemon water every morning while I plan outfits. The lighting is perfect in there, and it's a space I find a lot of peace in.
Creating The Fits
It depends on a ton of things: my plans, my mood, the weather. I usually plan outfits the night before, so I can lay everything out. I love leaning into femininity, so when I can wear a dress or a skirt, I almost always do. I am also in love with cream sweaters — I have at least 10 and they are all the same shade, but something is different about each one and I love them all. When I'm getting dressed, I always look for something that is comfortable and cozy, because I'm the kind of person who is always freezing. The biggest thing for me is always that I feel confident, even if I'm just in jeans or a basic matching set.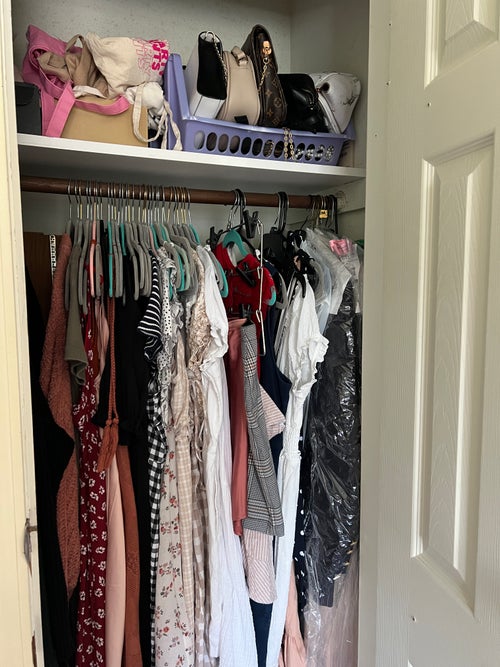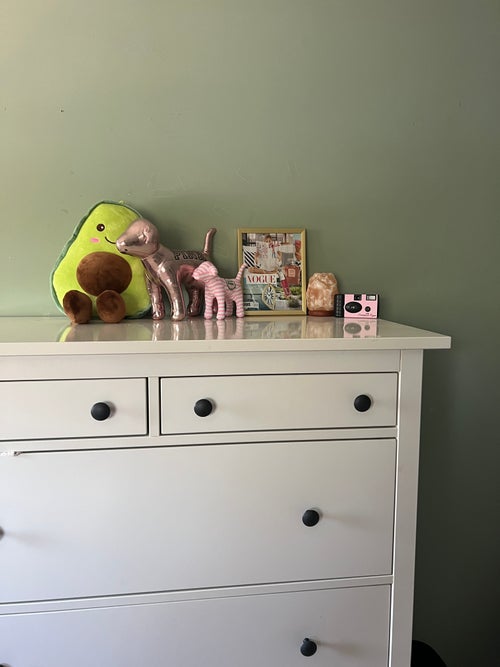 What I'd Wear To: Class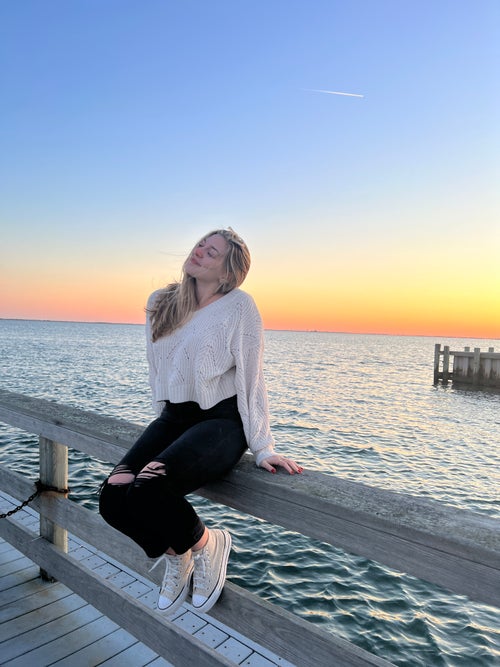 This is literally my favorite outfit. It's so simple but makes me so happy. It's just a pair of ripped black mom jeans and this cute cropped cream sweater. I always wear it with my tan platform converse, which are totally covered in tiny embroidered flowers. Then, I add on all my favorite gold rings and a dainty little pearl necklace.
What I'd Wear To: An Internship Interview
For interviews, I style my Abercrombie & Fitch trousers styled a little more business casual than I usually do. I love wearing them with this cropped cream cardigan from 7 For All Mankind (it's actually part of a set with a midi dress) and my favorite converse. I will be wearing all my favorite gold jewelry, and a gold bracelet from Little Words Project that says "Manifest" for some positive energy. Obvi, the camel-colored look needed an iced latte, and I will definitely reward myself with that after crushing the interview.
What I'd Wear To: A Darty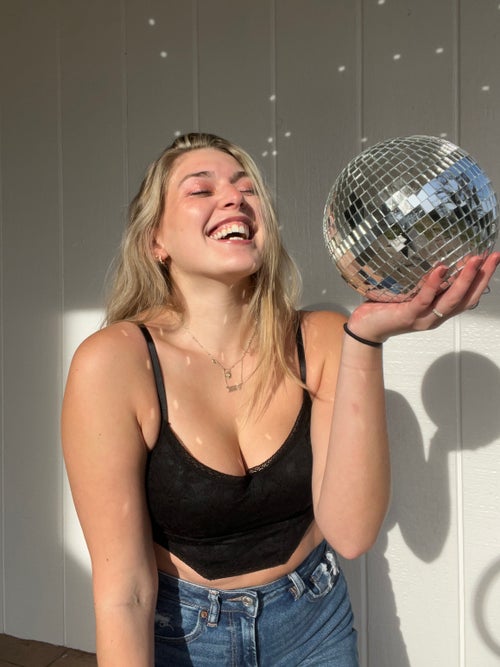 This is my fave darty outfit because its super comfy but still on trend. The corset top makes it easy to take this look from darty to a night out, and the jeans add that chill vibe of a darty. I'd add my go to black chucks and grab a neutral flannel in case I need an extra layer. Hand me a borg, this outfit is darty ready!
What I'd Wear To: A Date Night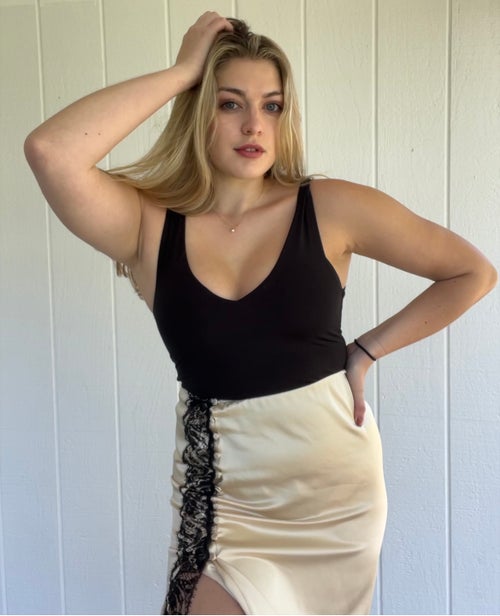 For date nights, I definitely love to lean into sensuality a little bit, so this lace and satin slip skirt from Victoria's Secret is a go-to. I style it with a plain black bodysuit or a satin top, and add my favorite leather jacket for a touch of masculinity in this feminine look. I think scents are sometimes even more important than the look for date, so I'll have perfume on my wrists and inner thighs a la Eli Rallo.