If you've stayed on top of any of the latest fashion trends, then you know that corset style tops are the statement of the season. The waist-cinching and figure forming style make it a stunning staple in any kind of look. From Victorian era Bridgerton costumes to the 2022 Emmys Awards, everyone seems to be here for this romantic style. On the red carpet, stars like Zendaya, Quinta Brunson, and Lily James rocked the look, proving that this fall, corsets are *officially* here to stay.
Of course, the style has a long history in the world of fashion, with corsets going back to the early 1900s. Originally, they were used to compress the waist and ribcage to achieve the desired hourglass silhouette of the time period. Today, luxury brands have reinvented the design with popular looks such as Bella Hadid's all red corset look for Versace, and the viral Vivienne Westwood portrait corset, and streetwear companies like Urban Outfitters sell their own affordable corsets that are perfect for a night out.
Simple, sexy, and totally achievable, here are the best corset style looks from the Emmys, and how you can get the style for yourself (and more casually and affordably, obvi)!
Zendaya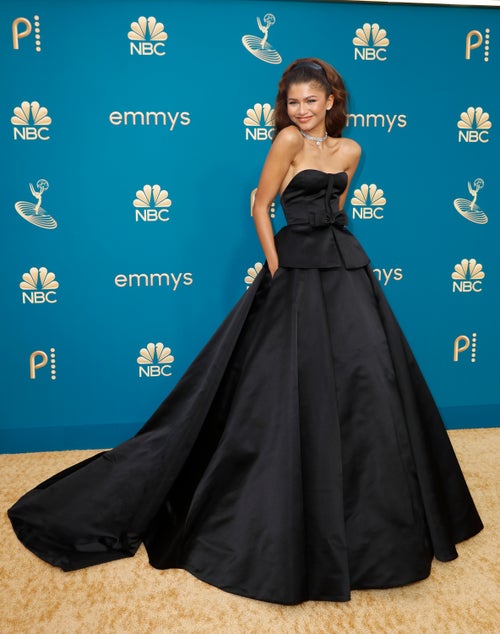 "All hail Queen Z" is what I imagine the 2022 Emmys crowd chanted as Zendaya picked up her second Emmy award for her work on Euphoria. The stunning look was a favorite of the night, and for good reason. Zendaya wore a bare shoulder Pierpaolo Piccoli gown with a corseted bodice, pulled together with a bow-graced belt.
To create a look inspired by this gown, try this sustainably made corset dress from Etsy, or head to your local thrift store in search of a simple black corset top! Bows are coming back in a big way this season, so don't be afraid to take cues from Zendaya and add one to your own monochromatic look.
Lily James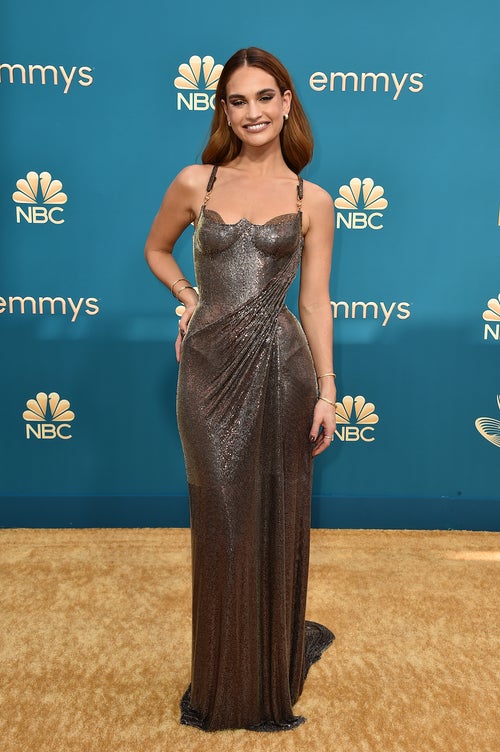 Not only did James turn heads at the Emmys with her new copper red hair, but she looked ultra glamorous in this Versace corset-style gown. The Pam & Tommy star was all bronzed up in this metallic-y mesh style that features accents of gold throughout.
If this ethereal look is up your alley, try this gradient, metallic-inspired dress on Etsy (which, might I add, is perfect if you want to go as a Greek goddess this Halloween). If you want to splurge, check out the Verb by Pallavi Singhee Corset Dress by Anthropologie.
Quinta Brunson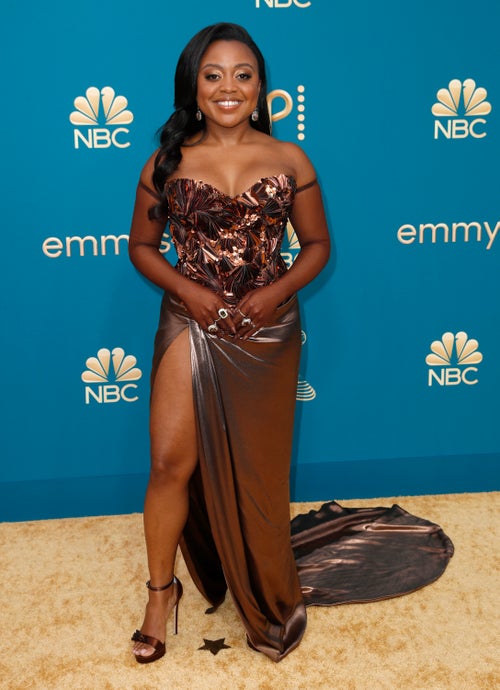 At the Emmys ceremony, Abbott Elementary star Brunson proved that teachers (even on-screen teachers, at that) can follow the cool trends! The writer and actress appeared in a metallic brown Dolce & Gabbana gown, where she told E! News, "I really wanted something that made me feel va-va-voom, but also respectful."
If you're also looking for that sexy confidence and a look inspired by this bold dress, try this mesh bodycon dress from Free People. Don't forget to add your own shining touches!
Elle Fanning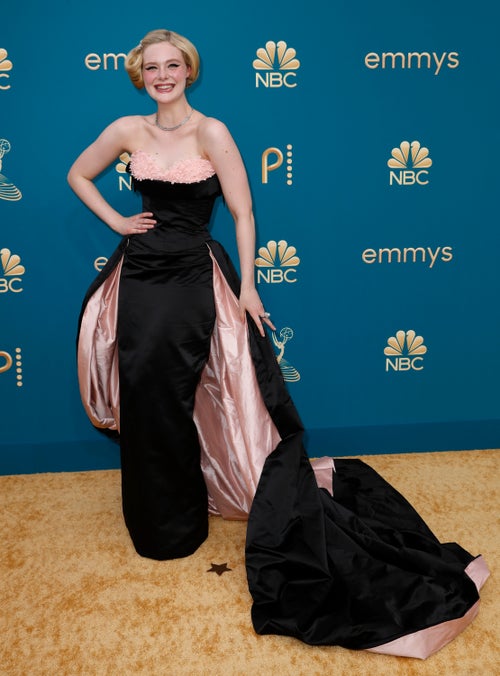 Nominated for her work on The Great, actress Elle Fanning wore a gorgeous gown handcrafted and designed by two costume designers on the show, Katherine Shaw and Sharon Long. Fanning told E! News that the look was "so special" and that it was obviously "made with love," and I couldn't agree more. The romantic gown made a statement with its light pink embellished corset bodice and dual colored train.
If you're looking for a dress inspired by Fanning's (it's never too late to start thinking about what to wear to homecoming or prom, bestie), try this simple Lulus dress in black or blush pink, or find a vintage corset top like this one on Etsy!
Sydney Sweeney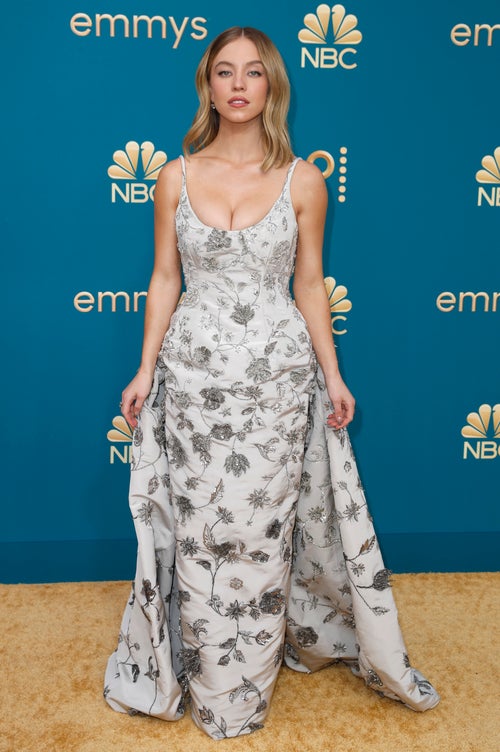 Sydney Sweeney hit the red carpet wearing an elegant, pearly white gown with a structured corset bodice and matching train. The two Euphoria actresses of the night seemed to be in perfect sync as they both rocked the latest corset trend (like, did they text ahead of time and plan this or what?).
This custom-made Oscar de la Renta dress looked incredible on the actress, and a similar look will look stunning on you! Try this dreamy corset dress, or find a pre-loved, simple white corset at your local thrift store or on Poshmark and add your own sparkly detailing!