Tomdaya stans, you finally have a new relationship milestone to coo over. In a backstage interview after her historic Emmys win on Sept. 12, Zendaya called Tom Holland her boyfriend for the first time in public, and the moment was super cute.
Zendaya was having a pretty great night overall, in fact: She won the coveted Emmy Award for Outstanding Lead Actress In A Drama Series for her portrayal of Rue on Season 2 of Euphoria, beating out Jodie Comer, Laura Linney, Melanie Lynskey, Sandra Oh, and Reese Witherspoon. This marked her second win as Rue in Euphoria, having received the same award for her acting in Season 1. And with this award, Zendaya became not only the first Black woman to win the Emmy for Lead Actress In A Drama Series twice, but the youngest two-time Emmy winner ever.
And while Zendaya's acceptance speech and love from her mother, who accompanied her to the big night, definitely made some hearts melt, it was actually a backstage interview that blew up online afterward, when Zendaya was asked who she would text first about her big win.
Zendaya answered that fortunately, she didn't have to text her mom, because she was there with her at the award show, but added, "I text my boyfriend." Notably, Zendaya didn't say the name of her beau and Spider-Man co-star, but considering how private the two have been about their relationship, simply referring to having a boyfriend at all was newsworthy enough for Twitter.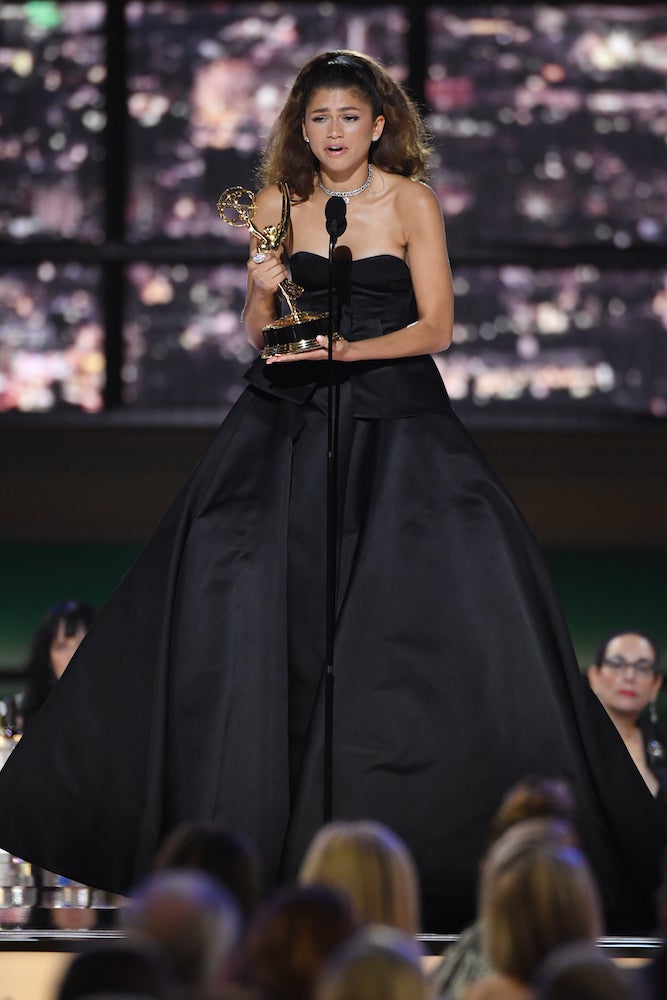 "I really cannot believe Zendaya called Tom her boyfriend like that," one fan tweeted, "like stanning her for years and she's never done something like that."
"Hearing Zendaya say the word BOYFRIEND about Tom my heartttt," another wrote. This sentiment seemed to be echoed across the Twittersphere, with other tweets reading, "Zendaya calling Tom her boyfriend oh i feel faint," and "I don't know what I'm more jealous of the fact that Tom Holland gets texts from Zendaya or being able to refer to Tom Holland as my boyfriend like I'm sick."
Though Holland was not there in person at the Emmys, it was likely because of conflicts with his filming schedule for Apple TV+'s The Crowded Room, according to Elle. He may not be posting on Instagram to celebrate Zendaya's win, considering he announced he was taking a social media break for mental health reasons in an Aug. 13 post, but Holland's no stranger to shouting out his girlfriend for her achievements. Since their romance was confirmed in July 2021, Holland has posted about Zendaya being named Fashion Icon at the 2021 CFDA Awards, the premiere of her movie Dune, and her birthday in 2021 (that "my MJ" moment is still iconic, BTW).
Zendaya returned the favor with a sweet post on Holland's birthday in June, calling him "the one who makes me the happiest," but otherwise, the pair have remained tight-lipped about the details of their relationship. In a November 2021 interview with GQ, both actors explained their feelings on wanting to keep their romance to themselves, especially with the public confirmation of their relationship coming from paparazzi photos they didn't know were being taken.
"One of the downsides of our fame is that privacy isn't really in our control anymore, and a moment that you think is between two people that love each other very much is now a moment that is shared with the entire world," Holland said, adding, "We'll talk about what it is when we're ready to talk about it together."
Zendaya called the media frenzy over the photos of them kissing in a car "quite strange and weird and confusing and invasive" in the same interview. She said, "I think loving someone is a sacred thing and a special thing and something that you want to deal with and go through and experience and enjoy amongst the two people that love each other."
With this "boyfriend" comment, it seems like Tomdaya might now be more comfortable showing off their relationship — at least a little bit, anyway. Of course, the nitty-gritty of their relationship is nobody's business but their own. That might be for the best, though, if one use of the word "boyfriend" has the internet crying like this!