The 74th Emmy Awards wreaked havoc online on Sept. 12, with Jimmy Kimmel being at the center of the controversy. An attempt at a comical drunk bit performed by the Jimmy Kimmel Live! host clouded Quinta Brunson's acceptance speech for Outstanding Writing for A Comedy Series on the ABC sitcom Abbott Elementary. Kimmel laid on the stage, "passed out and drunk" as Brunson stepped over him to accept the award, and let's just say, no one was laughing.
Fans online said the significance of Brunson's historic Emmy win was overshadowed by Kimmel's painful sketch. Brunson's win for her writing in the Abbott Elementary series made her the second Black woman to take home the award, and the first to do so solo. Not to mention, she racked up one of the three Emmy wins for the show in its first-ever season.
The skit started when Will Arnett dragged out a (fake) drunk Kimmel onto the stage, pronouncing that "Jimmy couldn't be here tonight," as he laid out on the floor. Arnett went on to attribute Kimmel's intoxication to the fact that he has been nominated and lost categories at the award show for consecutive years, and that "he got into the skinny margaritas" backstage to cope.
As the nominees were announced by Arnett, Kimmel stayed laid across the stage floor, with Brunson being pronounced the winner of the Emmy for Outstanding Writing for A Comedy Series. As she took to the stage, she peered over to a passed out Kimmel, pronouncing, "Jimmy, wake up, I won!"
Things got even more uncomfortable as Kimmel proceeded to throw a thumbs up towards Brunson, while staying put on the ground, seemingly in her way. Brunson quite literally had to step over and around Kimmel as Arnett attempted to drag him away.
She went on to continue her acceptance speech, thanking her cast, crew, and family for their dedication and support. But, no one could help but to notice Brunson standing over Jimmy as he laid there, "passed out," unfortunately turning the attention towards himself and away from the Emmy winner.
It's safe to say that the internet was not having it. One user took to Twitter to write, "Quinta Brunson deserved better than giving her acceptance over Jimmy Kimmel's 'dead' body." The internet blew up, with many noting that Jimmy's drunk bit was incredibly disrespectful and distasteful.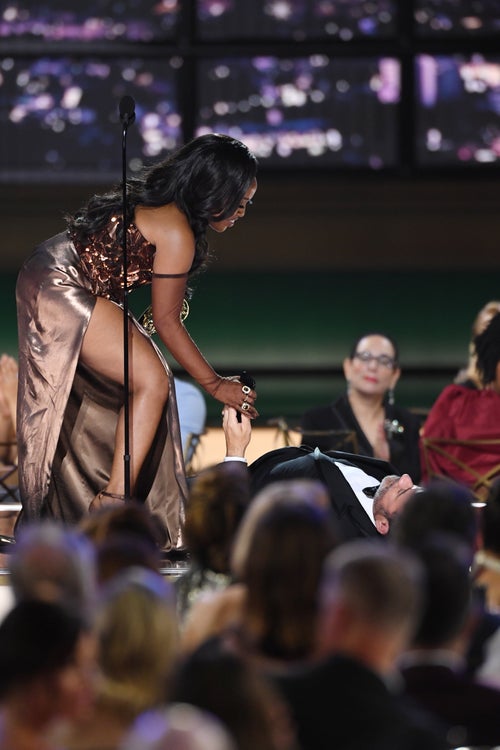 Another viewer highlighted the privilege and distaste that Kimmel's joke showcased upon the Emmys stage, writing, "If #QuintaBrunson stepping over #JimmyKimmel who literally laid in her spotlight on the day she won an Emmy isn't a metaphor for what it means to be a WOC in a white mans world I don't know what is." 
After heading off the stage, Quinta responded to the fiasco when speaking with Variety. They asked her about the confusing moment when Kimmel didn't get up off the ground, asking for her thoughts about his performance during her speech. "I know Jimmy Kimmel, and I don't know, I felt like the bit didn't bother me that much," she said.
She went on to mention that Kimmel "gave me my first late night spot, and was one of the first people to see Abbott." She added, "He Instagram messaged me that he saw this comedy and thought it was one of the greatest comedies of all time." She even went as far as to say, "I think in that moment, I was just really happy that it was Jimmy up there [on stage]."
She continued on to note that she'd be heading over to his show later on in the week where they would discuss the acceptance speech further. Burnson laughed and joked that she "might punch him in the face, […] I don't know. We'll see what happens." Jimmy has not yet released a statement responding to the controversy.