I Asked 6 College Women What Their Favorite Pair of Jeans Is & Here's What They Told Me
Skinny, bootcut, straight leg, high-waisted, dark wash, acid wash – there are a lot of options out there when it comes to jeans. It only gets more complicated if you're petite, plus-size, or want super eco-friendly thrifting options, because those aren't always accessible at every retailer. 
A good pair of jeans is a closet essential, and you shouldn't have to bend over backward to find a decent pair you love. Luckily, there are a lot of diverse options out there too, even with classic staple brands. How do I know? Because I asked college women for the jeans they love most, based on their unique body and personal style, and here's what they said they can't live without.
1. 360 Ne(X)t Level Super High-Waisted Jeggings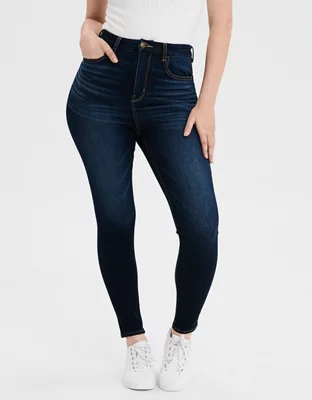 American Eagle is always one of my classic faves, and the jeans are a staple of cool girls everywhere. Whether you're kind of digging a mom jean, or just want a jegging so you can sit all comfy and stretchy in class, it has a jean for every mood. Plus, American Eagle denim is relatively inexpensive – which means you can shop without feeling guilty after.
Rachel Bernard, a University of Wisconsin student, found her staple pair there and is officially obsessed. "I'm tall, and once I found my size, every pair I tried at American Eagle fit so well," she explains. "Even when I order my size online, the anxiety I usually have with online shopping isn't there. Plus, they have tons of styles to choose from so I can mix up my wardrobe, and they're comfortable, too!" 
2. 311 Shaping Skinny Jeans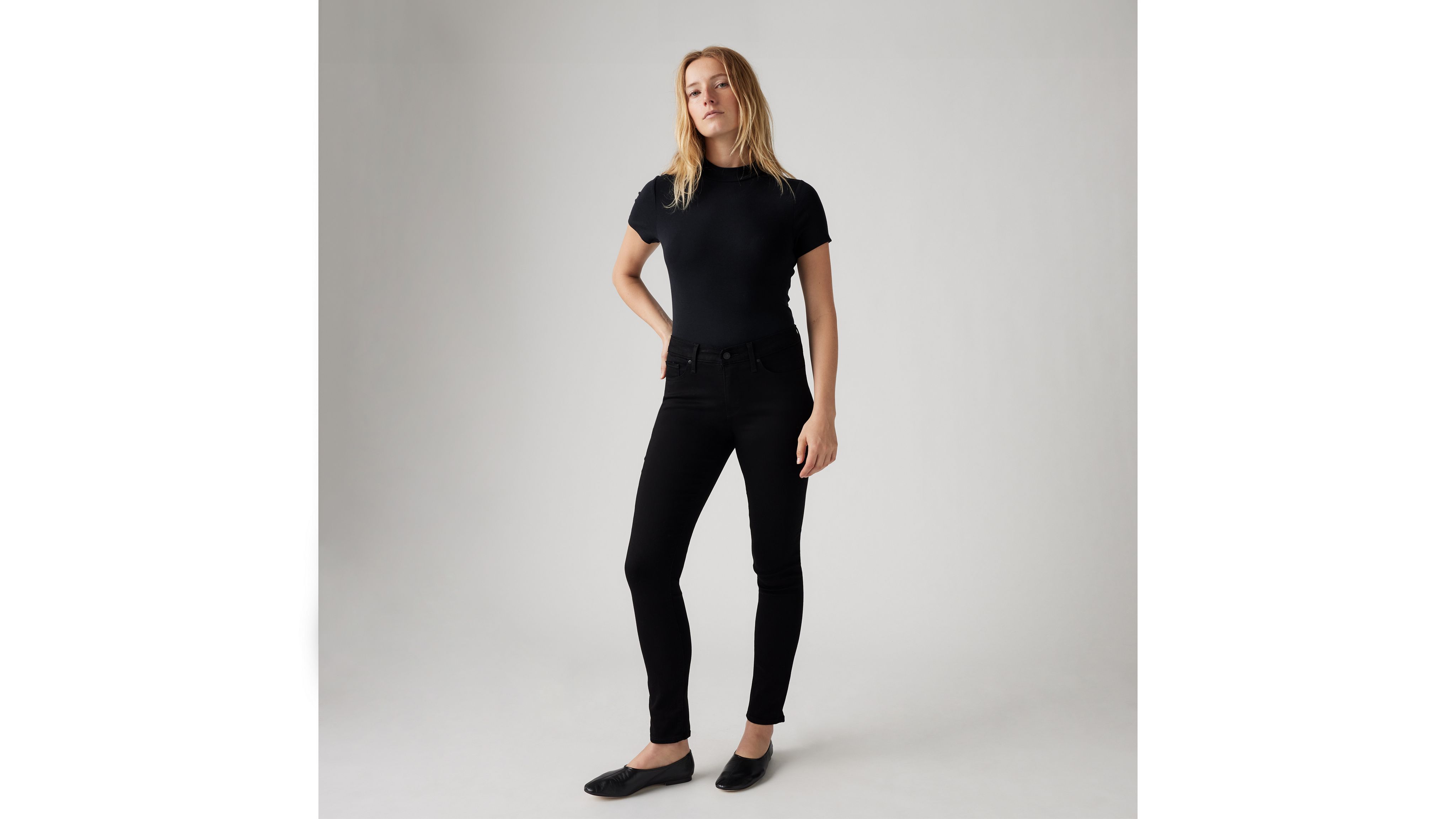 A long-lasting pair of jeans can be expensive, but in the case of Levi's, they're definitely worth the coins. It's the brand everyone thinks of when it comes to jeans, which makes sense because Levi's has been making a name for itself in the denim world since 1853.
"I will spend the extra money on good ole Levi's! Love the way they fit and that they include inseam sizes because I'm so tall!" says Taylor Cabrera, a University of Mississippi student.
Known for a snug, comfortable fit and a wide variety of styles, Levi's 311s are form-fitting, but still allow you to move freely, making them the perfect choice for the college woman who is constantly on the go.
3. Ultra High-Rise Mom Jeans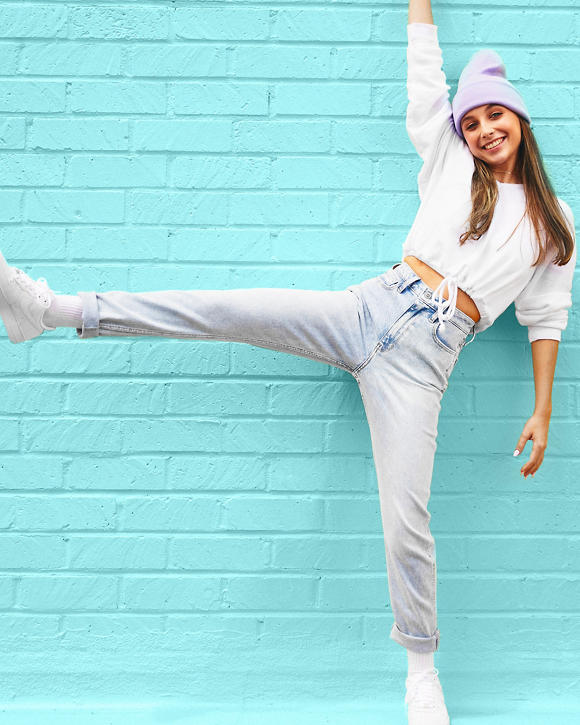 Hollister jeans are a holy grail if you're all about tight, fitted denim that hugs your body in a super flirty way. They're also perfect if you need a shorter inseam or tighter fit, and the denim is known for its long-lasting wear as well.
Brianna Croye, a student at University of North Texas, has a small waist but "slightly larger thighs" and she says "these are the only jeans that fit both my waist and legs, that still feel comfy." Every girl needs at least one pair of mom jeans in her closet, and this pair is so versatile. Style them with a crop top for a summer concert, or layer with a fun top and a blazer in the winter.
4. Mid-Rise Rockstar Skinny Jeans
Tall friends, I didn't forget you. Old Navy's Rockstar jeans are known for having a long inseam, so they're a great option if you've got legs for days. And if you're petite, don't fret — the Old Navy Rockstar is a style you'll fall in love with too.
"I always buy Old Navy jeans because I know they fit me," shares Katie Vogel, a University of Wisconsin, Stout student. "I'm petite and plus-sized, so clothes shopping, in general, can feel like a nightmare. But here I know exactly which size and style to get."
As the most affordable option on this list, Old Navy's Rockstar line is trendy and inclusive, offering a variety of styles in sizes 00-30. The jeans pair perfectly with a chic sweater or blouse for the office and can be styled with a lacy top and sky-high heels when you're ready for a night out with your friends.
5. Ultra-High Rise Ankle Straight Jeans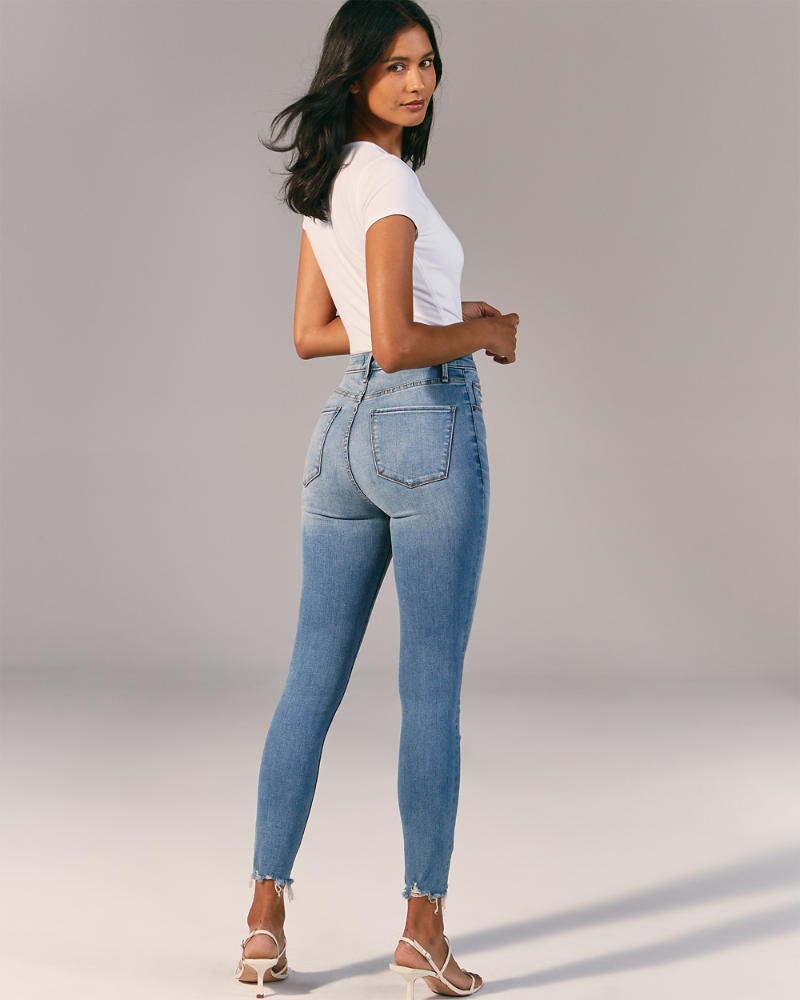 Abercrombie & Fitch, $66; shop now
Although Abercrombie & Fitch still sells its iconic skinny jeans, there are also offer more classic, conservative cuts for the sophisticated college woman. Think: dressing for your internship while still trying to live your style influencer dreams. These Ultra High Rise Ankle Straight Jeans are trendy and comfortable, but still professional enough for the workplace.
"Abercrombie & Fitch is my latest discovery, and while the jeans can be pricey, they actually do wonders for my curves," says Andrea Lopez, a student at George Washington University. A&F Jeans now come in three lengths (short, regular, and long) and a wide range of sizes to fit everyone.
6. Vintage Indigo Raw Hem Jamie Jeans
"I have a pair I bought my sophomore year of high school, and now I'm about to finish my sophomore year of college. They have yet to fade, and I can wear them casually or even dress them up if I need to!" says Nadia Garcia, a student studying at Texas A&M.
Although this pair is on the pricier side, I vote that good denim is always a worthwhile investment. Higher quality means the jeans will last through several years of wear-and-tear without becoming worn out or baggy. 
Whether you're shopping online or in stores, you now have some student-approved recommendations that you know are winners. With so many amazing options available to you, you're sure to find a pair that fits your taste and gives you the comfort and style you're looking for – so get out there and find your perfect match!
The Her Campus National Editors write about products we love and think you'll love too. Her Campus has affiliate partnerships, so we get a share of the revenue from your purchase.