In Her Campus' series Closet Check, we're getting a look inside the closet of a college student and learning all about how they put together their favorite outfits. In this piece, we talk to Lily Brown, a junior at Emerson College, who loves organization and color coordination in her closet.
Name: Lily Brown, 20
Year: Junior
School: Emerson College
Where do you live? Home this summer, and on campus in a dorm during the school year
These responses have been edited and condensed for clarity.
THE CLOSET CHECK
Obviously, being home for the summer, there is a major difference in storage space. I have a little more space than I typically would in my dorm, but I have found various storage solutions to make the most of the available space. Back at school, my closet only has a single rod, but I've added divider bins below it to make the most of every inch. Despite the limited space at school, my organizational skills shine through. I've always been a huge organizer, so all of my drawers and hangers are arranged to the max. I love color-coordinating and sorting everything into different style piles or fabric arrangements for my dresses, tops, sweaters, and even my pajamas.
When it comes to my closet, I can't emphasize enough how much I adore color. While I appreciate more basic style choices, my true passion lies in incorporating vibrant pops of color into every outfit I create. They inject a unique sense of personality into my outfits, and being born in the early 2000s, I'm also obsessed with the Y2K aesthetic and overall indie vibes. I also love shoes (think Carrie Bradshaw, but with sneakers), so sometimes they will be the best pop of color to an outfit.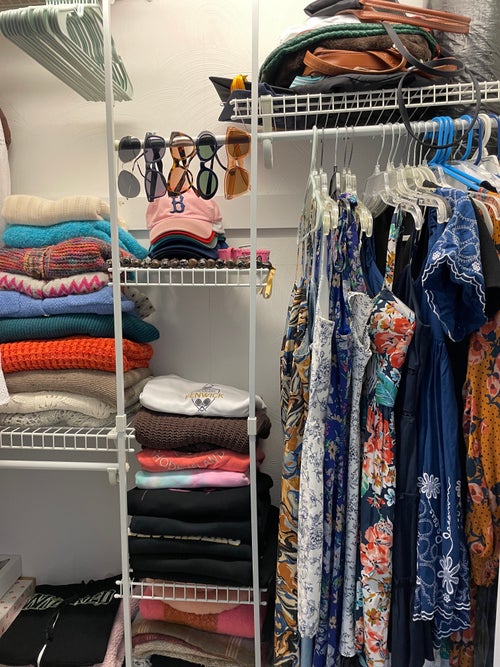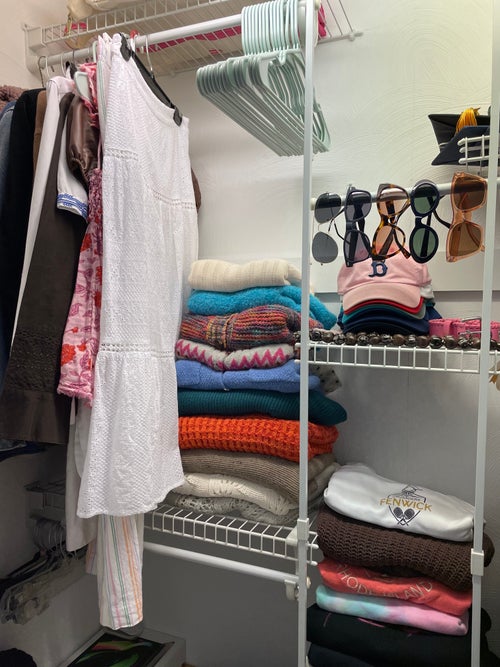 Creating The Fits
Some days, I opt for a more polished look, but other days I'm not afraid to kill it in sweats. Going to a city school and coming home to the suburbs has definitely brought a dramatic shift in my summer wardrobe, as sweats have gracefully claimed their place as the new normal. Nevertheless, even when I opt for sweats, I always strive to add a touch of personal style into my ensemble, whether that's a vibrant graphic T-shirt or fun printed sweatpants. Something that never fails to make an appearance in my outfits, though, is my treasured gold jewelry that's been passed down through generations in my family. I always wear three chains, each representing a different generation. One chain belonged to my grandmother, another was given to me by my mother, and the third one I received for my birthday last year. Additionally, I wear golden hoops and studs as earrings, and I decorate my fingers with a golden band that my mother wore during her high school years. It's special to me how I'm able to honor the timeless elegance and sentimental value that these heirlooms hold. They not only add a touch of glamour, but also serve as a reminder of my roots and the bonds that connect me to my loved ones.
What I'd Wear On: A Date Night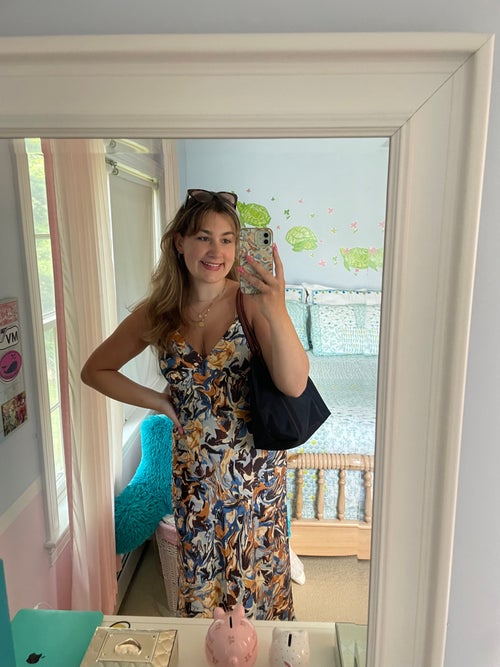 I want my date to have that go-with-the-flow vibe, so I love throwing on an easy breezy dress for the night. I want to create an effortlessly chic look that achieves the perfect balance between style and comfort. Here, I'm wearing an Abercrombie & Fitch printed satin slip midi dress (it's black and blue AND white and gold). Its flowing silhouette and marble pattern exude a carefree vibe, reflecting my go-with-the-flow personality. To add a hint of glamour, I love adding my Gucci sunglasses. The sleek frames and signature detailing effortlessly elevate the overall look. Lastly, I'd pair the dress with an original black Longchamp shoulder tote. I won't deny feeling a bit nervous and perhaps a little awk on a date. However, this outfit undeniably boosts my confidence.
What I'd Wear To: The Beach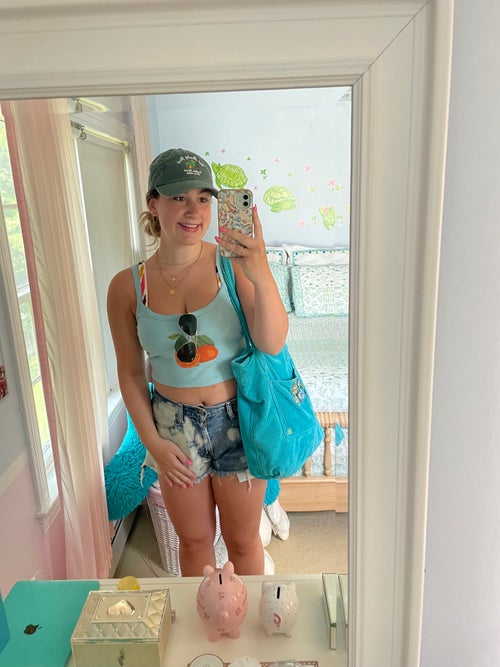 When it comes to dressing up for a fun summer day, I love to incorporate my favorite color, Tiffany blue. To start off, I would carry a spacious and stylish Urban corduroy tote bag that complements the color scheme. It's perfect for stashing all my beach or walk essentials, including my matching aqua-colored water bottle. For my top, I'd choose a lightweight tank in a vibrant blue shade and a playful summer-themed design. Paired with Levi's Slim Straight jean shorts, which feature a trendy half acid wash, this ensemble exudes a laidback and cool aesthetic, ideal for a hot girl walk or exploring the outdoors. To shield myself from the sun, I'd wear some Ray-Ban aviator sunglasses and a simple souvenir cap. As for my beachwear, I can't resist the allure of the Aerie bikini. This rainbow-striped suit in particular showcases a fun color palette when you're in the sun.
What I'd Wear To: An Internship Interview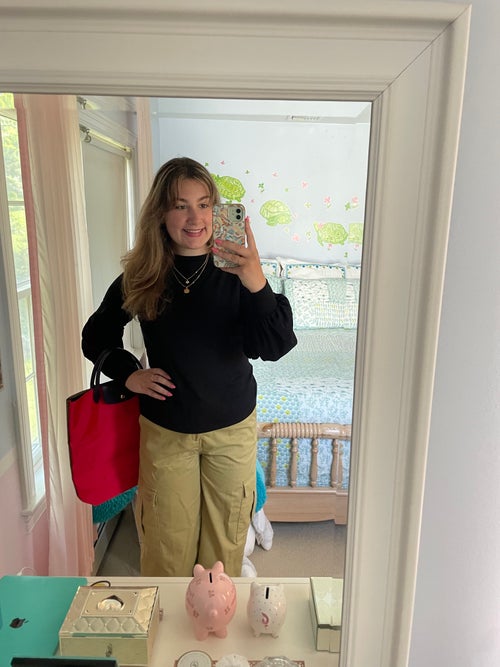 For my internship interview, I want to wear something that is not only professional but also confident. One of my go-to interview outfits is this black top with puff sleeves paired with khaki twill cargo Dickies. This combination showcases sophistication and a balanced blend of professionalism and adaptability. To complete my ensemble, I accessorized with a Longchamp tote that mimics a briefcase. Its sleek design and spacious interior make it both functional and stylish, allowing me to carry important documents and any necessary items, like my resume or even Macbook, for the interview. I love this simple outfit because it still makes a statement, as I aim to present myself as a candidate who is both stylish and professional who demonstrates a strong attention to detail.
What I'd Wear To: A Hometown Summer Party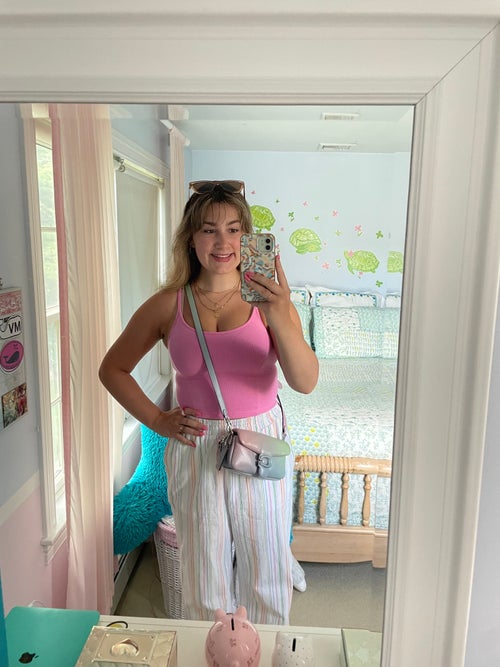 For a summer party in my coastal hometown, I am looking to wear something that is cute but also keeps me cool. To create my own twist on the coastal granddaughter trend and to get ready for Barbie summer, I love my Cotton On pinstriped linen pants, which offer a breezy feel to my look. To complement the pants, I'd opt for my Urban Outfitters pink cami. A must-have accessory would be a pair of Tilly's sunglasses to protect my eyes and add a stylish flair. To add a trendy and youthful touch, I would adorn my fingers with some costume rings from Brandy Melville. To tie everything together, I would carry my Coach ombre bag in light pink, pistachio, and sky blue hues. This bag not only provides a pop of color, but also offers practicality and versatility to hold all my essentials for the party.