When it comes to packing your life into a teeny tiny dorm room, one thought comes to mind: How am I supposed to fit all my stuff into a 130 square foot box that's barely big enough to hold my clothes, let alone everything I need to live for a year? Yeah, the minimal space struggle is no joke – especially when you're squeezing in with a roommate or two.
Luckily, college students for years and years before you have been innovating hacks and products to make every nook and cranny of dorms storage-ready. Now with a little help from Pottery Barn Dorm, you can find storage to fit everything you need into a small living space and still have room to breathe. From shoe racks to shelves to baskets, there's a storage fix for everyone – so instead of feeling cramped, you can relax comfortably in your new home-away-from-home.
Keep clothes, bedding, extra school supplies – basically anything you need to stow ­– organized and out of sight with these stylish underbed bins. The best part? These little beauties are flexible, which means you have extra wiggle room to fit these under your bed nicely against those hard boxes or sports gear taking up an irregular amount of space!  
We can't stress this enough: Over-the-door storage is essential for tidiness. You can't make it through the year without utilizing your doors.
But seriously, drape this fabric storage over your bedroom or closet door to hold jewelry, makeup brushes, sunglasses, keys or your wallet, and say hello to a perfectly organized bedroom, free of clutter.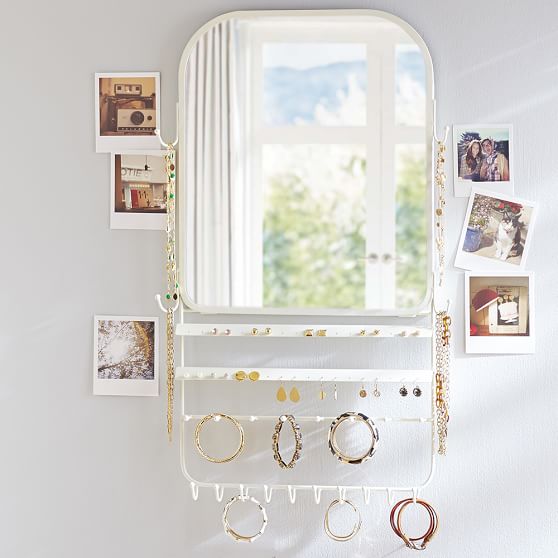 Have more jewelry than you can handle? Keep it sorted and in control with an over-the-door jewelry organizer, complete with a mirror to check out your cute lil' self while you accessorize. We love that this design is open-concept, so you can actually see your jewelry instead of having to root through a box of tangled necklaces every day.
Not only is an A-frame rack essential for the girl with a teensy closet, but having one of these on display in your dorm is the chicest way to keep favorite wardrobe pieces on display and incorporated into your overall decor ~aesthetic~. Hang your jacket, hats and scarves on the rod, then store boots and more in the compartment at the bottom for maximum space saving.
Instead of hiding shoes under the far corners of your bed, keep sandals and sneakers on display (but still away) with an over-the-door shoe rack that hangs easily on your bedroom or closet door. It's totally see-through, so your best pairs are still in sight but not taking up any excess space.
If you're attending college across the country and can't keep your seasonal outerwear stored with mom and dad until you need it, investing in sweater bins is a smart way to keep winter jackets and long-sleeves hidden away and fresh until you need them. These bins are stylish enough to stack next to your desk or bed, and any extra space inside can even be used to hold school supplies you're saving for later!
Don't sweat damaging your dorm room wall – this organizer uses adhesive strips instead of nails, so you can tack up your essentials without breaking any of the housing rules. Place it over your bed or desk for a pretty little nook to hold your phone and keep postcards from friends close to you.
On days when you want to skip the library in favor of some downtime in your dorm, this lapdesk is great for providing a productive workspace and keeping your school supplies clutter-free. Compartments beneath the wood surface hold study essentials, and the cushion base keeps you cozy while you crank out that essay.
Communal showers aren't conducive to keeping your brush and hand towel safely in the bathroom, but this hanging shower kit makes it easy to keep your personal toiletries organized and together so they don't get lost. Pack it full of your favorite bath products, and after you're done toting it to the bathroom, hang on a wall hook or in your closet to save space.
Go big or go home with the ultimate storage set, basically everything you could need to maximize space this year, all in one package. This set contains sweater bins, a hanging organizer, sliding storage and more so your closet can be a neat and tidy oasis. Plus, if there isn't enough room in your dorm closet, the laundry bag and bins can easily slide under your bed or desk too.
There's so many ways to maximize space in a small dorm, and all it takes is getting creative! Enjoy the back-to-school season, and cheers to starting the year off tidy.