Affordable Ways To Say I Love You
It's that time of year again when everyone is coupling up and everything seems more pink than usual. Those chocolates you love so much are suddenly more expensive and the air smells like roses ALL the time. Yup, it's here. It's Valentine's Day, the one day out of the year that you're allowed to be as sweet, as corny and as romantic as you want, and no one will judge you for it! But, being cheesy doesn't have to come with a price. Here are some affordable yet totally cute ways to tell someone how much you love them (P.S. these gifts work all year round).
An e-Card
Sometimes, all you need is that perfect card. The one that so eloquently states how you feel and  speaks the message you want to say. There's sure to be a card that suits your style at your local Hallmark, Walmart, Michael's, or grocery store. Don't have time to go to the store? Waited until the very last possible minute? Your loved one lives far away? Send an eCard! It's easy, fast, and in many cases, doesn't cost anything! JustWink is a great site to send that special someone a message! Is fun, silly or just plain goofy your style? Free fits your budget? Whether sending a card across town or across the country, JustWink has you covered. Whether it's the season of love, or just because you are a hopeless romantic, a romantic eCard from JustWink is sure to make Cupid smile. And your loved one too! If romantic is just not your style, don't worry – there's other, less mushy cards too.
Photo via JustWink
Edible Treats
Top off a romantic evening, or an evening filled with movies and laughter, with one of these delightfully sweet treats. Best of all, every one of them is easy to make and won't break the bank. I promise! Chocolate Covered Strawberries: a classic favorite! With just a few simple ingredients, starting with fresh strawberries and dipping chocolate, you are all set to create beautiful, oh-so-delicious, and mostly healthy, yummy treats. You can go simple with just chocolate, or go "all fancy" and add nuts or sprinkles. Drizzle across some melted caramel or white chocolate, or even sprinkle on cocoa powder for a double-chocolate delight.You can also take the easy way out and buy a perfectly made box of chocolate covered fruits at edible arrangements. With their at home delivery, it'll definitely be a night to remember.
Photo via Edible Arrangements
Capture the Moment
Frame a favorite photo or frame a favorite saying! A red frame, complete with hearts, is perfect for your favorite photo or favorite saying. It's also easy to make. Another idea? Frame your sweetie in a ring of sweethearts. All you need is a sturdy piece of cardboard, glue, and a box of candy hearts. Oh, and a favorite photo or saying too! See how easy these frames are to make. Here's exact details and instructions on Framed Love Quotes and Candy Hearts Frame.
Photo via Better Homes & Gardens
Romantic Evening In
Plan a romantic evening "in" with a romantic movies gift box. Place your favorite romantic movie, two bottles of your favorite bubbly, a sweet or salty treat, or other romantic fare into a basket. All the ingredients you need to create your very own date night in basket can be found at your local craft or grocery stores. To get you started on that date night basket, here's collection of romantic movies that would be great during your night in!
Photo via Christina Dennis
Breakfast in Bed
Blueberry pancakes and a mug of mocha, please? Who doesn't love a good breakfast in bed and it's incredibly romantic to have someone prepare this for you! A scrumptious breakfast in bed costs nothing and will melt the heart of your loved one. Want to jazz it up a little? Try adding a cute little rose to the breakfast tray.
Photo via Kelsey Hansen
A Date
Okay so this one is a little obvious, but it is Valentine's Day so you could take your significant other out. But we all know going out can easily burn a hole in your wallet. Groupon is a site that offers coupons and offers to a wide variety of activities featured around your area. So whether you want to go to a restaurant or go out for a few nights, Groupon has you covered with some great deals that won't leave your pockets feeling light! Click on the following links for some fun ideas: Paint Nite, a night's stay at the Raddison Hotel facing Niagara Falls, or a 60-minute massage for you and your S.O.!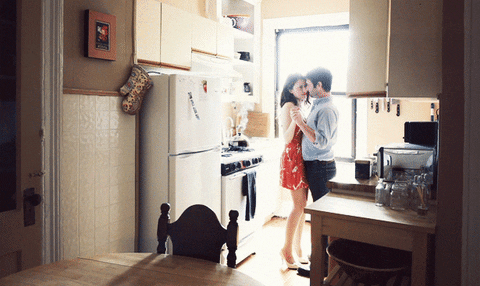 GIF via GIPHY
Valentine's Day is just around the corner, and the pressure is on to deliver your sweetheart a gift or experience that says, "I love you." However, don't think you need to spend hundreds of dollars to show how much you care. There are plenty of ways to treat your significant other without spending much money, or any money at all. It doesn't cost a thing to share your feelings with the one you love. Let your partner know how much it means to you that they are in your life. Love doesn't have to cost you a couple hundred dollars, it can be kept short and simple and sometimes, that means a lot more than an expensive gift!