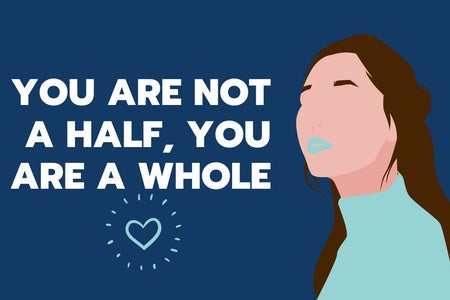 You Are Not A Half, You Are A Whole
As romantic as "You are my other half" may sound, have you ever taken a second to look in the mirror and realize there is nothing split in half on your body? It is because you are not a half, you are a whole on your own. And yes, I know the term is figurative, but at the same time, it can easily become literal. 
Our whole lives we have grown up watching movies and hearing about finding our "Other half," but indirectly we have grown up believing there is something missing in our lives. But in reality, nothing is. Your effort, your hard work, your dedication has gotten you to achieve everything you have achieved up until this point, and they will continue to drive your ambition. 
When you go to the movies, would you be satisfied with watching just half of it? 
When you order a pizza, would you be satisfied with getting half of it?
When you get your diploma, will you be satisfied with it saying "Two-year degree"?
Of course not! So why should we be satisfied with being halves of anything at all? The moment you settle for being a half, you are diminishing your worth to a half, and you are diminishing what you deserve to a half as well. 
With "You are my other half" comes "You complete me" --  they kind of come in a buy one, get one free deal -- and if you have been in a long-term relationship, you'll notice that everywhere you go without them, people will always ask where they are. It's almost like people cannot grasp that you can both function without the other, especially you as an elite, educated woman! 
We no longer need men's permission to be. This is the generation that may finally accomplish and witness gender equality, and a half is not an equal. Do not start your adult life, and the very first taste of real freedom, by diminishing yourself to a half and your life's purpose to find your "other half." You are meant for greater things.
With or without a partner by your side, you will walk on graduation day and obtain your hard-earned degree. 
With or without a partner by your side, you will kick butt in your industry and become the next 30 under 30.
With or without a partner by your side, you will buy your first apartment/house. 
But most importantly, with or without a partner, you will be fine because self-love is more important than being half loved with someone else.
--
Edited by Kenzie Dye