Don't Ditch The Festivities: Your Guide To A Socially Distant Fall
Fall is a time for gathering with family and friends to spend time outdoors enjoying the changing of the seasons. While this season may be different than others due to a global pandemic, there are still many different ways to enjoy the bountiful amount of fun fall has to offer.
One of my favorite fall activities is apple picking. Many orchards are still allowing visitors to come and pick their own apples. While the number of visitors will be limited, the experience can still be great. Hoping on a hayride and riding up the hill in hopes of picking juicy apples has always been one of my favorite fall memories. After picking apples, you can head over to the local store and pick up a variety of apple goodies. Before going, you may want to call to see if your local orchard is allowing apple picking. Due to the pandemic, not all orchards are allowing visitors. Not into apples? Have a go at a pumpkin patch! You can go and pick the largest, plumpest pumpkin, take it home and carve it.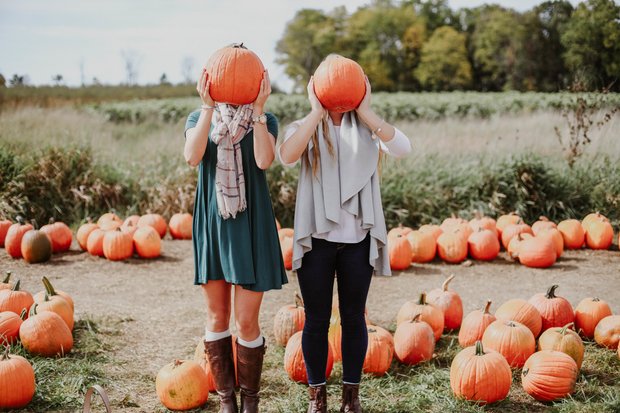 Breanna Coon / Her Campus
Another fantastic activity is to get together with a friend or two, head to a local park and have a fall picnic. One of the biggest trends on social media right now is charcuterie boards. Gather some of your favorite cheeses, crackers, fruits and nuts and create an aesthetically pleasing charcuterie board to share with your best friends. You can also enjoy your favorite juice or seltzers during your picnic. What is great about this activity is that you can enjoy the colorful trees as well as take a trendy Instagram photo of your board. While you are at the park, you can also take the opportunity to hike or walk. Exploring the area lets you enjoy the natural beauty of fall and get some exercise in. 
If the weather gets too chilly to enjoy any outdoor activities, head over to your local thrift shop and choose a fun fall sweater that you can enjoy all season long. Going to a thrift store is a pocket-friendly experience that allows you to choose unique pieces for your closet. It also lets you give old clothing new life. If you want to give your trip a fun twist, have your friends choose the sweater you buy. You can see how well they know you and get a memento from the experience.
While the world as we know it may not be the same, it doesn't mean we can't have fun anymore. As long as you are conscious about social distancing and wearing your mask, you can still have a great fall. These activities can provide a safe and fun experience with memories that will last a lifetime!
--
Edited by Rachel Johnson