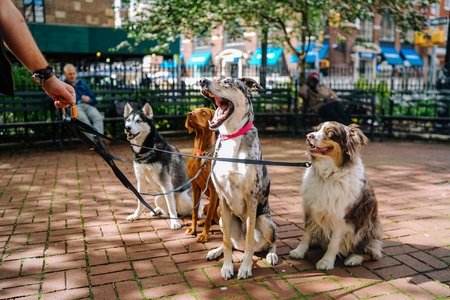 Fostering an Animal in Quarantine
Let's be real. Living through COVID-19 is a pretty scary time. There is a lot of uncertainty that causes stress on our lives, and we don't quite know when that stress will let up. Because of this, we should find productive ways to relieve that stress. A great way to ease up some tension in your life is to foster a pet from your local humane society. 
Just as humans are struggling with COVID-19, so are animals. Michelle Epley, manager at the Bowling Green/Warren County Humane Society, said that although visitors to the shelters are currently not allowed, the animal foster program is still up and running. 
"It's good for animals to get out of the shelter environment and be around people," Epley said. "The employees aren't in the shelters 24/7, so they aren't getting the full attention they need." 
Epley said most animals in the foster program are there because they need more attention than the animals up for adoption. This often includes recent mothers, puppies and pets that are scared of other animals. 
Fostering animals can be beneficial for people as well. Epley said that fostering animals can often work as a form of therapy. Especially now with social distancing, people may feel lonely. Fostering an animal gives them a form of companionship. 
"People are really lonely right now," Epley said. "Foster animals help both the animals and people feel loved." 
Natalie Stagoski, a WKU junior from St. Louis, has been fostering animals for the past 12 years. She and her family have fostered over 250 dogs and puppies. They are currently fostering two 7-week-old boxer-mix puppies, Luke and Lexie. 
"We get them at 6 weeks when they are weaned off of mom, and they go up for adoption at 8 weeks after they are spayed and neutered," Stagoski said in an email. "We have had our current pups for one week and have one more before they are adopted."
Stagoski believes it is important to foster animals because living in shelters can be bad for their health. Some animals, especially babies, are very susceptible to diseases that other animals in the shelters may be carrying. Fostering them and getting them out of those shelters decreases the chance they will contract those diseases. 
It is also important for the functionality of shelters, Stagoski said. Many shelters take in pets at any time, in any condition. There are only so many animals a shelter can handle. 
"By fostering you are freeing up capacity and resources to take in more pets and to have more pets be adopted," Stagoski said. 
She said that she has benefitted from having the puppies just as much as they have benefitted from her. Fostering puppies has given her a distraction from everything going on in the world, and because of that, she is much happier. 
"As a college student I feel the stress of online classes and work seeming like it would never end," Stagoski said. "Fostering has given me a different job and purpose. I get endless cuddles from my puppies, as well as the tasks that are needed to look after them that keep me busy."
Stagoski said that getting started was pretty easy. Although guidelines and instructions vary depending on each organization, she said the Humane Society was very thorough on prepping them and giving them the resources they needed. She said that foster animals are a lot of work, especially just starting out, but ultimately worth it in the end. 
Epley encourages people in Bowling Green to foster as well since most people are now home full time. 
To sign up in Bowling Green, you can go to bgshelterpets.com and access the foster application.