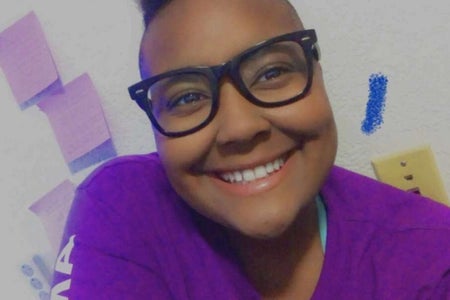 Original photo by Cheyenne Halberg
A Simple Name But A Priceless Person: Meet Jay Lee
At some point in time during the last two years, I was introduced to Jay Lee. She is now one of my best friends. However, I am not the only person who thinks highly of her, and I will definitely not be the last. 
Cheyenne Halberg (CH): What is your major and/or minors?
Jay Lee (JL): I am a Psychology major and Child Advocacy minor.
CH: What position(s) do you hold on campus? Are you part of any clubs or extracurriculars?
JL: I am a Resident Assistant (RA) at East Lake and a Housing Tour Guide. I am a member of the Psychology Club on campus.
CH: Why did you apply for those positions and/or clubs?
JL: I applied to be a housing tour guide for a couple of reasons: to get to know my campus better and to try and make an impact on families while giving them tours. For the RA position, I wanted to make a good influence for my peers and be able to be there for those in my community. With the Psychology Club, as a psychology major, it provides a lot of good insight regarding careers with tips and tricks of psychology. 
CH: What is your goal of life? It is okay if this is simple like trying every salsa on earth or something big like a career goal.
JL: My goal is to be a successful clinical pediatric psychologist in the hospital setting. Also to own every color of Converse I can!
CH: Is there anybody that has impacted your life decisions or encouraged you to follow your dreams? 
JL: My dad is the biggest inspiration of my life. He has been a single father for a lot of fatherhood, yet he never gave up and always provided a roof over my siblings and mine head and food on the table. He always encourages me to do what I want to be happy in life, no matter what that career field is.
CH: What do you like to do for fun?
JL: I like photography, [especially] of nature. I really enjoy taking naps, and watching Netflix. I recently got into the game "Among Us"—it's pretty addictive. I also enjoy going up to Garvin Heights or to the lake and watching the beautiful sunsets of Winona.  
CH: Lastly, are there any tips you want to offer people reading this?
JL: Do what makes you happy. It's okay to not know what you want to do in the future. It'll come to you when it does. Don't stress! You have plenty of time to figure it out! 
CH: Thank you for your time and your thoughtful answers!
When I asked the people in Jay's life to describe Jay or to say one thing they would tell her, this is what they said:
"I have known Jay over the last year and she is a joy to have around. One thing that has always drawn me to Jay is her ability to be confidently herself (flaws and all) and empathize with those around her. She is incredibly caring, hardworking and authentic. The RA role is all about serving others, so I knew that Jay would be an instant fit and inspiration in the role. I believe [that] Jay is stepping into the person she is meant to be, while learning about herself as a mentor and counselor, especially as she pursues psychology."—Melissa H., East Lake Apartments Hall Director, Boss
"My Boobus is the bright star Grandma always thought she would be! Stay reaching until you've reached the highest of heights!"—Grandma
"Jay is one of the most caring and trustworthy people I know. She takes the time to check in with everyone. She is majoring in psychology, and I just know she's going to make a huge difference in the life of her future patients. She also has an impressive Converse collection which she uses to color coordinate all of her outfits! She's friendly AND fashionable!" —Sophia R., Friend
"If I had a nickel for all of my proud papa moments, I'd be a millionaire. My Jay, We've been through the good and the bad times during the past 20 years. I know we didn't always see eye-to-eye especially during high school, but I'm blessed that our relationship is stronger today than it ever has been. Don't forget that you're my Lifesaver!"—Jason L., Dad
"Jay is sweet and is always there for me when I need to talk to someone about my mental health or just something that happened to me in a day. She's really passionate about mental health, and it shows in how she makes sure to check in on people [and] make sure they're doing okay."—Sydney M., Friend
"Uncle is so proud of the progress you have made in the adulting process, you make being an uncle an easy task. Continue to excel and good luck on getting into the grad school of your choice. STAY KICKING A**!"—John, Uncle
As for me, I can't thank Jay enough. Jay has been my rock many times and is always encouraging me to do my best. If I had to pick three words to describe Jay (which doesn't begin to cover how amazing Jay really is), they would be reliable, caring and calming. Some of my favorite memories with Jay include the deep, late-night conversations about mental health, multi-dimensional theories and everything in between—all while eating mac n cheese with hot Cheetos.
Jay, from everyone around you currently and in the future, we thank you for everything you have done and will do! Your impact on this world cannot truly be put into words.